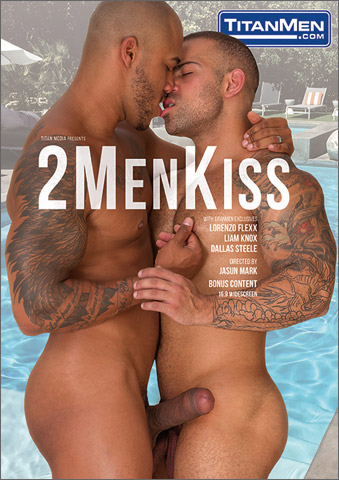 Studio: Titan Media
Directed by: Jasun Mark
Year of Production / Release: 2017
Country of Production: U.S.A.

CAST:
Dirk Caber
Lorenzo Flexx
Liam Knox
Anthony London
Alex Mecum
Adam Ramzi
Dallas Steele
Jason Vario
FROM TITAN MEDIA WEB SITE:
It's the rush you feel when you look into his eyes. The urge that overwhelms you when you see his body. The bolt of electricity that courses through every hard inch when he touches you. Join TitanMen exclusives Lorenzo Flexx, Liam Knox and Dallas Steele as they show you what happens when 2 Men Kiss.
   Liam Knox needs some warming up after a dip in the pool, and Dallas Steele is happy to keep him wet in a breathless exchange that stretches every furry hole.
   The chemistry rises as Adam Ramzi and Alex Mecum lock eyes and lips in a romantic flip fuck filled with clasped hands, toe-curling thrusts and a spirited, beard-soaking facial.
   Dirk Caber gets caught jacking off by hairy daddy Anthony London, the two 69ing before flip fucking in a verbal encounter that quickly gets sweaty and sticky.
   After kissing and horsing around in the pool, Lorenzo Flexx and Jason Vario hit the showers and the bedroom, where Jason takes control with his big uncut cock.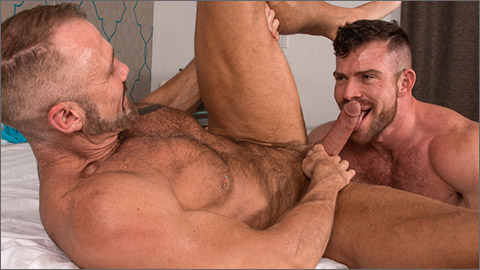 SCENE 1: Liam Knox & Dallas Steele flip-fuck
"How was the water?" asks a lounging Dallas Steele as beefy Liam Knox exits the pool. "Cold! Could you warm me up a little?" Their lips meet, their beards sliding against each other. Liam engulfs Dallas's cock, the sucker's boner peeking out of his trunks. The breathless Liam comes up for air and a kiss, sucking Dallas some more before offering his own cock. Inside, with his big boner grinding on the mattress, Liam eats Dallas before fucking him, the bottom's cock pulsing up with each deep thrust. Liam is soaked in sweat as he rams him from behind—then gets on his back to get pounded. Dallas wants more cock in his ass, taking it deep again as the two squirt.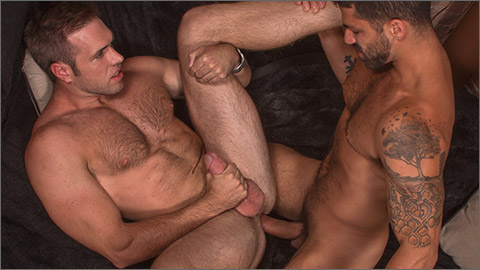 SCENE 2: Adam Ramzi fucks Alex Mecum
Alex Mecum lays his head in Adam Ramzi's lap—and is quickly greeted with a kiss. Adam rubs his furry face on the jock's chest. He grabs Alex's ass, then releases the stud's huge cock. The two slurp each other, Adam reaching up to grip Alex's pec as he sucks him—Alex resting his own hand atop it before Adam feeds him a finger. They clasp their hands together as Adam continues to suck. "You're so handsome!" moans Alex. "Your eyes are amazing!" They kiss, their steel shafts poking each other. Alex's toes curl as he gets fucked, wrapping his legs around Adam—who offers his ass and begs for Alex to unload all over him, cum drenching his beard and mouth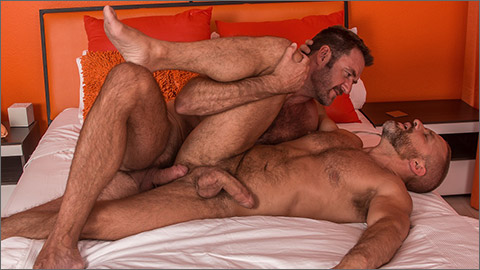 SCENE 3: Anthony London & Dirk Caber flip-fuck
Resting outside, Dirk Caber teases his hole and strokes his rock-hard cock. He's watched by furry daddy Anthony London, stroking his bushy slab. Dirk motions him over, his boner grinding on a towel as he deep throats London, who whips his dick on the sucker's mouth. They 69, Dirk's body writhing in pleasure. Anthony sucks Dirk—then takes him inside to pound him from behind, Dirk arching back to watch in the mirror behind them. Anthony gets on all fours ("Fuck me boy!"), then sits on Dirk and rides—the two soon coating the top's body in cum, wads clinging to his fur.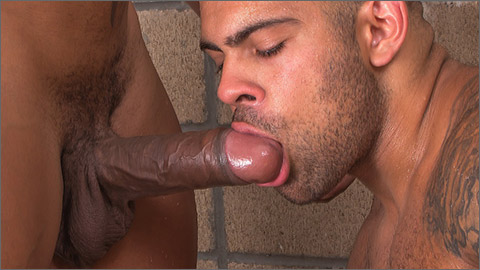 SCENE 4: Jason Vario fucks Lorenzo Flexx
In the pool, muscle men Lorenzo Flexx and Jason Vario kiss as they wrap their arms around each other before hitting the outdoor shower. They continue to lock lips, cocks pressed against each other, as the massive Jason towers over Lorenzo—who feasts on Jason's uncut throbber. He takes it all in, water cascading down their built frames. Lorenzo gasps for breath as his face gets fucked, the two soon toweling off inside. "Fuck, that feels amazing!" moans Lorenzo as his ass gets eaten, thumbed and fucked. Lorenzo sits on the top, balls slamming against balls, before getting on his back—licking Jason's thumb as the top grinds in deep. "Come all over me!" moans the bottom, who is soon soaked—Jason rubbing and licking it off him before one last kiss.

MORE INFO, PREVIEW OR WATCH RIGHT NOW:
TITAN MEDIA
Scenes Premier online prior to DVD release and are available to view anytime in the Member's Area.
Members can watch scenes from almost all Titan Media releases anytime online.