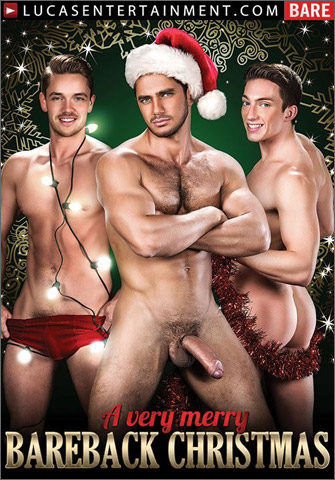 Studio: Lucas Entertainment
Directed by: Jake Steel
Year of Production / Release: 2014
Country of Production: U.S.A.

CAST:
Nigel Banks
Tanner Bradley
Donnie Dean
Santiago Figueroa
Dato Foland
Ivan Gregory
Lucas Knight


INFORMATION FROM LUCAS ENTERTAINMENT:
This season at Lucas Entertainment it is going to be "A VERY MERRY BAREBACK CHRISTMAS"! A group of seven of the studio's sexiest Lucas Men travel to a mountain retreat and celebrate the holidays the way everyone wants to: by sucking and fucking all vacation long! Join Dato Foland, Nigel Banks, Tanner Bradley, Donnie Dean, Lucas Knight, and Santiago Figueroa as they all celebrate "A VERY MERRY BAREBACK CHRISTMAS"!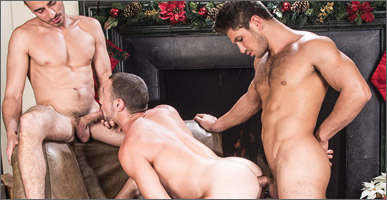 SCENE 1A: Dato Foland And Donnie Dean Have Gay Bareback Sex
Dato Foland and Donnie Dean have gay bareback sex: A group of seven friends say "fuck off" to their families and head out to a mountain retreat this Christmas. The guys unpack, bake cookies, share holiday meals, and then unwind with hot bareback sex! By the fireplace, Dato Foland and Donnie Dean enjoy some hot chocolate as they fondle one another and kiss. Donnie had his eye on Dato the entire trip up the mountain, and now he finally is able to pull the man's pants down and suck his uncut cock. What follows is what Dato Foland is known for: a hot ass pounding, and Donnie Dean is on the bottom.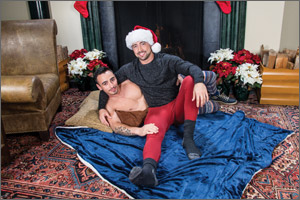 SCENE 1B: Nigel Banks Joins Dato Foland And Donnie Dean's Bareback Fun
Nigel Banks joins Dato Foland and Donnie Dean's bareback fun: With the fire roaring in the hearth, Donnie Dean and Dato Foland quickly work up a sweat fucking. Nigel can't sleep and stumbles upon their tryst and joins the fun. Dato fucks Donnie, and Donnie fucks Nigel!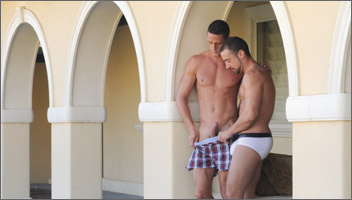 SCENE 2: Donnie Dean And Ivan Gregory Flip-Fuck Raw
Donnie Dean and Ivan Gregory flip-fuck raw: Donnie Dean wakes up the next morning feeling refreshed and energized from the night before, and he goes out of his way to bake some chocolate-chip cookies for Ivan Gregory as a thank-you for taking it upon himself to organize the mountain getaway for Christmas. Ivan's thankful for the cookies, but it's Donnie he wants. What else can he do — Donnie gives it up to Ivan for some sucking and bareback flip fucking!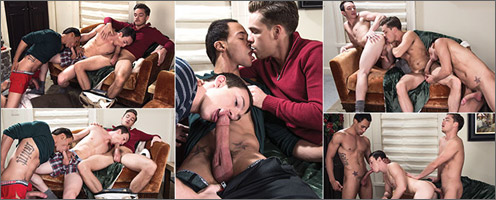 SCENE 3 (3A): Lucas Knight, Tanner Bradley, And Santiago Figueroa's Bareback Threesome
Lucas Knight, Tanner Bradley, and Santiago Figueroa's bareback threesome: What cock-whores Tanner Bradley and Lucas Knight prove themselves to be. The trio begins their morning by wrapping presents, but after a short time Lucas and Tanner lure Santiago out of his clothes. Santiago isn't complaining, however, and enjoys feeling Tanner's lips wrapped around his dick. Tanner Bradley proves to be the biggest cock-whore of all in the end: just watch him bounce on both Lucas and Santiago huge cocks.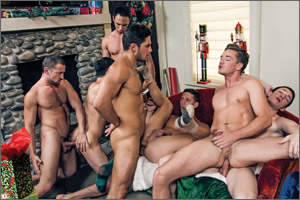 SCENE 4 (3B): Dato Foland Gets a Gay Bareback Orgy For Christmas
Dato Foland gets a gay bareback orgy for Christmas: While Tanner Bradley is riding Santiago Figueroa's cock, Dato Foland and Nigel Banks not-so-accidently find them in the middle of their heated sexual affair and decide to jump in balls deep. But the situation wouldn't be complete without Donnie Dean and Ivan Gregory. What ensues is something Dato Foland has always wanted for Christmas: a gay bareback sex orgy!

SEE THIS NOW / MORE INFO:
LUCAS ENTERTAINMENT
Scenes Premier online prior to DVD release and are available to view anytime in the Members Area.
Members can watch scenes from all Lucas Entertainment releases anytime online.