Studio: Lucas Entertainment
Directed by: Adam Killian
Year of Production / Release: 2014
Country of Production: U.S.A.

CAST:
Tomas Brand
Ivan Gregory
Adam Killian
Fabio Lopez
Valentino Medici
Marco Milan
Logan Moore
Fostter Riviera
Marco Sessions
Lars Svenson


INFORMATION FROM LUCAS ENTERTAINMENT:
"ADAM KILLIAN'S RAW WET DREAM" is Adam's debut bareback sex performance where reality and fantasy collide! In it he chases his lover Marco Milan, along with an all-star cast of bareback sex stars through a fused reality of conscious and unconsciousness. Adam's real-life romance is an explosion of sweat, cum, and passion, reaching it's height the best way possible: a bareback fuck fest starring Adam Killian, Marco Milan, Fabio Lopez, Tomas Brand, Valentino Medici, Fostter Riviera, Marco Sessions, Ivan Gregory, Logan Moore and Lars Svenson!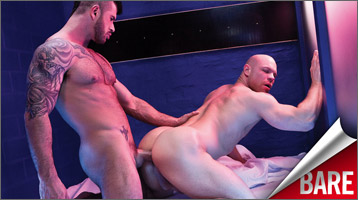 SCENE 1: Adam Killian Barebacks for the First Time on Camera
The line between Adam Killian's fantasies and reality is blurred in the first scene from "Adam Killian: Raw Wet Dream." After seeing a few flashes from Adam's dreams, the scene transitions to Marco Milan giving Adam a good-morning blowjob; the blond porn newcomer puckers his lips and happily sucks as Adam stirs awake. Marco moves his lips from Adam's fat cock to his lips where they kiss amongst bunches of white sheets. Adam eats out Marco's ass before sucking his dick for a while. When Marco is ready to take Adam's dick bareback, he settles on his stomach and exposes his ass for Adam to plunge his raw cock into! After Adam hammers Marco's ass, he hops on top of his own lover's cock and takes a bareback ride until they shoot their loads!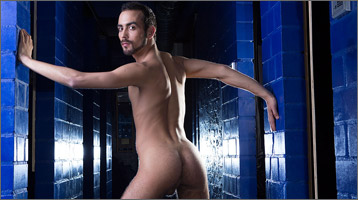 SCENE 2: Fostter Riviera Jerks His Uncut Cock Off
Fostter Riviera doesn't always feel like fucking around and having gay bareback sex with other guys — sometimes he likes to put on a show by himself and jerk his cock off alone. That's what he does here: he finds a corner in a sex club and has a fun time rubbing one out and shooting his load!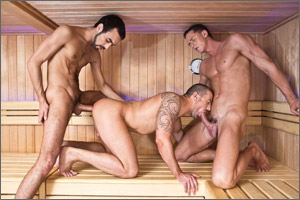 SCENE 3: Fostter Riviera, Ivan Gregory, and Marco Sessions Fuck Raw
I hope these boys brought water, because if Marco Sessions plans on working a load of cum from Ivan Gregory's cock in a sauna, they need to keep their fluids up as much as possible! Marco, an ever cock-hungry bottom bitch bobs his head on Ivan's cock before straddling him reverse cowboy and taking a ride. Meanwhile, poor Marco Sessions only wanted to sweat out some stress by relaxing in the sauna, and these two guys are boning right next to him. Well, when in Rome: Marco takes Fostter's cock in his mouth while Ivan rails him some more. But watching Marco taking cock made Ivan's own ass hungry, so both Marco and Fostter double penetrate Ivan, who can barely handle it but love it every minute!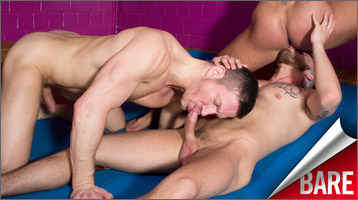 SCENE 4: Tomas Brand and Valentino Medici Seduce Fabio Lopez
Well, maybe seduction isn't the right word for what Valentino Medici and Tomas Brand do to Fabio Lopez. First of all, Fabio Lopez is hot as hell — he's cute and sex at the same time, and best of all he's versatile. He loves using his toned young body and cock to fuck, and he loves the feeling of raw dick up his ass. Fabio is also very much attracted to guys older than him, so when Tomas and Valentino cruise him in a bath house, the three of them hook up for some of the hottest dick sucking and bareback ass fucking seen on Lucas Entertainment yet!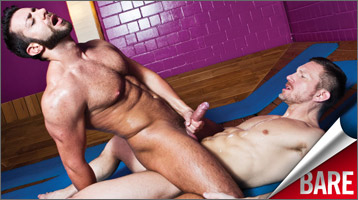 SCENE 5: Valentino Medici Rides Tomas Brand's Uncut Cock Bareback
Valentino Medici has a varied taste in men, from younger handsome guys like Fabio Lopez to older hot daddies like Tomas Brand, who Valentino has the lucky chance to run into in a Berlin sex club. When two hot gay guys like this have the chance to meet and fuck, who would say no? Valentino, despite being a huge beefcake, loves being over and taking a raw cock and taking raw cock up his ass — both the feeling and the knowledge knowing that he's being dominated by someone just as strong as him. Valentino gets Tomas rock hard with a wet blowjob before taking a seat on Tomas' raw uncut cock and riding until Tomas comes to the brink of shooting his load. Valentino gets on all fours after that and Tomas slams him; in this position Tomas cannot hold back, and shoots his cum all over Valentino's back!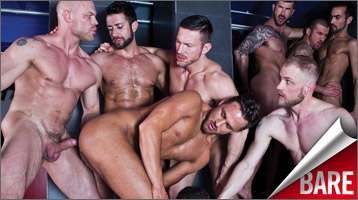 SCENE 6: Adam Killian's Nine-Man Bareback Orgy
If only all trips to a German bathhouse could end up like this. Adam Killian, Valentino Medici (a Lucas Entertainment Exclusive), and Tomas Brand pay a visit and show off by making out and sucking each other off when Fostter Riviera and Ivan Gregory join in with the fun. At this point we have five guys when the sixth, Logan Moore, shows up and starts making out with Valentino before moving south and sucks his huge uncut Latin cock; Ivan's cock doesn't go without attention, as Lars Svenson moves into too and swallows the hard cock between Ivan's muscled legs. Meanwhile, Tomas works on Fostter while Marco Sessions eats out Tomas. It doesn't take long for the bareback fucking to start: Tomas, Valentino, and Logan daisy-chain each other while Marco Milan takes Adam and Ivan's raw cocks up his ass at the same time!

SEE THIS NOW / MORE INFO:
LUCAS ENTERTAINMENT
Scenes Premier online prior to DVD release and are available to view anytime in the Members Area.
Members can watch scenes from all Lucas Entertainment releases anytime online.