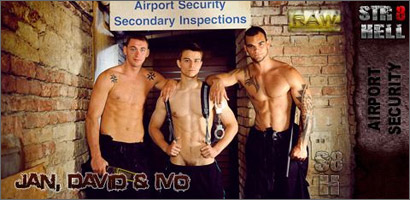 Studio: William Higgins' Str8 Hell
Directed by: William Higgins & staff
Year of Production / Release: 2013
Country of Production: Czech Republic

CAST:
Jan Faust
Ivo Kerk
David Smetak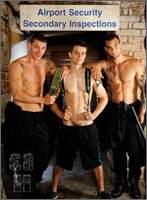 INFORMATION FROM WILLIAM HIGGINS' STR8 HELL:
Jan Faust is in trouble. It seems that he has tried to avoid the security checks at the airport. So Ivo Kerk and David Smetak have arrested him. They quickly take his bag from him and make him strip naked. Once naked David waves the security wand over him and turns him around to check his ass. A finger digs into Jan's ass but it seems that all is ok. They still are not happy though, that he tried to avoid the check point. So threaten him with time in prison unless they can work something out. Both Ivo and David strip down to below the waist, so their big cocks are available and Jan is made to suck on them. Those cocks quickly get rock hard as Jan takes turns on them, at one point sucking both at the same time. Moving Jan they bend him over, so he can be rimmed as he sucks on Ivo's dick. Ivo's cock fucks in and out of Jan's hot mouth. At the same time David is finger that sexy ass. When he has that ass nice and open he hands over to Ivo, who shoves his cock deep inside and starts to fuck. He really works that hole and then is replaced by David's massive cock. He too fucks that ass real deep. Then Ivo lays o the floor and Jan climbs astride him and sits his ass down on that cock again. Ivo fucks that ass real hard as Jan sucks on David's cock. Then David and Ivo swap places again and continue to use Jan as they wish. As David rams his cock in and out of that ass Ivo drops down and starts to suck on Jan's huge erection. Then he wraps a belt around that cock and wanks on it a while. The guys are all so ready to cum and with Jan kneeling Ivo and David stand next to him and wank. Jan quickly shoots a big squirty load of cum and it rapidly followed by David who dumps his cum over Jan's chest. Ivo continues wanking and he then cums too, his cream squirting onto Jan's face. Having had their way with Jan Ivo and David are true to their word and send him on his way.

WATCH / DOWNLOAD THE SCENES AND IMAGES AT:
WILLIAM HIGGINS' STR8 HELL
Members can download the High Definition and other versions of this film. Extensive Photosets are always offered to members as well.