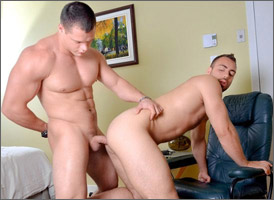 Studio: Men Of Montreal online
Directed by: Marko Lebeau
Year of Production / Release: 2013
Country of Production: Canada

CAST:
Alec Leduc
Ivan Lenko

THIS PREVIEW CONTAINS ADULT SEXUAL CONTENT


INFORMATION FROM MEN OF MONTREAL:
Our Ukrainian-Canadian stud, Ivan Lenko, had decided to take a pause from porn after his first scene with a guy last winter. He wasn't all that sure how far he wanted to take this porn stuff. Indeed, doing porn isn't for everyone. So we respected his decision but told him to call us back if he ever changed his mind. So a couple of weeks ago, this fine male stripper contacted us to tell us that he was game to go forward. Needless to say that we were thrilled with his decision.
   We asked him who he wanted to shoot with for his return, and he said Alec Leduc. These guys both know each other and he wanted to take this friendship to new heights!
   At first, both guys were a bit awkward about the thought of what was to come, but we got them to take a walk by the water's edge in the city's Old Port and they quickly got comfortable. It was hot and sunny and after the photo shoot, we headed back to the loft and they got down to business. After his own shower, Alec sat back waiting for Ivan and went into his bubble, listening to music.
   As we all know, Ivan is a natural born performer and loves to play to the camera and the fans that are soon be watching. From our previous scenes with him, we also know him to be more of a lover-boy type of guy, very passionate and attentive to his partner's needs. Alec is still getting used to taking cock up the ass and was quite pleased with Lenko's tool. He's always a bit fearful of the first pop of a dick up his butt hole, but he then eases in quite nicely into bottoming. He keeps telling us that it was more comfortable than expected and he is deriving more and more pleasure from it, especially when his partner hits his P-spot.
   This pairing was, at times, quite intense, and at others, quite playful. You couldn't get away from the fact that Ivan and Alec are friends in real life. Alec would occasionally smirk and use his ever-hard dick to slap Ivan in the face while our blond bomb would be sucking on his balls. And, Lenko, at one point, barked and faked a quick plunge to bite Alec like a dog… smiling back at the camera!
   After the shoot, Ivan told us that this was his first time going down on a guy's cock. We were pretty surprised. And, we now knew why he wanted to shoot with Alec. He wanted to go down this road with someone he trusted and was keen for.
   After some mutual cock-sucking, the guys moved into a 69 position on the bed and continued to lap up each other's cocks. Lenko then took the lead and got Alec into position on the edge of the bed so he could give him a good rimming; lubing him up for the missionary-style fucking that was soon to come. Lenko likes to be standing when it comes time to shoot, so he got Alec to move into position for a back-door pounding. It wasn't long before he pulled out and ripped the condom off and shot a huge load on Alec's butt cheek. Pleased with himself, Ivan then sat down so Alec could get into position to shoot his own load on Ivan's stomach.
   Wow!! Alec's cum shot was hot as he shot load after load, leaving his partner covered in white jizz. This must have been Alec's biggest cum shot yet! So, I guess, this is the kind of excitement that comes from bringing two good buddies together for some passionate man-on-man sex!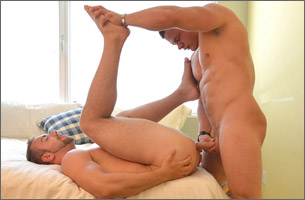 WATCH IT OR DOWNLOAD IT NOW AT: MEN OF MONTREAL
Downloadable On-Line Only Presentation, with extensive Photo Galleries.
The Sexy Men and Strippers of Montreal presented by sexy bodybuilder Marko Lebeau.