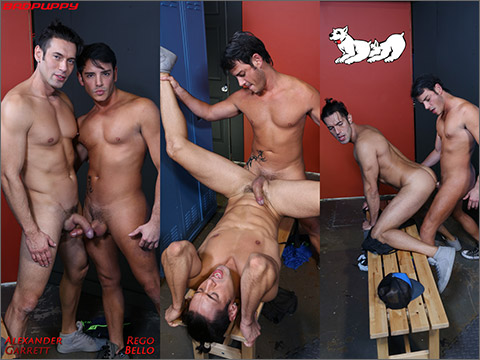 Studio: Badpuppy
Directed by: Gio Caruso
Year of Production / Release: 2016
Country of Production: U.S.A.

CAST:
Rego Bello
Alexander Garrett
INFORMATION FROM BADPUPPY:
Industry veteran Alexander Garrett met new comer Rego Bello four years ago and they fell in love at first site. Rego was always fascinated with the adult industry; but, it was not until now that he decided to do a video. So, who better to do a video with than your boyfriend of four years? We find our two studs just finishing a workout and as they walk into the locker room to prep for a shower Alexander pins Rego against the lockers, pulls down his shorts and goes down on his thick cock. We know from the interview that Alexander and Rego already love to have sex in public so, the thought of getting caught in the locker room turns both boys on. Rego drops to his knees and pulls Alexander's cock from his shorts. Rego swallows Alexander's huge dick and begins working it skillfully with his tongue. Alexander turns around, props his leg up on the bench while Rego kneels down behind him and buries his face deep into Alexander's ass. As Rego works his tongue into Alexander's ass, one hand is jerking Alexander's rigid cock and the other is jerking his own thick cock. Rego stands up to get a condom from his locker and once it is on; he plunges his cock deep into Alexander. With deep and consistent thrusts Rego slams his cock as deep as it will go; his balls slapping against Alexander's ass. Alexander lies back on the bench, Rego comes around, pushes Alexander's legs back and shoves his cock back into Alexander's waiting hole. The intense fucking begins again as Rego shoves harder and faster. Alexander works his cock as Rego continues to pound and it's not long before Rego pushes him over the edge. The jizz shoots from Alexander's cock. It goes all over his stomach and his hand. Rego jumps down and begins licking the cum off of Alexander's cock while he jerks his own meat. The taste and smell of semen pushes Rego's juices and he shoots an incredibly thick, juicy load all over Alexander's chest and stomach.

WATCH IT / DOWNLOAD IT NOW AT: BADPUPPY
Extensive Original High Quality Video Content for members.
Watch Streaming online or Download for later viewing.
Films are Downloadable and have extensive High Resolution Galleries.