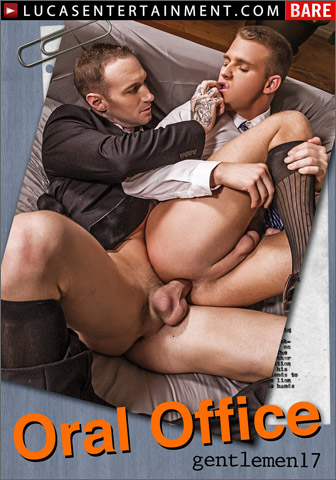 Studio: Lucas Entertainment
Directed by: Michael Lucas
Year of Production / Release: 2016
Country of Production: U.S.A.

CAST:
Devin Franco
Sergeant Miles
Emerson Palmer
Alexander Volkov
Brandon Wilde
Sean XL
Jacen Zhu
INFORMATION FROM LUCAS ENTERTAINMENT:
Stop by for a visit to the "Oral Office" in the seventeenth installment of Lucas Entertainment's Gentlemen series. Brandon Wilde plays out his boss/employee fantasy with Dylan James in his bareback premiere. Emerson Palmer and Sergeant Miles work overtime on each other's raw hard cocks. Sean Xavier puts his new intern, Alexander Volkov, to work on his 10-inch black dick. And Jacen Zhu gives up his ass to his manager, Devin Franco. Are you ready for your bareback interview at the "Oral Office"?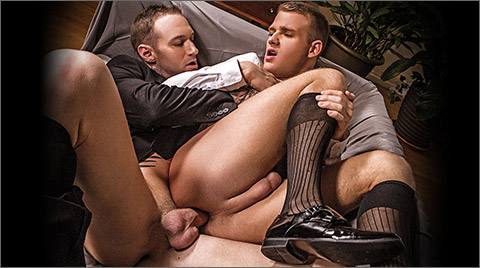 SCENE 1: Brandon Wilde's Bareback Premiere With Dylan James
Don't be fooled by Brandon Wilde's sweet, boy-next-door face. He might look like an adorable all-American guy, but behind that face he's a sex-hungry porn star skilled at servicing dick. For Brandon's bareback sex premiere, he plays out a fantasy of working in an office with a tall, strong, and dominant boss that uses his body after hours. Lucas Entertainment exclusive model Dylan James is more than happy to play out Brandon Wilde's fantasy. Brandon is versatile, but his sexual skills shine when he's servicing a big alpha dick with his mouth and hole. Dylan takes control of Brandon — showing off his tattoos and muscles along the way — and claims ownership of Brandon's throat before turning him around and busting his raw cherry. Dylan has a really big dick between his legs, so I hope Brandon is ready for raw meat of that size. Dylan has a lot of stamina, and he fucks extra hard when his bottom is as cute as Brandon.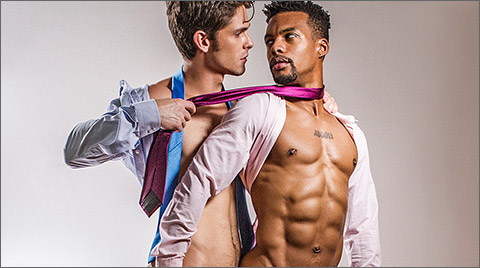 SCENE 2: Devin Franco Flip-Fucks With Suited Stud Jacen Zhu
Devin Franco is a young professional with a strong libido. He's always horny, even at his demanding white-collar job. He stays after hours one evening, but it's not to work. He allows his perverted side to take over and he starts jerking his big dick to porn on his office computer. He doesn't realize his suited colleague Jacen Zhu is still around — but he isn't offended by Devin. He's turned on and starts rubbing his hard black cock. Jacen joins Devin and they stroke together. But the longer Devin looks at Jacen's hard-on the more he wants to taste it. The blowjob leads to the guys stripping off more of their suits and fucking each other in the ass bareback. At 22:50 you'll see Devin completely naked, but Jacen still has his dress shirt and tie partially on — revealing action-figure stomach of Jacen Zhu as he pumps his dick in Devin Franco's tight ass.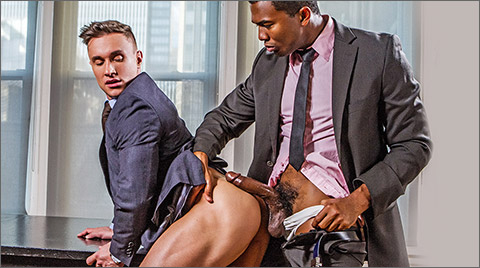 SCENE 3: Sean Xavier And Alexander Volkov | Interracial Sex In Suits
Sean Xavier is working as a high-end real estate agent selling a New York property to international businessman Alexander Volkov. When the papers are all signed, Sean and Alexander celebrate with some hardcore bareback sex. Sean Xavier worked for Alexander Volkov to find him the perfect apartment, and now it's time for the Russian beefcake to break a sweat and work for Sean. There's an incredible shot of Alexander at 07:15 sucking on Sean's famously huge black cock. Do you think Alexander can handle taking Sean's dick up his ass? He's sure going to try, and it is ass-splitting action. Check it out at 20:15.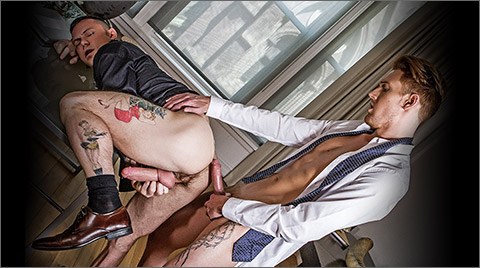 SCENE 4: Emerson Palmer Gives Up His Ass To Sergeant Miles
Emerson Palmer has a crush on his business associate, Sergeant Miles, but he has yet to break the professional boundary and make a move. There's been flirtation, but that's the extent of it. There's no denying Sergeant looks awesome in a suit, so we can empathize with Emerson's feelings. But if Emerson Palmer knew how easy it would be to get Sergeant Miles on his dick, he would have tried a lot earlier. It begins when the two white-collar executives are working overtime in the office one weekend. Sergeant opens up Emerson's suit and starts sucking his cock after some small talk. This leads to Sergeant taking a seat on Emerson's raw cock. When Sergeant gets his heat up and strips off his suit, he wraps his sports coat around Emerson's throat and fucks him until he's red in the face. See for yourself at 20:50!

SEE THIS NOW / MORE INFO:
LUCAS ENTERTAINMENT
Scenes Premier online prior to DVD release and are available to view anytime in the Members Area.
Members can watch scenes from all Lucas Entertainment releases anytime online.

WATCH LUCAS ENTERTAINMENT ON DEMAND AT: AEBN
WATCH LUCAS ENTERTAINMENT ON DEMAND AT: MALEFLIXXX