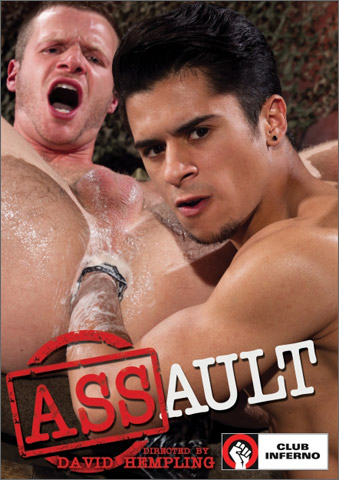 Studio: Hot House Entertainment / Club Inferno
Directed by: Christian Owen
Year of Production / Release: 2015
Country of Production: U.S.A.

CAST:
David Benjamin
Brian Bonds
Christian Lesage
Krave Moore
Armond Rizzo
INFORMATION FROM HOT HOUSE:
Arm the troops, and brace yourself for a full-on 'ASSault.' These military men train hard and get hands on in some serious ass-fisting combat. Accomplished director, David Hempling, brings military pig sex fantasy to life in 'ASSault.' A-Team exclusive models Brian Bonds and David Benjamin star alongside a cast of anything-goes officers who test the limits of each other's holes and attack ass like decorated fisting heroes. They use every resources available including missile dildos, raging cocks, bombing butt plugs and furious fists, and show no mercy to win their battles. Brian Bonds and Christian Lesage take siege on each other's holes in a full on fisting blitz. Privates Armond Rizzo and Krave Moore go from basic training to advanced maneuvers using multiple toys. David Benjamin takes command of Christian Lesage's greedy hole with fist and then his entire forearm in an explosive session. Armond Rizzo & Brian Bonds build slow to an intense double-fisted ass destruction. You'll be wondering where these military studs put all that equipment when you hunker down in your bunker for this all-out 'ASSault' to your fisting senses.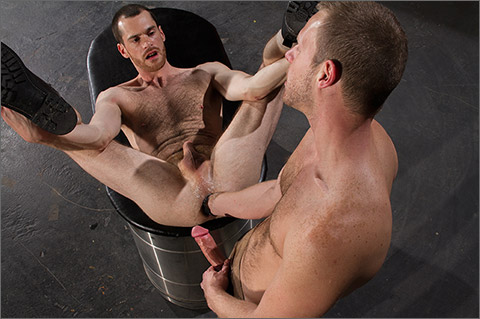 SCENE 1: Brian Bonds fucks & fists Christian Lesage
Down in the military warehouse, Brian Bonds and Christian Lesage are craving some hot sloppy fun. Brian rubs Christian's hands down his washboard abs before dropping to his knees to give Christian a sopping hummer. Things heat up when Christian bends over exposing his smooth hairless ass to let Brian shove his face in-between his cheeks. Unable to bare the urge anymore, Brian gets Christian on all fours preparing to handball his sweet ass. At first, it's only few fingers sliding in and out of Christian's hole until Brian sticks his entire hand inside and punch fists his eager butt. Christian moans while Brian reaches in and out of his ass, and Christian flaunts his rosebud in fullest bloom. Christian hasn't had enough yet, so he lies on his back, legs in the air to let Brian dig deep into his bum and lick his sack. Brian's edging and all it takes to send him over the edge is sitting on Christian's fist, which sends a solid load oozing from his cock onto Christian's fist. After Christian feeds Brian some of his own load, he re-inserts his cum-covered hand back into Brian's back door. Christian sits back and lets Brian twist and pinch his bushy nipples before expelling his cream onto his stomach.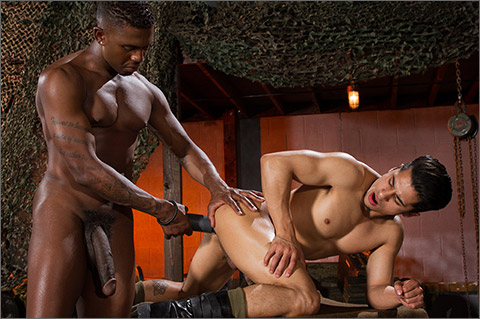 SCENE 2: Krave Moore dildo-fucks & fucks Armond Rizzo
Armond Rizzo gets a raging hard on as he strokes his bullet butt plug thinking how great it's going to feel when Krave Moore blasts his ass with it. His small, ripped physique can take almost anything that Krave can throw its way, and it's the perfect stage for an all-out drilling. Before his ass bites the bullet, Armond delivers a sloppy blow job to Private Krave's huge, uncut cock. Krave annihilates the back of Armond's throat, and, then, bends Armond back to give his asshole a sultry, soggy rimming. Krave teases and fingers Armond's hole, prepping it to take the hefty plug that Armond's been waiting for. Krave places Armond on all fours and shoots the bullet deep inside, twisting and turning it in the far reaches of his ass. Armond loves large missiles shoved deep inside him, so Krave slides his massive cock into Armond's hot hole. Armond moans with every thrust, then Krave yanks out and drives another rubber dong into his stretched bum, which sends thick cream from Armond's throbbing cock.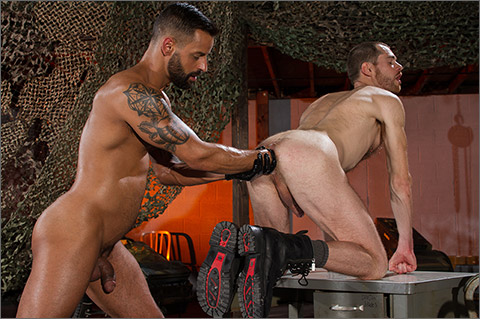 SCENE 3: David Benjamin fists Christian Lesage
David Benjamin and Christian Lesage get right to the intense action. Christian teases David's burley, hairy nipples. David drops his fat cock down Christian's throat. To make it sloppier, David spits in Christian's mouth to add wetness. Christian will do anything to please David, so he flips David around and jabs his tongue and face deep into David's ass cheeks. As part of his training, David preps Christian's hole for battle, bending him over, spreading his ass, slapping his hole and treating him with a taste. One by one David inserts more and more fingers into Christian's backside followed by fist punching his gaping manhole. David tests Christian's limits by propelling his arm nearly elbow-deep inside Christian. After David punishes Christian hole, he inserts his dripping gloved hand into Christian's mouth. Christian laps up his ass juice of the gloves, sending David over the edge, oozing his load out onto the floor.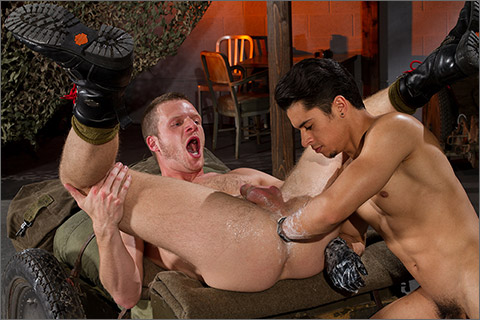 SCENE 4: Armond Rizzo fists Brian Bonds
Armond Rizzo and Brian Bonds kiss hard, and Brian quickly replaces his tongue in Armond's mouth with his uncut cock. They're in it and intimate, and Brian ravishes on Armond's hole until he's squirming for something more. Taking the signal, Brian dives in and pumps his juicy cock in and out of him. Brian's huge knob is not enough to satisfy Armond, so Brian crams one of the biggest dildos ever seen into Armond's eager ass. The fire builds, and, now, Armond takes control, bending Brian over to expand his fuck hole with two fists. Switching gears, Brian rides Armond's fist and arm. Armond goes back to punch fisting and double punching, before Brian's on his back pulling Armond's arm deeper into his hot hole, until he busts a nut, erupting a hot load onto his abs. To return the favor, Brian launches the gigantic dildo back up Armond's ass making him spill his cum into Brian's mouth. Brian makes sure everything is spotless when he slurps the extra jizz out of Armond's foreskin and licks the butt plug clean.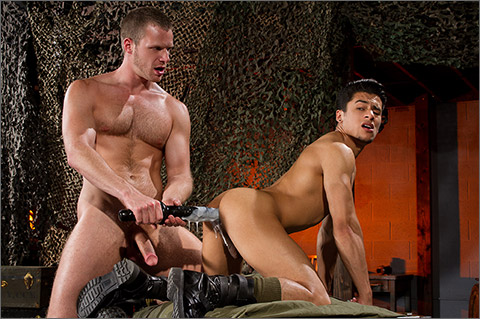 SCENE 5: Brian Bonds dildo-fucks & fucks Armond Rizzo
Brian Bonds is eager to test Armond Rizzo's anal limits and Armond is willing to show just how much he can handle. Taking the signal, Brian dives in and pumps his juicy cock in and out of him. Brian's huge knob is not enough to satisfy Armond, so Brian crams one of the biggest dildos ever seen into Armond's eager ass. Armond lets out a gasp as Brian fills his hole to capacity, and slides the massive toy past his threshold taking the entire dong with ease! After pummeling his hole, Brian pulls the dildo out of Armond's smooth ass leaving it covered in lube and Armond feeling stretched and satisfied.

WATCH IT NOW / MORE INFO AT:
HOT HOUSE CLUB INFERNO DUNGEON
Hot House Club Inferno Dungeon Members can see this film anytime online.
With extensive additional photography from every scene.