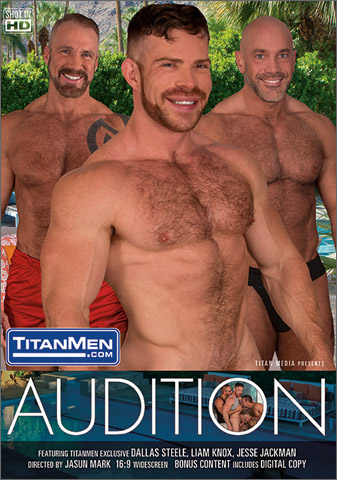 Studio: Titan Media
Directed by: Jasun Mark
Year of Production / Release: 2017
Country of Production: U.S.A.

CAST:
Dirk Caber
Jesse Jackman
Liam Knox
Alex Mecum
Dallas Steele
FROM TITAN MEDIA WEB SITE:
He has what it takes: The smile. The muscles. The dick. All he needs is that big break to get into the biz. Thankfully for Liam Knox, a chance encounter gets him an Audition as fellow TitanMen exclusives Jesse Jackman and Dallas Steele help to show him the ropes.
   Shirtless jogger Liam Knox gets distracted on his run by familiar stranger Dirk Caber, who opens his door for a spirited flip fuck—and a world of possibilities.
   Dirk Caber takes Liam Knox to a shoot, where he gets a taste on set with a four-way suck—the two then leaving so hung Dallas Steele and Alex Mecum can show off their skills.
   Liam Knox preps for his shoot by paying a visit to co-star Jesse Jackman, the two unable to control their attraction as a flip-fuck breaks out in the superstar's home.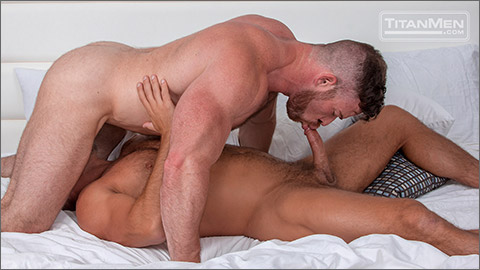 SCENE 1: Liam Knox & Dirk Caber flip-fuck
On his run, beefcake Liam Knox jogs by a familiar stranger: Dirk Caber, home from his workout. Dirk motions Liam to follow him to the back of the house. Their foreheads meet, hands roaming each other. Dirk grips the growing bulge in Liam's shorts and releases it, rubbing his stubbly face on it. He sucks Liam to the root, smiling up at him. Liam fucks his face, shouting "Gimmie that fucking tongue!" as Dirk licks his sac. Dirk goes up for a kiss, licking Liam's pit ("Get in there! Taste that sweat!"). Dirk's throbber pops out in Liam's face, the sucker flexing as Dirk marvels "Look at the size of those arms!" In the bedroom, Dirk munches on Liam's jock ass. Liam's cock pulses as Dirk slides inside, the top feeding his thumb to the hungry bottom. Liam plows Dirk from behind, his bubble butt rippling. Dirk gets on his back and grunts as he gets rammed, their hands clasped. Dirk's boner shakes as he gets it hard, his cock soon covered in cum.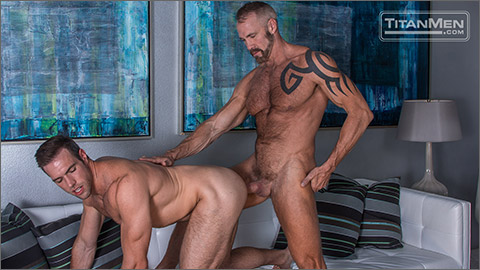 SCENE 2: Dallas Steele & Alex Mecum flip-fuck
During a photoshoot, director Jasun Mark snaps away at Dallas Steele and Alex Mecum. They catch the attention of guests Dirk Caber and new buddy Liam Knox, who wants to break into porn. The nervous newbie needs some inspiration, so the director incites a four-way suck to relax him—then kicks the new arrivals out so Dallas and Alex can get to work. The two kiss, their boners poking each other. Dallas goes down on the stud, the breathless sucker coming up for air: "That's a lotta cock!" Alex sucks the daddy back: "That's so big!" he says with a smile. They kiss, stroking their cocks together to compare sizes. Dallas reaches for the sucker's tight ass, spreading his cheeks. He eats Alex and sucks him from behind, then fucks him doggie style ("Fuck, you're so big!"). Dallas offers his hole: "Bury that fucking cock in me!" The bottom's big dick bounces as he gets it from behind. He turns over, Alex's beast disappearing as his tight, sweaty body gyrates. The two shoot, Dallas shouting "Oh fuck! Wow!" as Alex unleashes a gusher. The top rubs his hands in it, feeding them to Dallas as a final kiss closes it out.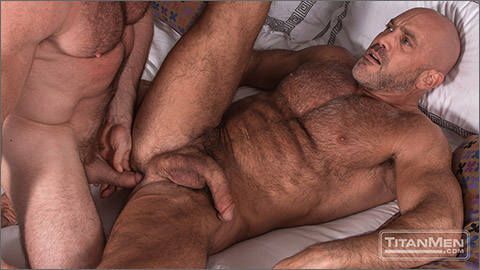 SCENE 3: Jesse Jackman & Liam Knox flip-fuck
To prep for his first shoot, Liam Knox heads to the home of Jesse Jackman to break the ice—and the two realize they've met before. "That was one of the best weekends of my life," smiles Liam, the two soon locking lips—their foreheads touching as they stare deeply into each other's eyes. Liam drops down to release Jesse's monster cock, taking it deep as spit clings to the shaft. Jesse pulls the sucker up for a kiss, cocks and foreheads touching again. Jesse bends down, Liam's boner sliding on his furry muscle pecs. Liam moans "That feels so fucking good!" as Jesse sucks him back. Jesse eats Liam's hairy hole, getting him to beg for it: "I want you in me!" Liam gets fucked on his back ("Oh God…so fucking big!"), moaning as he gets it deep. They flip positions, Jesse's boner pulsing as he gets slammed. The bottom's eyes roll up in his head, Liam stroking Jesse as he fucks him. They release their loads, Jesse rubbing it into Liam's hot bod.

MORE INFO, PREVIEW OR WATCH RIGHT NOW:
TITAN MEDIA
Scenes Premier online prior to DVD release and are available to view anytime in the Member's Area.
Members can watch scenes from almost all Titan Media releases anytime online.