Studio: Titan Media
Directed by: Brian Mills
Year of Production / Release: 2009
Country of Production: U.S.A.

CAST:
David Dirdam
Mike Dreyden
Dean Flynn
Gio Forte
Will Parker
Leed Scott
Max Sinclair
Slade
Treshawn Valentino
SCENE 1: David Dirdam and Gio Forte flip-fuck
SCENE 2: Kurt Weber fucks Mike Dreyden
SCENE 3: Treshawn Valentino fucks Leed Scott
SCENE 4: Dean Flynn and Slade fuck Will Parker, later Slade fucks Dean Flynn
FROM TITAN MEDIA WEB SITE:
You know it's wrong, but the urge is too strong. Follow your impulse and abuse authority with Bad Conduct, the latest from award-winning director Brian Mills. Watch as nine studs led by TitanMen exclusives Dean Flynn and Will Parker find themselves in sticky situations with only one solution—crossing the line. Being bad never felt this good, so watch as self-control surrenders to steamy sexuality.
   Clad in leather for his photo shoot, handsome David Dirdam follows the direction of equally muscular photographer Gio Forte. The heat gets turned up as desires erupt in a passionate flip fuck.
   While fixing pipes, handyman Mike Dreyden starts stroking his own pole. The vision catches the attention of voyeur Kurt Weber, who soon shoves his own tool down the bottom's holes.
   While trimming trees, Leed Scott is cruised by Treshawn Valentino—whose giant cock soon bursts out of his briefs. Scott continues to offer his services in a memorable outdoor romp.
   Will Parker has been bad, so he gets called into his school's office by Slade—who demands an apology for Dean Flynn. But this school has a different idea of punishment, and keeping troubled students in line proves to be fun for everyone.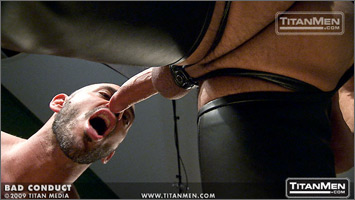 SCENE 1: David Dirdam and Gio Forte
Bursting out of his assless leather chaps, dark and handsome model David Dirdam is photographed by the equally muscular Gio Forte. The two smile at each other as the session progresses, but the warm lights soon get to Gio, who takes off his shirt to cool down. When the photographer moves in for a close-up, the two can't control themselves any longer and embrace in a passionate kiss. They strip each other down before Gio drops to his knees for a steady face fuck from David's big uncut slab. The moaning David spits down on his drooling, bearded buddy as glistening strands cling to his cock. David returns the favor, sucking on verbal Gio's meaty slab as the spit continues to fly. David then sits on Gio's face for a tongue lashing, jacking off onto Gio's chest as he gets eaten—then rubbing his load into Gio's huge pecs.
   After beautiful side shots capture David getting sucked again, David sits down on Gio's cock and rides like a pro, his own big meat frantically bouncing up and down. After the aggressive fuck, the two kiss and Gio sucks on David before the model gets hungry. "Open your ass!" demands David, who slides his tongue into Gio's hole. He soon grabs on to Gio's leather belt and slides his cock inside for a deep fuck. Gio stays stiff as he gets pounded, his hot muscular arms supporting him on the table. The two then switch positions as Gio fucks his bud, slapping David's ass before flipping him over. Now on his back, David's amazing abs tighten as he gets rammed. With his legs propped up in the air, the bottom soon dumps his load down on his own chest before Gio unleashes a huge stream across David's chest.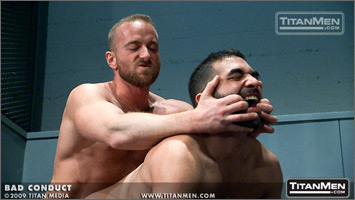 SCENE 2: Mike Dreyden and Kurt Weber
Bearded handyman Mike Dreyden gets so turned on by the stiff pipes around him, he takes a break to rub his body and stroke his stiff meat. Nearby in the freight elevator, muscular Kurt Weber spots the action and can't control himself, stripping down to his jockstrap and jacking off his throbbing cock as he watches. They catch each other's eyes, but Mike wants more. Walking around the corner, he falls to his knees in front of the elevator door and watches Kurt snap his boner up. Kurt then slides his slab through the bars for some service, and Mike instantly deep throats his companion, choking as he dives down deeper. After raising the elevator door to feed Mike's spit-filled mouth some more, the two jack out their first loads.
   Now moving into the large elevator, Mike bends over and offers his ass for munching. Kurt jacks off his own hard cock as he licks Mike's hole, warming up the bottom's ass for the deep, steady fuck that follows. Mike strokes his slab and stays stiff as he gets it from behind. The camera pans away for a hot-as-hell side shot that captures Kurt's muscular body at work, his chest and stomach muscles popping out as he rams Mike. The top then wraps his arms around Mike's face and shoves his fingers inside the bottom's mouth, grabbing hold of his head as he fucks faster. Kurt spits down on his own cock and slaps Mike's ass before turning the bottom over, drenching him in more spit as he continues to pound away. Mike squirts as he gets fucked, and an even hotter sight follows — Kurt unleashes his load, a multi-stream shot that soaks Mike's chest and lands a wad on the bottom's temple.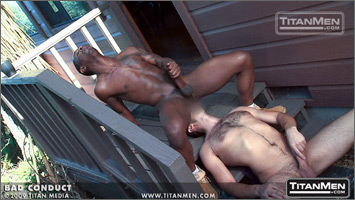 SCENE 3: Leed Scott and Treshawn Valentino
Inside his house, Treshawn Valentino admires shirtless Leed Scott, who's clipping trees outside. Instantly aroused, Treshawn rubs his smooth, toned bod as the massive bulge in his briefs gets even bigger. After opening the door, Treshawn stares down Leed, who makes his way to the porch steps and drops to his knees. The eager outdoorsman quickly pulls down Treshawn's briefs and gets to work on the big, thick slab, opening as wide as he can to take it. Leed gasps for air with his mouth stuffed, slurping sounds filling the air. After some glorious side shots of the sucking that show off Treshawn's sizable cock even more, Leed gets pinned to the wall. Treshawn falls down and wraps his luscious lips around Leed's stiff cock, its mushroom head pulsing in the air. Treshawn deep throats the hard rod and slurps on Leed's balls before coming up for a kiss as their boners grind against each other. Treshawn then sits down on Leed's face for a tongue fuck, jacking off his monster meat. Leed lets go of his load and then Treshawn stands up, his quad muscles quivering as he shoots over his bud.
   Moving into the field, Leed bends over a wheelbarrow to get his hole munched. Treshawn then grinds his massive boner on Leed's ass before slowly sliding it inside. The top delivers a deep, steady fuck caught beautifully by the camera. Once he breaks Leed in, Treshawn picks up the pace, resting his hands on Leed's back as he fucks faster. The bottom gets on his back for more, moaning even louder as the deep thrusts continue. The two stare into each other's eyes, their connection making the scene even hotter. Treshawn rests his hand on Leed's hairy chest, and soon the two let out their loads—with the top dumping a hot wad on Leed's pubes.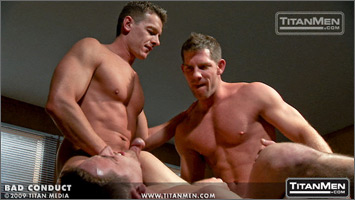 SCENE 4: Dean Flynn, Will Parker and Slade
Bully student Will Parker gets called into the school's office by administrator Slade. The youth has been making fun of a classmate, the son of concerned parent Dean Flynn. After lowering his head in shame, the student is given the first of many orders from his stern superior: "Will, get on your knees," says Slade. "See Mr. Flynn, Will needs more than simple detention to keep him in line." The surprised, excited Dean watches as Will starts to slurp on Slade's stunning slab, a big, thick rod that's stiff as steel. Slade — who strips down to show off his tan, smooth body—stares at Dean, who whips out his boner and starts stroking. Slade wraps his hand around Will's head and slides his cock inside, later beating Will's face with his veiny uncut meat. Will then follows more orders, dropping to his knees in front of Dean and sucking the parent off, his talented tongue wrapping around Dean's shaft and balls. Dean stares at Slade, who soon walks over to feed the father his cock as spit strands form in the hot suck train. Slade then orders Will to strip down, and the student's milky smooth body—complete with huge pecs, defined cum gutters and a big dick inside a hairy bush — light up the screen. He watches Dean suck Slade, his own hot cock bobbing in excitement. Will then bends over the table to show off his bubble butt, getting tongue treatment from Slade before the three jack out their first loads.
   But Will wants his ass worked over some more, so Dean and Slade take turns licking and fingering the insatiable student. Will then sits down on Dean's cock in an unforgettable shot, his muscular back and ass filling the screen as he grinds all the way down. The bottom finds the spot, exciting Dean even more as he bounces up and down while the top's hands wrap around his ass cheeks. Slade then feeds Dean, who wraps his arms around both of his buds in another great image. Will—now facing the camera as he snaps his bouncing boner around—sits down on Slade, who starts to suck Dean. Will then lies down on the table for a pounding from Dean, the bottom's ass lips clinging to the top's cock. Slade then takes his turn again before Dean assumes the 69 position with Will. That tempts Slade to the other end of the table, where he shoves his monster meat inside Dean's hole for an aggressive doggie-style pounding that has the table creaking — and Dean looking back in lust as he begs for more. "Fucking a stud like you!" yells the turned-on top, who soon bursts his hot load on Will's tight bod. His friends follow suit, with Dean streaming his spooge across Will's chest to end the unforgettable threesome.

MORE INFO, PREVIEW OR WATCH RIGHT NOW: TITAN MEDIA