Studio: SX Video
Directed by: Ben Baird
Year of Production / Release: 2011
Country of Production: U.S.A.

THIS IS NOT A SAFE-SEX FILM / PRESENTATION

CAST:
Luca Bondi [Fabio Stallone]
Chad Brooks
Gabriel D'Alessandro
Rowdy McBeal
Nick Moretti
Matt Sizemore
Miguel Temon
Matt West
ADDITIONAL COMMENTS:
Watch online and a host of other scenes at the SX Video Members site.
INFORMATION FROM SX VIDEO:
These sexy hunks want you to Bareback them…..they will even beg.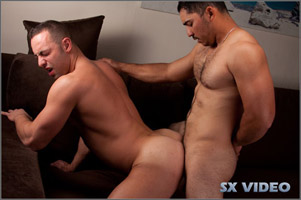 SCENE 1: Miguel Temon fucks Luca Bondi
Luca Bondi stops by the SX Video studios to try out Miguel Temon's super-sized uncut cock, and being the cock craving pig bottom he is, skipped all the foreplay and dropped right to his knees to swallow dick. The cock-whore continued going down on Miguel's meat hungrily, deep-throating and lubing it up with thick slobber, until Miguel was through with his mouth and ready to move on to plugging the bottom's ripe hole. Miguel grabs Luca's huge 10" Italian sausage, jerking it in his hand, before loosening up the ass he's about to fuck with his fingers. Miguel then bends him over the couch and slams his massive dick deep down Luca's hole, wasting no time stretching it out with quick stabbing cock-thrusts.
With the intense stamina he's known for, Miguel throws Luca on his back and tosses his legs over his shoulders to really open up his asshole, and starts plowing into his insides even harder, while Luca moans uncontrollably for more. With his thick rod sliding in and out of Luca's sweet hole rapidly, Miguel takes a moment to pull out and feed the juices his dick has fucked off of him into his mouth, before shoving his bottom's face into the pillow for the next ass pounding. Grabbing his ankles for leverage, Miguel nails into Luca with the intent of busting a fat load, and begins fucking him faster until spraying his milky man-juice all over Luca's hole, scooping it off of his ass and delivering it to his willing mouth, which he licks clean. Luca, now on his back, fingers his asshole and jerks his enormous fat cock until his eyes start rolling back in his head, erupting cum all over his chiseled stomach, which he fingers into his mouth and swallows.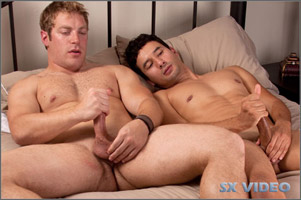 SCENE 2: Matt West & Gabriel D'Alessandro
Beefy golden-boy Matt West makes his debut to SX Video to top porn veteran Gabriel D'Alessandro. Gabriel starts off by stripping Matt down and sucking on his thick meat and massive low-hanging balls till he begins to get hard and starts face-fucking the Latin hottie. Gabriel then lays Matt on his back, spreading his thick thighs apart to get to his virgin asshole, which he begins to tongue and feast on. With Matt now worked up, Gabriel decides to deep-throat Matt till he is rock-hard and then lies down on the bed doggie-style and presents his tight hole, which Matt plunges his huge thick cock into and starts hammering away.
With Matt's gigantic balls slapping against Gabriel's ass with every thrust, Matt throws the hungry bottom to the floor and continues pummeling his hole with stabbing thrusts. Matt continues to make Gabriel his little bitch as he holds his legs up high over his head and fucks him even harder , until he bends him over the bed and plows the hell out of his ass, driving Gabriel to squirt a huge load all over his stomach, which Matt feeds into his mouth. Shortly after, Matt directs Gabe's mouth back onto his dick and then jerks his huge cock, until it explodes with creamy jizz all over Gabriel's face and mouth, which he licks clean.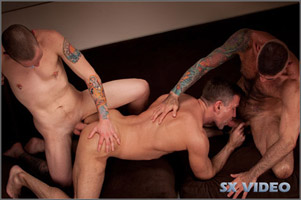 SCENE 3: Rowdy Mcbeal, Nick Moretti & Matt Sizemore
o of newcomers including Rowdy Mcbeal, Nick Moretti, and Matt Sizemore join SX Video to film one of the dirtiest fuck-fests we've seen for a while. The scene begins with the three making out and feeling each other's stiff rods, until filthy pig-bottom Rowdy drops to his knees to service his two costars, stuffing their meat deep down his throat. Next Nick and Matt both take their turns filling their appetites for dick and make their rounds sucking each other's swollen hard-ons. Being the dirty pig he is, Rowdy gravitates towards Matt's hole and tongue-fucks him wet and hard, and then encourages Nick to do the same. Now revved-up and dying for young pink hole, Matt bends Rowdy over and penetrates him hard with his long thick cock. To give Rowdy the treatment he craves, Matt and Nick then get him onto his knees, as Nick pees into the young stud's dog bowl and mouth, commanding him to lap it all up. Now soaked in piss, Nick comes around and nails back into Rowdy's tight hole so hard that the bottom begins to pee all over the floor.
Nick and Matt then take turns fucking Rowdy's hole and mouth, loosening it up for a hard thrashing until Matt insists on getting the same treatment to his soft insides. Nick then penetrates Matt deep and hard, opening up his hole nice and wide for Rowdy to then take his turn. Now having worked up a thirst, Rowdy then assumes proper position on the floor like a dog and waits until Matt showers him with hot piss, which he drinks and rolls around in. the horny studs then continue their fuck-session by triple-fucking each other with Rowdy in the back, Matt in the middle, and Nick in the front. The trio continues ravaging each other's holes until Rowdy ends up on his back receiving a large cum-load all over his balls from Matt. Nick then takes his turn at the dirty bottom and explodes his own load onto the willing bottom. Rowdy now dripping cum out his ass, takes a seat on Nick's cock, jerking his fat load all over Nick's hairy chest and abs.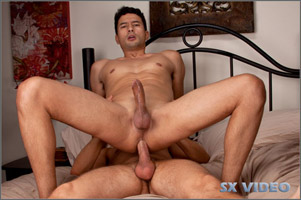 SCENE 4: Chad Brooks fucks Gabriel D'Alessandro
Chad Brooks makes a return visit to SX Video to fuck expert-bottoming Gabriel D'Alessandro. The scene begins with Chad waking up to tend to his colossal 9" girthy cock, which Gabriel soon discovers and immediately shoves down his soft throat. Gabriel continues to suck Chad's cock like a hungry pro until Chad decides he is riled-up enough to start preparing Gabe's ass for his enormous dick, jamming his fingers deep in his hole. After Gabe is eager and begging for the real thing, Chad mounts him and slips in his meaty package all the way, and begins plowing him even harder, first on his stomach and then on his back, then deciding to treat Gabe's dirty mouth to his ass juice off his dick. Chad then slams his dick back into Gabe and fucks him as hard as he can take it, driving Gabe to release a huge load while Chad is still inside him, fucking away. Chad continues pillaging Gabe's ass until he can't hold off any longer, jumping on the bed and shooting a man-sized load all over his pretty face.

WATCH IT NOW AT: AEBN / SMUTJUNKIES THEATER
GO TO: SX VIDEO
WATCH THE SCENES AT: HOT BAREBACKING