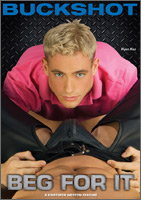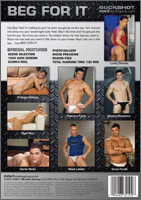 Studio: Kristofer Weston
Directed by: COLT / Buckshot Productions
Year of Production / Release: 2009
Country of Production: U.S.A.

CAST:
Lucky Daniels
Philippe Delvaux
Vince Ferelli
Greg Handel / Hayden Stephens
Nash Lawler
Derek Nicks
Ryan Raz
Romario Souza / Romario Faria
DIRECTOR KRISTOFER WESTON'S PRODUCTION NOTES: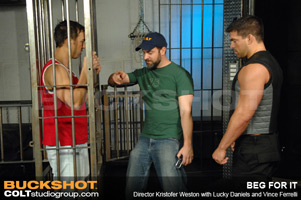 SCENE 1: Vince Ferelli and Lucky Daniel
Our concept for BEG FOR IT was simple enough… Have some very hot, dominating tops controlling their muscled, submissive twinks with just a little bit of kink.
   When I first saw Vince Ferelli I knew I had to have him as one of our tops. The dilemma was he normally likes to bottom, but he said he would give it a shot anyway. His scene partner, Lucky Daniel's has such a perfect bubble butt that he was a born bottom and he told me he would be interested in trying to top for a change – So, the rest is history, as they say… I said lets give them both a try and we all agreed to flip-flop…
   We shot the entire movie on location in the private dungeon at Mr. S Leather in San Francisco. It had this standing cage in it that you could lock someone in and still access all of the necessary holes. Within minutes Lucky got locked in that cage and you could visibly see he was aroused. As Vince walked around him and he ripped his shirt off and you could see Lucky starting to quiver and his dick immediately sprung into action.
   It was the second half of the scene that really got interesting for me though. Vince lay on his back and we used a leather shoulder harness to strap his massive tree trunk thighs to his heaving chest, this kept his legs in the air and his hole vulnerable and exposed for Lucky's tongue. Lucky's cock pulsated with raw pleasure.
   The scene went flawlessly and as you can tell by watching the trailers, these two Buckshot studs really enjoyed getting their kink on!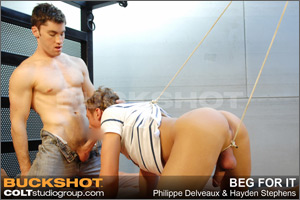 SCENE 4: Philippe Delveaux and Hayden Stephens
I've always wanted to use Hayden Stephens and his huge tool in a movie for so long and when I met Philippe Delveaux with his butterball rear end I knew the timing was right to put these hot guys together. Don't let the little boy looks fool you.  Philippe came from Belgium and was quite the little hungry pig! When I told him Hayden was going to tie up his balls and tease him with his big man tool – he got quite excited!
   They had chemistry right from the start and Philippe's piece stayed hard as a rock as Hayden undressed him. Once he got the boys pants off he tied up Philippe's balls and cinched the rope back up over the bed frame and tied it off on the boy's shirt collar. Now the boy was secured on all fours and Hayden could tease him with his huge tool. Hayden pulled it out right in front of the hungry boy's face and made him BEG FOR IT. The only way for the boy to get a taste was to crawl forward which tugged on his cinched up balls behind him.
   After Hayden felt he had teased the boy enough, he walked around behind the hungry bottom and dove into the boy's perfect creamy, bubbled rear end. The boy's hole was delicious and asking for more – Hayden just had to plow it! So he did – first on all fours and then on his back. Finally he let the boy take control and just laid back for the eager boy to ride his huge piece. Philippe's only request was to have Hayden shoot his load all over his face. Hayden was happy to oblige!

GO TO: COLT STUDIO
PREVIEW THE FILM