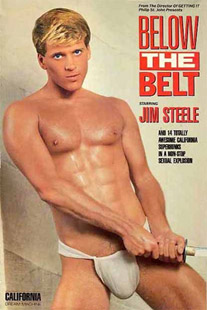 Studio: Bijou Video / California Dream Machine
Directed by: Phil St John
Year of Release / Production: 1985
Country of Production: U.S.A.

CAST:
Kyle Adams
David Ashfield
Chris Burns
Michael Cummings
Chad Douglas
Randy Foster
Sum Yung Mahn
Bull Matthews
Scott O'Hara
Jason Rich
Steve Richards
Nick Shultz
Jim Steele
Drake Stevens
Brian Thompson
Grant West
Cameo Appearance:
Brian Michaels (Cameo)
Matt Ramsey (Cameo)

Bijou Video was kind to send a review copy of Phil St John's first feature. Of course, we've been diggin' through it trying to figure out who's who and get a few Profiles going on this. But we had to note, what a great DVD this made, and held up so well (produced in 1985).
The sex is great (Chad Douglas and Jim Steele are a joy to watch)… but it remains charming as well… which is a quality not often seen.
SCENE BY SCENE:
SCENE 1: Jim Steele spies on Jordan Moore and Michael Ram in the Locker Room
SCENE 2: Grant West, Jim Steele, Chris Burns, Chad Douglas, Sum Yung Mahn, Scott O'Hara, Randy Foster, Jason Rich and Drake Stevens
In the shower room Grant West tells Jim Steele of his dream. A Samurai (Chris Burns) prepares West for some evil doing, when Greg the Karate Master (Chad Douglas) rescues West. West's character (The Oriental Boy played by Sum Yung Mahn) pleases Douglas "in any way" now owing him his life. Douglas finished with The Oriental Boy, lets a Samurai Squad do what they wish with him. Steele is so turned on by Grant's dream, he attacks Grant in the shower room. Grant fucks Steele and cums all over his back.
SCENE 3: Photoshoot – Scott O'Hara and David Ashfield Double-Penetrate Michael Cummings
SCENE 4: A hairy Shane Michaels [Steve Richards] seduces his sleeping roommate, Nick Shultz
SCENE 5: Karate Master, Chad Douglas has his way with Grant West
SCENE 6: The Orgy – Jim Steele, Chad Douglas, David Ashfield, Scott O'Hara, Nick Shultz, Kyle Adams, Grant West and Michael Cummings

WATCH IT NOW AT: MalePPV / AEBN
GO TO: TLA VIDEO
GO TO: BIJOU VIDEO