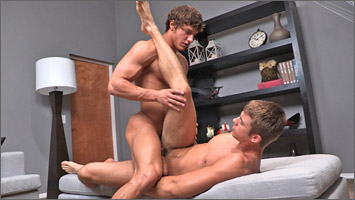 Studio: SeanCody.com
Directed by: Sean Cody
Year of Production / Release: 2012
Country of Production: U.S.A.

CAST:
Brandon
Marshall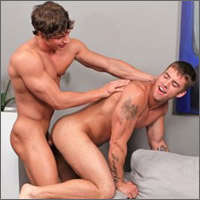 SEAN CODY COMMENTS:
"Wow! Marshall and Brandon…" I said as the guys were sitting together. "You know, this is, like, a dream come true?"
   "Whose dream?" Marshall asked, flashing a smile.
   "Everyone's… I don't want you to get big heads or anything, you know!"
   They laughed. Marshall looked at over at Brandon and said, "Well, he's perfect… so I'm excited."
   Brandon was already pitching a tent in his pants. So I knew he was excited too!
   "Here," Marshall said, moving to the floor. "Let me give you a foot massage. It will feel good!"
   As he started rubbing Brandon's foot, you could feel the sexual tension increasing.
   "I've never had a foot massage before," Brandon said.
   "How's it feel?" Marshall asked.
   "It's perfect!"
   Marshall was ready to get fucked. "I've been thinking about this for a while," he said. "Just go full bottom!"
   Brandon was gentle with him at first, but not for long.
   We had to take breaks here and there, because Marshall kept wanting to pop.
   "Man, THAT is the spot," Marshall said, out of breath.
   "On your side?" Brandon asked. "That felt good?"
   "Yeah, I was getting so close!" Marshall replied. "I had to keep thinking of grandmas and trees to keep me from cumming!"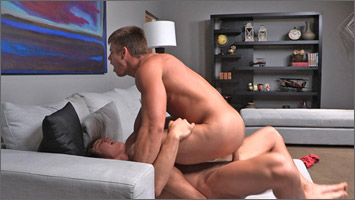 WATCH IT / DOWNLOAD IT NOW AT: SEAN CODY
On-Line Presentation. Members can Download.
Extensive Screen Captures and Download Options.