Studio: Spunk Video
Directed by: Gary Carlton
Year of Production / Release: 2010
Country of Production: U.S.A.

THIS IS NOT A SAFE-SEX FILM / PRESENTATION

CAST:
Robert Axel
Antonio Biaggi
Jake Cruz
Danny
Graham
Nick Jones
Karsin Knightly
Gianni Luca
Mark
Freddie Resik
INFORMATION FROM SPUNK VIDEO:
Breed My White Ass is all interracial couples – all black and latin tops on white bottoms, to be exact – in full-on breeding action as each fucker unloads in his bottom's ass, sometimes felching some out to share, sometimes pushing it in deeper.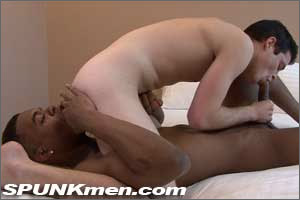 SCENE 1: Nick Jones and Graham
Nick and Graham tenderly kissed and rotated into a 69 position where they could both get access to each other's cocks. Nick took hold of Graham's thick meat and sucked it all the way down while using his right hand to wrap around Graham's ballsac and tease his hole with his fingertips. Graham, meanwhile, worked over Nick's long cock, taking as much as he could down his throat – but still leaving his hand wrapped around the base of Nick's cock. They stop sucking long enough to kiss each other, then Nick rolls Graham over onto his knees so he could rim his hole and make it good and wet.
   Graham rolls over onto his knees, and Nick moves right up to slide his cock into his ass. It's tight and takes a minute, but Nick pushes in and starts working Graham's hole open as he grunts his pleasure, reaching back and feeling Nick's slick cock sliding in and out of his ass. Nick slows down a bit to show just how long and thick his cock is, pulling out and rubbing his mushroom head against Graham's pink hole before plunging back in. It only takes a few more strokes after rolling Graham over on his back for Nick to pull out and blow his load on Graham's hole, which turns Graham on and makes him stroke a load our as Nick finishes off and pushes his load deep in Graham's guts.

SCENE 2: Antonio and Freddie
Everyone's favorite Latin lover Antonio Biaggi returns to bang Freddie Resik's hairy white ass, but not before a deep rimming to make it wet. Freddie's jockstrap quickly gets in the way as Antonio plunges in balls-deep – much to Freddie's groaning pleasure – and as Antonio works his hole open he decides to remove the strap, spit and rim his hole a bit more, then goes in full-force. Freddie's cock is so stiff it defies gravity and pokes his belly as Antonio goes full extension on his ass, giving Freddie all 11 inches. The camera pans around to see Freddie's eyes roll into the back of his head as Antionio explores his guts.
   Antonio likes his balls licked, so giving Freddie's hole a momentary break, he sits on Freddie's face long enough to slick up his sac, then rotates back to go balls deep into Freddie's quivering ass. With access to his cock, Freddie can't help but stroke it as Antonio fucks, stopping long enough to spit on Freddie's cock for some lube, then picking up the pace. Antonio pulls out and strokes his cock, spewing a load all over Freddie's ass, then pushes back in and dumps the last few drops up Freddie's ass which makes Freddie explode, sending jets of cum shooting up his chest and all over his belly. Antonio, of course, can't help but gather up his cum, mix it with Freddie's, and feed it to Freddie, then kissing him in a classic nasty finale.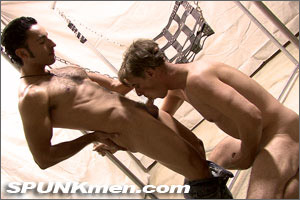 SCENE 3: Gianni Luca and Mark
Gianni's mocha skin, hairy chest and ripped abs contrast nicely with Mark's pale white complexion as they started making out in front of the sling. Mark dropped to his knees pretty quickly and took Gianni's cock in his mouth, sucking it hard, so Gianni returned the favor, finding Mark's cock already hard and ready. Gianni slides mark into the sling and pushes his cock right up Mark's hole with only the spit on his cock for lube. Mark just groans as Gianni pounds away, telling Gianni to fuck him harder.
   Gianni pulls out and goes back in, teasing Mark's hole, and Mark's response is to roll his legs back and grab his ankles, spreading his hole open as widely as possible for the onslaught. The cum starts to churn in Gianni's nuts as he bangs away, and when he pulls out the cum flies everywhere. He slides back in and pushes his load into Mark's ass, which makes Mark's cock stiffen as he strokes out a load. Gianni scoops up the sticky mess and feeds it to Mark before sharing the load in a cummy kiss.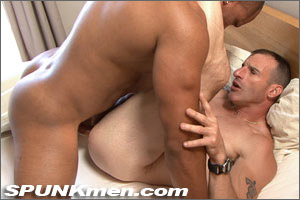 SCENE 4: Jay Cruz and Danny
Jay and Danny were a perfect muscle pairing, both buffed dudes with big arms, big pecs and ripped bods. Danny gets to sucking on Jay's cock pretty quick, which makes Jay hard and ready for some white ass. He pushes Danny onto the bed and starts by sucking a little cock, then rolling his legs back and thoroughly rimming Danny's hole out. Danny told us up front he didn't have a lot of experience with guys, especially guys of Jay's size, so when Jay finally worked his cock into Danny's hole it was tight and clamped down on Jay's cock so hard he said he almost came right then. But Danny loosened up as they went along, taking as much of Jay's cock as he could get into his tight hole, his head spinning as the big muscleman's cock found spots in his ass he didn't know existed.
   Jay rolls Danny over onto his belly and spreads his hole open for a nice, slow smooth fuck, using his muscular legs to push Danny's legs apart and pry open that hole. He gets to a nice rhythm , sliding in balls deep as Danny gets used to the feeling, his legs flexing each time Jay goes in a little bit deeper, even raising his ass up to allow Jay to get better access. Jay raises up and supports his body weight on his arms and digs deep into Danny's ass, as Danny just squirms in ecstasy. Danny rolls over on his back and takes a pounding, and as Jay gets close he drops to Danny's side and jerks out his load, gathering some up and wetting Danny's lips with his cum. Danny has to stand to jerk out his load, giving us a great view of the cum shooting out of his cock.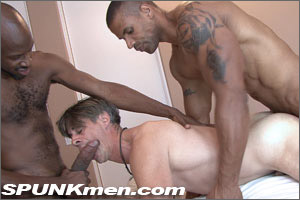 SCENE 5: Robert Axel, Mark and Karsin Knightly
Mark is back for more, and "more" is the best way to describe Karsin and Robert. Karsin's huge cock was more than enough to gag Mark, and Robert's incredibly ripped body was only made hotter but his rightward-curved cock. They start out sucking cock until both tops are rock hard as Mark goes back and forth between their cocks as they kiss. A moment later they position Mark on the bed and go for a spit-roasting, first with Karsin's cock in his mouth gagging him, then rolling him over for Robert to stuff his hard dark meat into Mark's beefy white butt. Robert takes his time opening Marks' hole, which given Karsin's width and length, Mark appreciated.
   They spin Mark around and Karsin stuffs his huge cock up Mark's ass, and remarkably he takes it all the way to the balls as he sucks on Robert's cock, stopping only long enough to tell Karsin to fuck his ass and keep going. Part of what makes the scene hot is that Robert and Karsin were also into each other, leaning in and kissing each other, rubbing each other's chests, and really getting off on using Mark's white hole. Mark seems to get off on the two of them slapping his already bruised ass, his cock hard as a rock as Karsin fucks him, then Robert. Karsin pulls out and blows his load on Mark's hole, then bends over and felches it out before spinning Mark over and handing him off to Robert.
   Robert slides his rock hard cock into Mark's open hole and pumps away. Robert's cock hits all the right spots, making Mark blow his load all over his belly . Robert fucks until he ready to blow, pulls out and shoots his load on Mark's hole and then pushes it back in. Mark just groans as he feels the spooge churn in his ass with what was left of Karsin's load.

WATCH IT NOW AT: AEBN / SMUTJUNKIES THEATER
GO TO: SPUNK VIDEO