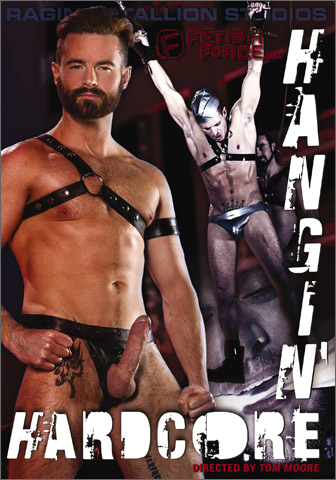 Studio: Raging Stallion's Fisting Central / Fetish Force
Directed by: Tom Moore
Year of Production / Release: 2016
Country of Production: U.S.A.

CAST:
Alexander Gustavo
Brandon Moore
Brendan Patrick
Jaxton Wheeler
INFORMATION FROM RAGING STALLION'S FISTING CENTRAL / FETISH FORCE:
Four clean-cut guys expose their fetish for pervy, kinky play when they visit the 'Bondage Garage.' Director Tom Moore puts these secret pigs through their paces with a marathon of intense BDSM scenes that push them to their extreme limit. Brian Bonds uses shrink wrap to immobilize his sub, Eli Lewis. After stretching Eli's ass with the handle of an industrial pipe wrench, Brian oils up his cock and pounds Eli's ass until the sub shoots his load. Brian suspends Eli with rope for an intense 69 cocksucking session, but then the tables turn, and Eli stimulates Brian's ass with a vibrator until Brian covers his torso with cum. Mechanic's apprentice Micky Mackenzie gets an intense training session from Lance Hart, lead mechanic of the Bondage Garage, enduring tickle torture, a fucking machine, submissive puppy play, and intense anal pounding. Cruise on down to the 'Bondage Garage' to get your fix of extreme, down and dirty fetish play.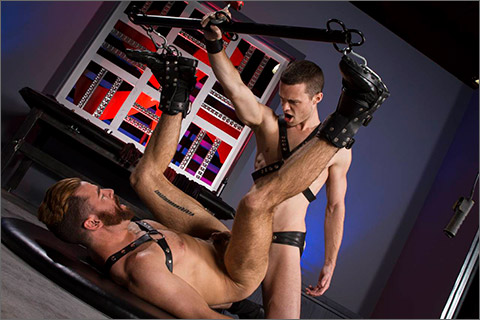 SCENE 1: Brendan Patrick & Brandon Moore
Bearded hunk Brendan Patrick kneels before his master Brandon Moore on a circular, spinning, padded fuck table. Brandon engulfs Brendan's entire head in a leather-studded zipper mask. After a quick rubdown, Brandon hoists Brendan up by the feet and suspends him upside down from the ceiling. He introduces a giant manrammer into Brendan's willing hole, fucking him steadily with the massive rubber dong. Continuing to service his sub, they ensue in an acrobatic 69 until Brandon lowers Brendan back down to the floor and plows his ready and willing hole with his huge cock. Brandon unhooks Brendan's feet from the suspension and drills into him doggie-style until he spews his load onto the floor.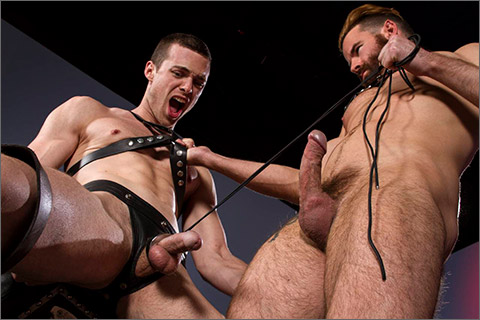 SCENE 2: Brendan Patrick & Brandon Moore
Bearded dom Brendan Patrick tugs on a line connected to the hefty steel ring encircling Brandon Moore's cock and balls. Stretching Brandon's junk to the limit, Brendan dares him to last as long as he can, but the insatiable sub keeps asking for more. To satisfy his sub's craving, Brendan attaches vicious clamps to Brandon's nipples and stretches them until the clamps loose their grip. Returning to Brandon's cock and balls, Brendan attaches the line to a pulley on the ceiling, creating a constant tug. With the tips of his fingers, Brendan teases the tight, stretched skin on Brandon's nut sack and the sensitive center of Brandon's hole. As Brendan makes the line even more taut, Brandon's nuts bulge and swell. After such intense play, Brandon is eager to take Brendan's cock. Brandon services his dom orally, and then Brendan eats out Brandon's ass. When Brendan starts pounding his sub's hole, the intense verbal exchange adding to the extreme action. Reaching the climax, Brendan shoots his massive load into Brandon's mouth, coating his tongue with white cum.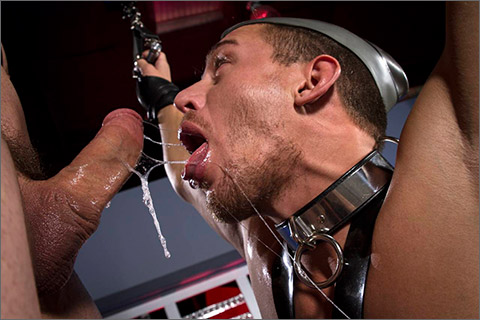 SCENE 3: Jaxton Wheeler & Alexander Gustavo
With a slender cane in his grip, Jaxton Wheeler menaces his sub, Alexander Gustavo. Pulling back the thin rod, Jaxton lets it slap across Alexander's bare, unprotected ass and legs. Jaxton penetrates Alexander's tight hole using a cane with a sphere on the end, and then uses a massager to make the cane vibrate inside Alexander's ass. Grabbing two more canes, Jaxton works Alexander over with both hands. When Alexander reaches his limit with the canes, Jaxton rewards him with cock. Jaxton is as relentless with his cock as he was with the canes. Doggy style allows Jaxton full access to Alexander's hole. When Alexander's ass needs a break, he uses his mouth instead, giving Jaxton a messy, spit fueled blowjob. When saliva drips onto Jaxton's boots, Alexander must clean them by holding a brush in his mouth. Alexander worships Jaxton's boots dutifully, and starts jerking himself off with one of Jaxton's socks. With the boot blacking, Jaxton marks his sub with the words SLOBBER SLUT and PIG ASS. Jaxton gets his ass rimmed before returning his cock to Alexander's hole. The handle of Alexander's leather leash serves as a handy whip. Alexander cums on the leather chair, and Jaxton pushes his face into it for him to lap it up.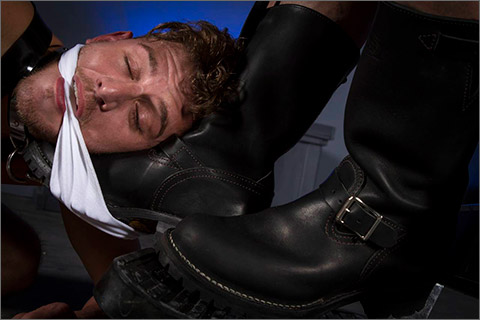 SCENE 4: Jaxton Wheeler & Alexander Gustavo
Athletic Alexander Gustavo's wrist restraints are bound to a spreader bar hanging above his head. Beefcake Jaxton Wheeler, dressed in a full rubber uniform, spanks Alexander's ass, leaving his ass cheeks with a pink tinge. Grabbing an anal massager, Jaxton stimulates Alexander's prostate. Alexander moans with pleasure, and his cock swells inside his rubber jockstrap. Looking for a new way to use his sub, Jaxton grabs a metal ass hook and slides it in Alexander's hole. Rigging the hook to the spreader bar creates constant tension, and Jaxton uses the massager to make the hook vibrate inside Alexander's ass. With Alexander immobilized, Jaxton then pummels his ass with the open palms of his hands, reddening Alexander's cheeks even more. Climbing atop a chair, Jaxton unleashes his massive cock and gets a wet, slurping blowjob from Alexander. Jaxton removes the metal hook for an intense doggy style fuck that brings him to the edge. Jaxton releases Alexander from his bondage and showers his face with cum.

WATCH THE SCENES AT:
RAGING STALLION'S FISTING CENTRAL / FETISH FORCE