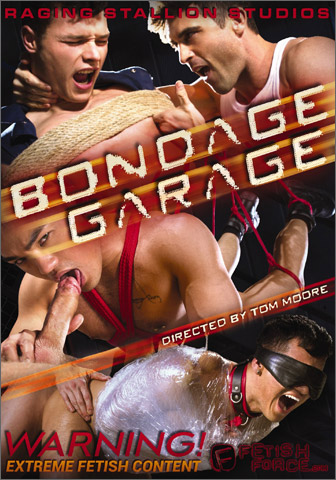 Studio: Raging Stallion's Fisting Central / Fetish Force
Directed by: Tom Moore
Year of Production / Release: 2016
Country of Production: U.S.A.

CAST:
Brian Bonds
Lance Hart
Eli Lewis
Micky MacKenzie
INFORMATION FROM RAGING STALLION'S FISTING CENTRAL / FETISH FORCE:
Four clean-cut guys expose their fetish for pervy, kinky play when they visit the 'Bondage Garage.' Director Tom Moore puts these secret pigs through their paces with a marathon of intense BDSM scenes that push them to their extreme limit. Brian Bonds uses shrink wrap to immobilize his sub, Eli Lewis. After stretching Eli's ass with the handle of an industrial pipe wrench, Brian oils up his cock and pounds Eli's ass until the sub shoots his load. Brian suspends Eli with rope for an intense 69 cocksucking session, but then the tables turn, and Eli stimulates Brian's ass with a vibrator until Brian covers his torso with cum. Mechanic's apprentice Micky Mackenzie gets an intense training session from Lance Hart, lead mechanic of the Bondage Garage, enduring tickle torture, a fucking machine, submissive puppy play, and intense anal pounding. Cruise on down to the 'Bondage Garage' to get your fix of extreme, down and dirty fetish play.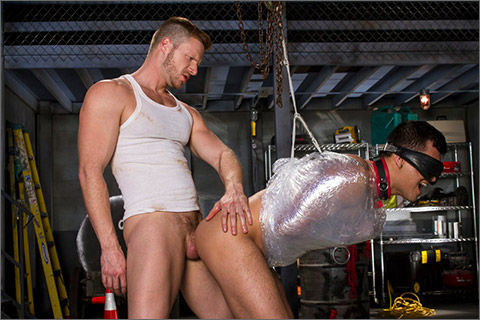 SCENE 1: Brian Bonds & Eli Lewis
Brian Bonds rolls into the 'Bondage Garage' with junk in his trunk: specifically, Eli Lewis, who is lying naked, bound, gagged, and blindfolded in the back of Brian's SUV. Brian pulls Eli out of the car and has him stand in the center of the dark, dirty garage. Utilizing his rope skills, Brian connects Eli's wrist restraints to his collar. Grabbing an industrial-size roll of shrink wrap, Brian encircles Eli's entire body until his arms and torso are completely immobilized. A rope running down Eli's back, underneath the shrink wrap, enables Brian to suspend Eli from a pulley. Brian gets out his big, thick cock and feeds it to Eli, giving the captive sub the change to practice his oral skills. As a reward for a job well done, Brian sucks Eli's cock for a spell. Now focusing on Eli's ass, Brian spreads the firm cheeks and uses his tongue to lube up the tight hole. Picking up a massive industrial pipe wrench, Brian lubes up the handle and slides it into his submissive bottom. Eli moans as the huge tool disappears inside his stretched hole. Brian fucks Eli's ass with the handle, then makes Eli clean the handle with his tongue. Grabbing an oil can, Brian slicks up his fat cock and thrusts it in Eli's backdoor. Eli submits completely, shouting out, 'Thank you, sir!' in between moans as Brian relentlessly pounds away. Picking up speed, Brian pummels Eli's hole with his cock, and the intense penetration makes Eli cum. But Brian's not done with him yet…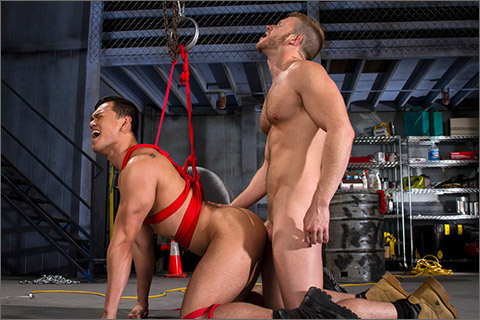 SCENE 2: Brian Bonds & Eli Lewis
Dom top Brian Bonds releases his sub, Eli Lewis, from his cage for some intense, deep cocksucking. Eli's chest is bound in a red rope harness, which Brian attaches to a suspended ring. Gathering more rope, Brian connects Eli's legs to the ring and suspends him several feet above the ground. Brian lays on the ground underneath Eli and they 69 each other's cocks. Lowering Eli to the floor, Brian unties the ropes binding Eli's legs knot by knot. He raises the ring, forcing Eli to assume a doggy style position, and probes Eli's asshole with his tongue. Using an oil can, Brian applies lube and starts to fuck his sub. Eli jerks his cock as Brian thrusts deep inside the sub's tight hole. After having his fill, Brian lowers Eli to the floor once more and stomps Eli's ass with his leather work boots, leaving a red mark on Eli's ass cheeks.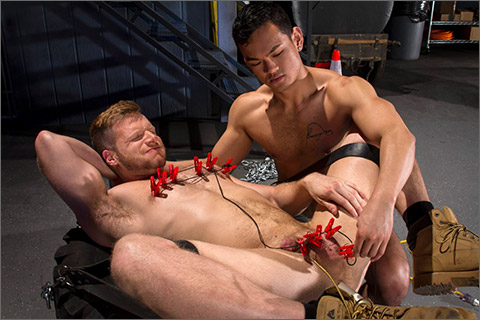 SCENE 3: Brian Bonds & Eli Lewis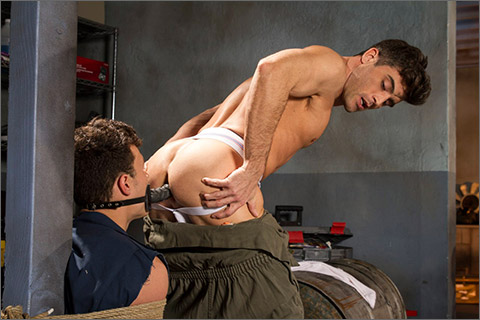 SCENE 4: Lance Hart & Micky Mackenzie
Sitting on a steel barrel, mechanic's apprentice Micky Mackenzie jerks his cock while gazing at a gay porn mag. Behind him, lead mechanic Lance Hart is unimpressed. If Micky wants to keep his job, he'll have to give Lance what he wants. Micky stands up straight and Lance binds him to a post with thick, rough hemp rope. Lance attaches Micky's hands to his cock and starts intensely tickling the young apprentice. Lance even strips off Micky's socks and attacks his feet. No matter how much Micky struggles, he can't get away from Lance's tickling fingers. After completing his relentless ticklation, Lance straps a gag over Micky's face with a big, black dildo protruding from it. He pushes Micky down on the pole so that he is crouching on the floor. Shedding his work jumpsuit, Lance backs his ass up into Micky's face and fucks himself on the dildo strapped to Micky's mouth. When Lance has satisfied his ass, he unties Micky, lays him on top of a barrel, and shoves his cock inside the sub's tight hole. Micky squeezes his eyes shut and contorts his face as Lance has his way with Micky's ass.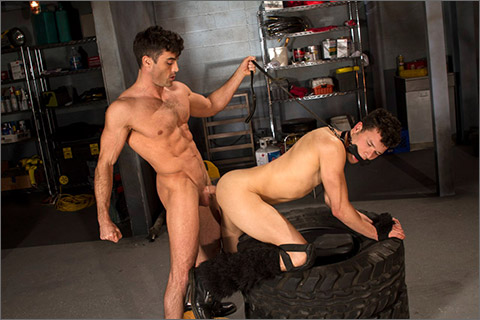 SCENE 5: Lance Hart & Micky Mackenzie

WATCH THE SCENES AT:
RAGING STALLION'S FISTING CENTRAL / FETISH FORCE