Studio: Falcon Studios
Directed by: John Bruno
Year of Production / Release: 2009
Country of Production: U.S.A.

CAST:
Leo Giamani
Luke Hass
Roman Heart
Aden Jaric
Jordan Jaric
Nash Lawler
Tory Mason
Spencer Stone
SCENE 1: Luke Hass fucks Tory Mason
SCENE 2: Aden Jaric and Jordan Jaric flip-fuck
SCENE 3: Nash Lawler fucks Spencer Stone
SCENE 4: Leo Giamani fucks Roman Heart
INFORMATION FROM FALCON STUDIO: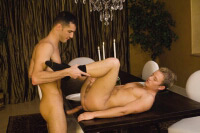 SCENE 1
Candlelight sets the tone for the perfect romantic scene. Toss in an intoxicating glass of wine, wild strawberries dipped in chocolate, two horny men and everything falls into place. The sexual tension between Luke Hass and Tory Mason is immediate; passionate kissing leads to carnal manaction. Propping Tory onto the table, Luke feasts on his cock, sucking it down and nibbling the mushroom tip. He's so excited, his own hard dick emits a viscous string of precum. Then he begins playing with Tory's asshole, first rimming it, then sliding a small red sphere inside. Tory's sphincter stretches to accept and then release the orb. Tory begs to be fucked and his wish is granted. Luke pumps his cock in and out as Tory jacks himself off. Whether Tory is on his back, standing and getting it from behind, or even as he sits on Luke's cock, he's getting the best fuck imaginable in an easy rhythm. Both are brimming with passion before Tory shoots his load, followed by Luke with his torrents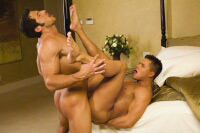 SCENE 2
Ascending the staircase hand in hand, Aden and Jordan Jaric reach the top and celebrate their love. Passionate kissing leads to sensuous foreplay as Jordan kneels before Aden to suck his cock. Because these two have been an exclusive couple for a long time, they know the secrets of each other's bodies, what buttons to push to make the other quake, what special trickery they've mastered to keep the passion burning fiercely. They take turns sucking cock before they rim each other's ass – familiar territory their tongues have travelled many times before. Then Jordan plunges his cock into Aden's hole, fucking him hard. They switch roles and Aden plows into Jordan's ass with as much profound intensity if not more. Then laying on their backs, ass to ass, they connect via a two-headed dildo crammed up their holes. They twist and gyrate, growing more and more stimulated. They start beating their meat and then Aden and Jordan are home free as they explode with blasts of cum – Jordan twice.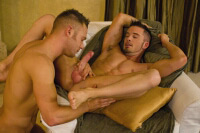 SCENE 3
Stoking the flames of manlust and passion are Nash Lawler and Spencer Stone. Engaged in a game of gin, Nash emerges the winner which inspires Spencer to acknowledge the grinning victor by sucking on his hard dick, thoroughly enjoying each precious inch of manmeat. His appetite for more of his handsome partner's fleshy bounty soon has him rimming his hole, jabbing his tongue deep inside Nash's crack. This drives Nash so crazed and horny that he goes down on Spencer to suck on his cock. Then Nash has Spencer upended and balancing on his shoulders, his ass in the air ready to be poked. The excited and muscled fireplug fucks his buddy up the whazoo. The action is so hot, so intense, neither man can stop exclaiming back and forth how good it all feels. Nash continues to fuck Spencer in different positions until they each climax and shoot their wads.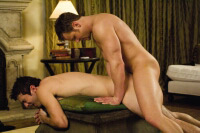 SCENE 4
Roman Heart and Leo Giamani join forces for a romantic romp in their tub of love. Bathed in candlelight and fueled with sparkling champagne, the two men engage in a heavy suck and fuck whirlpool of manlove. Roman dives onto Leo's thick dick and hearty meatballs, greedily feeding himself before Leo returns the favor and starts to fellate his horny playmate. Then Leo fucks Roman up the ass, working with fervor as his balls swing back and forth. Roman sits on top of Leo's hefty flagpole and rides him hard, sighing with every slide up and down. Leo continues to screw Roman even more as he lays on his back. Choking his dick and beating off, Roman finally unloads and shoots his wad across his belly. Leo follows and blasts his cream onto Roman – their milky deposits commingling. The lovers snuggle, spooning and kissing, exhausted and totally satisfied.

WATCH IT NOW AT: FALCON STUDIOS