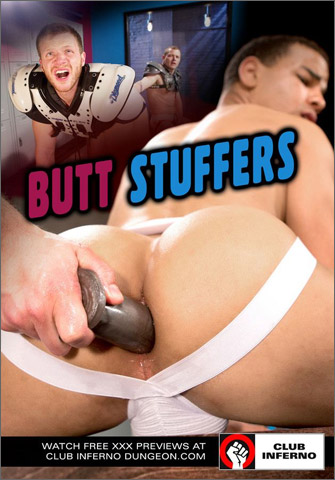 Studio: Hot House Entertainment / Club Inferno
Directed by: Christian Owen
Year of Production / Release: 2014
Country of Production: U.S.A.

CAST:
Blue Bailey
Joel Banks
Brian Bonds
Seamus O'Reilly
Steven Ponce
Drew Sebastian
Dylan Strokes
Trelino


INFORMATION FROM HOT HOUSE:
Every hot young fist-pig in town wants to join the Butt Stuffers, a team of twisted young athletes who take the sport of handball to a whole new level. These fit young studs shove giant dildos, butt-plugs and their teammates' fists up their asses in rigorous training sessions guaranteed to make them ready for the big leagues. Team captains Blue Bailey and Brian Bonds put rookies Dylan Strokes, Seamus O'Reilly, Steven Ponce and Trelino to the test. Do you think you've got what it takes? Join the Butt Stuffers today!

SCENE 1: Steven Ponce fists Seamus O'Reilly
After a hard day of practice on the field Seamus O'Reilly and Steven Ponce hit the locker room where the real training begins. O'Reilly kicks back on the changing bench so Ponce can perfect his cock sucking skills on his giant 11′ cock. Like a true dick-pig, Ponce does his best to swallow it all but it's just too big so he concentrates on O'Reilly's ass. He orders his ginger-haired teammate on his knees and licks his tight young hole until Seamus begs him to use his fist. Ponce pulls on a rubber glove and shoves his entire hand up his ass; looks like Seamus is no rookie. Ponce pulls on his own red-hot ginger cock while he massages Seamus' prostate until he can't edge any longer. He jacks a load all over Seamus' hi-tops and licks it off, never taking his fist out of his buddy's hole.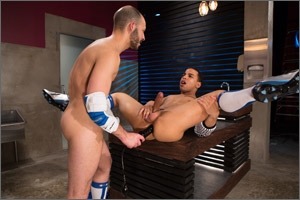 SCENE 2: Dylan Strokes dildo fucks Trelino
When you see a big fat bubble-butt like Trelino's all you want to do is stuff it, and that's exactly what Dylan Strokes does when he finds the young jock on all fours begging for some assplay. Strokes twists a heavy latex bolt deep in Trelino's tight hole, getting him warmed up for the giant rubber balls. Dylan teases Trelino with the first ball then works a second and third ball in the kid's ass which makes Trelino's uncut cock rock hard. He flips over on his back and jacks off while Dylan strokes his own huge cock and pummels his buddy's hole with a giant inflatable dildo. He shoves the massive toy in Trelino's butt and pumps it up while both guys jerk loads out of their huge cocks.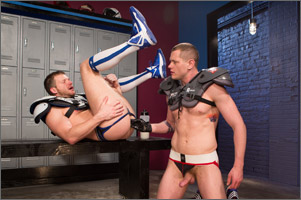 SCENE 3: Brian Bonds fists Blue Bailey
Judging from the way Blue Bailey manhandles Brian Bonds it's been a while since he's had any butt-stuffing action. The horned up athlete spits in Bonds' mouth, fucks his face, then pushes him back on a bench and shoves his fist in his ass. Of course Bonds, being the ultimate cock sucking fist pig, is totally into it. He begs Bailey to 'fist his boy hole' deeper and harder, jerking on his hard cock the entire time. The twisted jocks switch it up with Bonds on all fours, fucking himself on Bailey's outstretched arm. The harder he pushes back on Bailey's fat fist and forearm the harder Bailey strokes on his own cock until he shoots his load all over the locker room floor.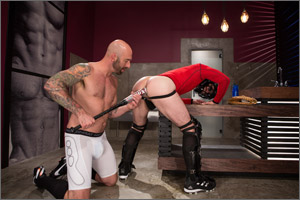 SCENE 4: Drew Sebastian fists & fucks Joel Banks
There's nothing hotter than a guy with a huge cock who sucks good dick. When horse-hung Drew Sebastian discovers that Joel Banks has a giant piece of meat swinging between his legs he gets on all fours and swallows Banks' monster cock to the base. Sebastian's juicy deep throat service drives Banks wild and serves as the perfect warm up to the main event: a baseball bat up Bank's ass. Sebastian rims the greedy bottom's hole and inserts the tip of the bat only to discover that Banks is a heavy hitter. He fucks the pig's ass with the bat then pulls on the rubber gloves and shoves his fist in Bank's gaping hole. Sebastian expertly slides his hand in deeper to massage Bank's prostate until he's rewarded with a bright red rosebud.

WATCH IT NOW / MORE INFO AT:
HOT HOUSE CLUB INFERNO DUNGEON
Hot House Club Inferno Dungeon Members can see this film anytime online.
With extensive additional photography from every scene.