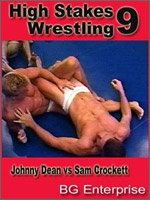 Studio: BG Enterprise
Directed by: Bill McGeorge
Year of Production / Release: late 1990s
Country of Production: U.S.A.

CAST:
Sam Crockett
Johnny Dean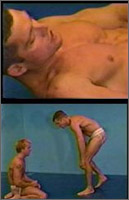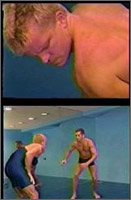 INFORMATION FROM BG ENTERPRISE:
HIGH STAKES WRESTLING 9 (40 min) (Order Item HISTK9) (PRICE: $39.00) (SAM CROCKETT VS. JOHNNY DEAN) This bout comes in three parts. Johnny and Sam wrestling all-out, no holds barred, in a singlet and sexy shorts. Johnny and Sam wrestling erotically in a jock and nude, and Sam overcoming Johnny sexually. In the first part, straight all-out wrestling, Johnny wins 3-1 in falls. In the more erotic part of their match, Sam seduces Johnny into losing and fucks him unmercifully. And when the cum flies from Sam's hard cock a primordial cry emanates from his gut. Johnny is a wrestling machine; Sam's a sexual machine. In a match in which the loser gets fucked it's the sexual machine that wins. You, the viewer, win because this matchup is so damned sexy and entertaining. You've got real competitive wrestling and a hard conclusive fucking.

BG ENTERPRISE RELEASES AT: MALEFLIXXX
GO TO: BG ENTERPRISE