Studio: Lucas Entertainment / Lucas Raunch
Directed by: Christopher Crisco, Adam Killian
Year of Production / Release: 2013
Country of Production: U.S.A.

CAST:
Rafael Alencar
Jessy Ares
Micah Brandt
Trenton Ducati
Vito Gallo
Sebastian Keys
Adam Killian
Derek Parker
Seth Roberts
Jesse Santana
Billy Santoro
Tom Wolfe
ADDITIONAL COMMENTS:
Scenes Premier online prior to DVD release and are available to view anytime in the Members Area.
Members can watch scenes from all Lucas Entertainment releases anytime online.

THIS PREVIEW CONTAINS ADULT SEXUAL CONTENT


INFORMATION FROM LUCAS RAUNCH:
The piggish man-whores of Lucas Raunch want it Harder. They want it Faster. And they always want it Rougher. And that's exactly what Seth Roberts is begging for as Jessy Ares prepares to invade him during a fuck session neither will soon forget. Trenton Ducati rough-rides Derek Parker's ass with his fat eight-inch cock. Adam Killian and Jesse Santana experiment with domination and submission in an unforgettable sexual encounter. Vito Gallo, Tom Wolfe, and Billy Santoro all take turns showing Micah Brandt who is boss. And Rafael Alencar turns Sebastian Keys' hole into a blooming red rosebud. You've come to the right place if you want it Harder, Faster, and Rougher!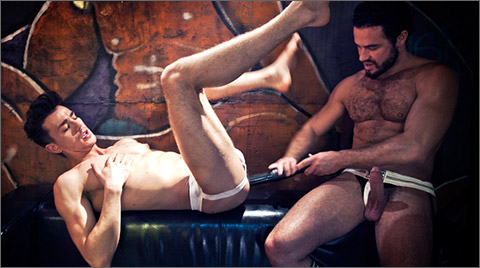 SCENE 1: Jessy Ares Takes Control of Seth Roberts
When Seth Roberts is asked out by Jessy Ares, he knows that it's only going to be about sex. But Seth also doesn't realize just how far Jessy takes his fetish for control and domination. Jessy is going to do all of the dominating and controlling, that's for sure. Seth meets Jessy in a dark room and buckles up for some of the roughest sex he's ever enjoyed! Some of the highlights include Seth getting banged in the ass while gagged and bending over for high-energy dildo penetration! Can Seth handle big, black toys lodged up his ass by one of the hottest tops in the gay porn industry' Watch and find out!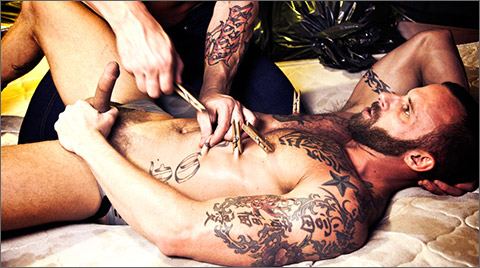 SCENE 2: Trenton Ducati Pounds Derek Parker's Ass
Sometimes the hottest guys are also big bottoms, and that's exactly the case with Derek Parker. With that short haircut, full beard, thick muscular body and gorgeous cock, he's ready to take just as much dick as he can handle. Trenton Ducati is in luck: he's a Lucas Entertainment favorite, and here he's returning to the Raunchy side of the studio to give Derek exactly what he needs. And the harder Trenton can give it to Derek the better. The faster he can deliver the slams to the bottom's ass and throat the better. And the rougher Trenton is the more he will make Derek moan, scream, and beg for more. It's not only a question if Derek can handle it, but can you?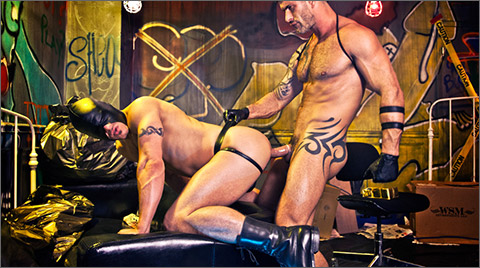 SCENE 3: Adam Killian Dominates Jesse Santana
Adam Killian is feeling extra dominant and kinky today, so it's a good thing that his fuck-toy for the day is Jesse Santana. He puts on a leather hood for Adam and takes his fucking like a good servant. Adam makes full use of Jesse's needy, anxious mouth and asshole with the legendary fat cock that's between his legs. It's always hard and in need of service. But Adam pounds Jesse with more than his dick — he squeezes his foot past Jesse's hole and foot-fucks the porn star like he's never felt penetration before!

SCENE 4: Micah Brandt's Four-Way Slam Fest
It's been a long time since Lucas Entertainment has shot this many guys in one scene, and never before has one guy been the object of so many guys' hardcore, rough-riding desire. The guy at the center of all this attention is Micah Brandt, and he's got to prove he knows how to handle cock! He's got plenty of guys who are going to put him to the test: furry hunk Tom Wolfe is a power-top who doesn't put up with a mouthy bottom (unless he's moaning), Vito Gallo has one of the biggest dicks in gay porn history, and Billy Santoro, who can take as hard as he can give. Micah sucks a lot of cock and takes a lot of dick in this fantasy scenario. Billy needs to help him out halfway through the scene and wrangle Vito's cock for a while, but it's Micah who takes it all!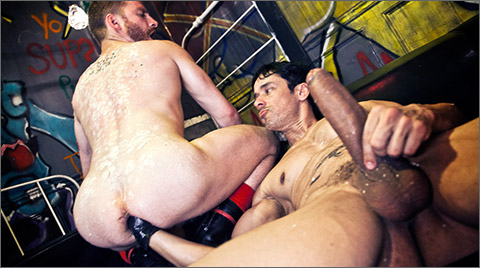 SCENE 5: Rafael Alencar Fucks Sebastian Keys' Rosebud

SEE THIS NOW / MORE INFO: LUCAS RAUNCH