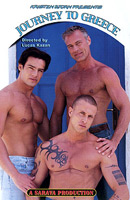 Studio: Lucas Kazan Productions
Directed by: Lucas Kazan
Country of Production: Italy / U.S.A.
Year of Production / Release: 2004

CAST:
Lucas Andrades
Antonio Armani
Federico Bulsara
Ivan Cseska
Mario Perez [Marcos David]
Sebastian Dunn
Sergi Jordanov
Pietro Rosselli
Max Veneziano
FROM THE LINER NOTES:
You are about to embark upon a journey to the Greek Isles. There the water is crystal blue, the sun is warm, and the men are hot.
   JOURNEY TO GREECE, from award winning director Lucas Kazan, was shot on location in the Greek Isles. With an international cast of nine of the hottest men ever assembled, this is a tale of lust, romance, betrayal, plus loads and loads of hot man-sex.

GO TO: LUCAS KAZAN PRODUCTIONS
WATCH IT NOW AT: MALEFLIXXX
AVAILABLE FROM: TLA VIDEO