Studio: Titan Media / Titan Fresh
Directed by: Richie Oldmann & Brian Mills
Year of Production / Release: 2010
Country of Production: Czech Republic

CAST:
Stephen Bibinek
Chad Driver / Ron Sykora
Max Fonda
Eric Tomfor
Andy Janecek
John Paul / Tony Eliott
Ethan Roberts
Gabriel Ross
Tucker Scott
SCENE 1: Ethan Roberts and Gabriel Ross fuck Tucker Scott
SCENE 2: Stephen Bibinek and John Paul fuck Andy Janecek
SCENE 3: Max Fonda and Eric Tomfor fuck Ron Sykora
FROM TITAN MEDIA WEB SITE:
You've been on the clock all week…it's time to get off. Take some time to relax with nine hung European studs, who work up a sweat the old-fashioned way in the latest entry from TitanMen Fresh. The uncut action explodes in a trio of torrid threesomes that prove getting Off Duty comes with its own benefits. The daily grind was never this hard!
   Oral enthusiasts Ethan Roberts and Gabriel Ross engage in a steamy kiss-and-suck session before voyeur Tucker Scott works his way in between the two tops.
   Hairy Andy Janecek takes turns on his knees with admirers Stephen Bibinek and John Paul, who soon double-team the bottom's hungry holes.
   Ron Sykora gets a mouthful at the sex club, where Eric Tomfor and Max Fonda stuff his face— then bend him over for more abuse.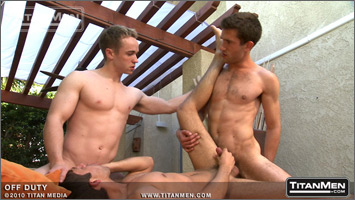 SCENE 1: Ethan Roberts and Gabriel Ross fuck Tucker Scott
As water cascades down the wall of a secluded outdoor patio, tan and hairy Ethan Roberts kisses light-skinned smoothie Gabriel Ross—who soon falls to his knees. Ethan's tight abs turn on the muscular sucker, whose big balls hang over the edge of the lawn chair. Gabriel's own monster—a big, thick, straight slab—repeatedly throbs in excitement, an unforgettable image. The two switch positions, an amazing side shot capturing Gabriel's meat in full glory as it gets serviced—with a low shot soon looking up at his stunning bod and hot smile. Turned on by the action, dark-haired voyeur Tucker Scott moves in to kiss Gabriel and join Ethan in sucking him. Gabriel returns the favor, sucking both of their cocks. His expert work on Ethan's tool is cock sucking at its finest—he wraps his lips around the shaft and works it like a pro in a slow yet steady suck that is intoxicating. The three let out their loads on Tucker, who soon gets tag-teamed. Gabriel is up first, his triceps clenching as he steadies his arms on Tucker's back and slides his dick deep inside. Ethan feeds his cock to the top, who sucks and fucks simultaneously in a remarkable display. Tucker gets on his back, moaning "Fuck that ass!" as the two take turns ramming him. The three stroke out another round, Gabriel's muscles tightening as he climaxes.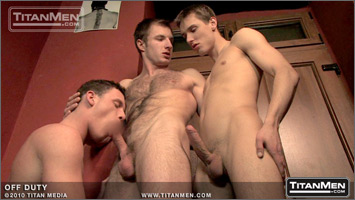 SCENE 2: Stephen Bibinek and John Paul fuck Andy Janecek
At the base of a stairwell, Andy Janecek is soon joined by dark-haired Stephen Bibinek and blond John Paul. The duo wastes no time taking off Andy's shirt and feasting on his nipples and hairy chest. Soon naked, the trio's uncut cocks are engaged in heated swordplay. Stephen's beast catches the attention of his buds as it frantically bounces on its own, hitting Andy's meat. Stephen drops down to suck as John's boner grinds on Andy's leg. John then takes his turn, putting both cocks into his mouth and working up a spit-soaked mess that coats Andy's leg hair and drips down (in multiple strands!) from Stephen's pole. Andy then gets on his knees, sucking back and forth as a hot bird's-eye shot captures the action—including a massive wad of spit that John dumps on his own cock. The two fire their loads on Andy, who smiles as he rubs the cum into his hairy chest before squirting. Moving into the basement, John eats Andy before fucking him, mounting the table to plow him doggie style. The top's balls bounce as he frantically fucks the bottom—who feasts on Stephen's cock. Soon on his back, Andy gets plowed by Stephen—whose giant shaft is hugged by the bottom's long, wet ass hairs. John gets one last fuck in before coming twice (!) on Andy, who also licks Stephen's nuts—another load soon coating his chest.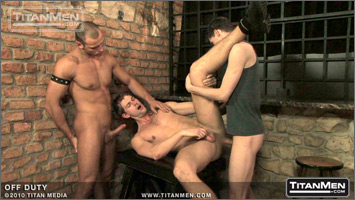 SCENE 3: Max Fonda and Eric Tomfor fuck Ron Sykora
In a dark sex club, leather-clad Eric Tomfor waits for someone to feast on his smooth, tan chest. Scruffy-haired Ron Sykora is happy to oblige, kissing and rubbing the muscular hottie. Behind them, a big uncut cock waits for attention through a glory hole. Ron sucks it as an excited Eric watches, soon pulling Ron back to feast on his dick. Tall and thin Max Fonda reveals himself, his cock competing for attention in Ron's hungry mouth. Max soon drops down to suck as Ron's thick slab gets a spit bath. Eric licks Ron's chest, prompting a smile from Ron before he drops to the floor as the three squirt. In a nearby room, Ron assumes the position between the tops, sucking Max while getting eaten by Eric—who soon slides his steel shaft inside, his shoulder muscles flexing as he fucks. The bottom is soon on his back, an aerial shot looking down on his hot bod. Ron's meaty cock stays beautifully stiff as he strokes while getting plowed. Max then takes his turn inside the bottom's butt as Eric dick-whips Ron's face. The two tops smile at each other as they stuff Ron's holes, and Eric gets one more crack at the bottom's ass before they aim another round of loads over his chest.
Bonus Features:
Photo shoot footage includes hot fluffing action, while a cumshot compilation, trailer and looks at TitanMen Tools and Lube complete the package.

MORE INFO, PREVIEW OR WATCH RIGHT NOW: TITAN MEDIA
GO TO: TITAN MEDIA STORE

*** Highly Recommended ***
FILM REVIEW: MANNET