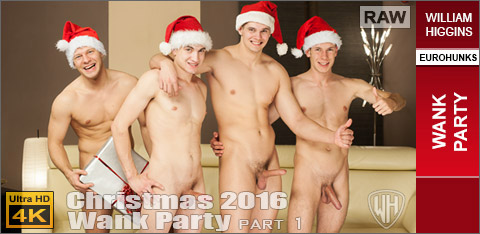 Studio: William Higgins Productions
Directed by: William Higgins & staff
Year of Production / Release: 2016
Country of Production: Czech Republic

CAST:
Rosta Benecky
Tomas Fuk
Kuba Neval
Adam Rezal
INFORMATION FROM WILLIAM HIGGINS PRODUCTIONS: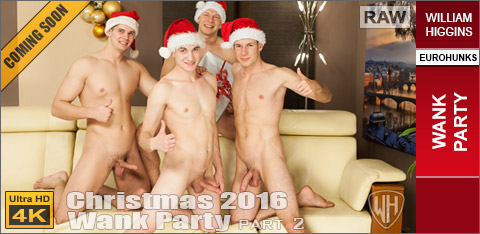 In our Christmas Wank Party for 2016 we have Rosta Benecky, Tomas Fuk, Kuba Nevel and Adam Rezal. In this first part we Tomas and Kuba sitting and relaxing as they are joined by Roast and Adam who are bearing presents. Tomas and Kuba unwrap the presents to find virtual reality headsets. They both insert their phones to try them out. It seems that Tomas has decided to watch some porn on his and he stands and starts enacting what he is seeing. As he thrusts his hips in a fucking motion Adam gets up and bends over in front of him as Rosta records everything on his phone. Then Adam simulates sucking Kuba as well. Kuba removes his headset and watches what Rosta has recorded. Then Rosta shows Tomas too. Having enjoyed the VR they decide to get some real action. As Tomas watches more on his headset Kuba leans over and starts opening the pants and pulling out a stiff cock. Rosta does the same for Adam. Kuba starts sucking on Tomas' stiff dick while Rosta gorges himself on Adam's. Then the headsets are discarded and the guys start kissing, with Rosta pulling off Adam's tee shirt. He kneels for Adam to suck his massive cock. Tomas begins stripping Kuba too and goes down on his raging hard cock. His head bobs on the cock as Rosta thrusts his into Adam's mouth. Tomas gets naked and Kuba takes a turn on his throbbing cock as Adam keeps sucking Rosta. Then they all move, with Rosta being the focus of attention as they suck his nipples and his big, fat, ccok. Tomas, Adam, and Kuba all take turns on that huge cock as Rosta leans back and enjoys it. Then he lays down, the others lay along the sofa, with Adam sucking Roast, Kuba working Adam's dicka nd Tomas taking a turn on Kuba's. Then it is time for some ass and Adam and Rosta lay back, legs up for Tomas and Kuba to rim the hot holes and suck on the balls.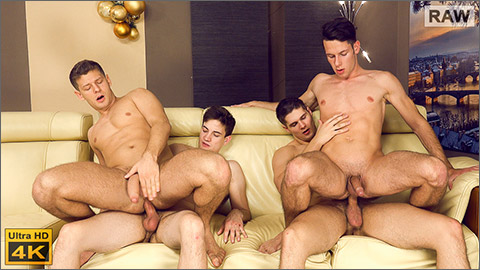 WATCH / DOWNLOAD THE SCENES AND IMAGES AT:
WILLIAM HIGGINS PRODUCTIONS
Members can download the High Definition and other versions of this film. Extensive Photosets are always offered to members as well.