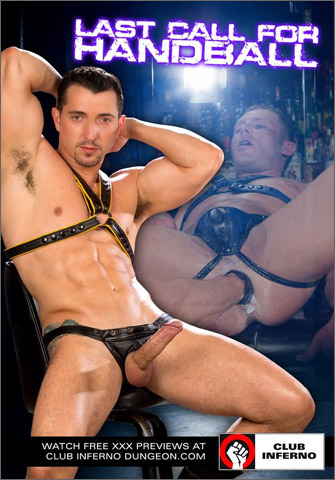 Studio: Hot House Entertainment / Club Inferno
Directed by: Steven Scarborough and Christian Owen
Year of Production / Release: 2013
Country of Production: U.S.A.

CAST:
Brian Davilla
Alessandro Del Toro
Jimmy Durano
Preston Johnson
Christian Mitchell
Byron Saint
Drew Sebastian
Zach Taylor
ADDITIONAL COMMENTS:
Hot House Club Inferno Dungeon Members can see this film anytime online.
INFORMATION FROM HOT HOUSE:
Any Palm Springs fist pig pro knows when he hears 'last call' at his favorite leather bar that the night's just getting started. As soon as the doors are locked, the horny holes shift into overdrive and get open for business. Last Call For Handball stars Jimmy Durano and a band of tough tops who get off on submissive bottoms in need of public hole-wrecking. Join Alessandro Del Toro, Brian Davilla, Byron Saint, Christian Mitchell, Drew Sebastian, Preston Johnson and Zack Taylor, as they drink one last shot of tequila, down that beer, wipe their mouth, drop their pants, and grab their ankles. Last Call For Handball: the bar's closed but the holes are open!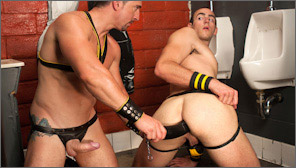 SCENE 1: Jimmy Durano & Byron Saint
Byron Saint has a reputation for being the hardest working bar-back in Palm Springs, but it's not because of his performance behind the bar. Byron does his best work servicing hot customers like Jimmy Durano. The two meet in the men's room where Jimmy stands at the urinal stroking his thick uncut cock. Byron obediently bends over with his huge ass in the air and Jimmy goes to town probing Byron's tight hole. He works the kid's ass with fat rubber balls which serve as a warm up for the giant 5 lb. destroyer – a huge rubber toy 5′ in diameter and over a foot long. After some intense anal probing Duano wants his huge cock sucked. He secures a boot-shaped dildo to the floor and orders Byron to sit down on it while he fucks his face. Byron bounces up and down on the rubber boot while Jimmy jacks off and shots his load all over the bar-back's chest.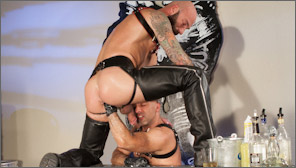 SCENE 2: Drew Sebastian & Brian Davilla
Drew Sebastian heard that if you want some extra service along with your cocktail you head to the bar on the back patio. The masculine fist-pig kicks back on a bar stool smoking a cigar and stroking his gigantic pierced cock. No one can resist that fat monster and bartender Brian Davilla is no exception. He gets on his knees and does his best to fit the whole thing in his mouth until Drew tells him he's got a surprise for him: a pair of black fisting gloves shoved up his ass. Davilla pulls on the gloves, greases up Sebastian's greedy hole, and works his fist up inside. Before you can say 'last call' Davilla has his arm up Sebastian's ass to the elbow. The twisted handballers move over to the bar where Drew hops on Davilla's arm and bounces up and down while Davilla sucks his fat cock. Brian decides to cool down Drew's burning rosebud by emptying a shaker of ice down his back and shoving the cold metal cylinder up his ass.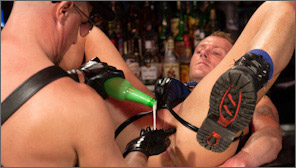 SCENE 3: Preston Johnson & Christian Mitchell
Sometimes a young pup like Preston Johnson needs a more experienced daddy to show him the ropes and Christian MItchell is just the man for the job. As soon as the bar closes MItchell opens his hole for Johnson to show him how to take it like a man. In no time Preston has worked both gloved hands deep inside his buddies hole – seems like he's catching on. Next it's Johnson's turn so he hops up on the bar and lies back so Mitchell can see what he's working with. The seasoned handballer drenches Johnson's hole with thick white lube and slowly works his fingers then his entire hand inside the kid's ass. Johnson's moans encourage Mitchell to keep massaging his prostate until it's time to show the boy who's boss. He rolls his rubber gloves up into a ball, sticks them in Johnson's ass and forces him to guzzle the lube straight from the bottle.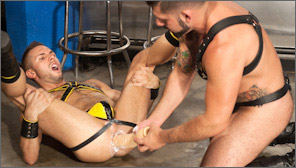 SCENE 4: Alessandro Del Toro dildo-fucks Zach Taylor
There's a crowd at the bar but Zack Taylor and Alessandro Del Torro only have eyes for each other as the bartender announces last call. As soon as the place empties out Zack goes spread-eagle and offers his young round ass to Alessandro's hot tongue. The furry muscle-bear pulls out his uncut cock out and shoves it down Zack's hungry throat and fucks his face then pulls out a dildo to work the kid's ass. He pummels Zack's hole then moves to a new thicker heavier toy. Alessandro mercilessly fucks Zack with the giant dildo and jacks his load all over the bar floor.

WATCH IT NOW / MORE INFO AT:
HOT HOUSE CLUB INFERNO DUNGEON
Hot House Club Inferno Dungeon Members can see this film anytime online.
With extensive additional photography from every scene.