Studio: Hot House Entertainment / Club Inferno
Directed by: Christian Owen
Year of Production / Release: 2012
Country of Production: U.S.A.

CAST:
Jed Athens
Blue Bailey
Brian Bonds
JR Bronson
Jackson Lawless
Derek Parker
Jordano Santoro
Tanner Wayne
ADDITIONAL COMMENTS:
Club Inferno Dungeon Members can see this film anytime online.
INFORMATION FROM HOT HOUSE:
These horny hunks are punching more than the time clock on this twisted job site. They're working overtime to make sure every hungry hole gets punched with greased up fists, tricked-out oversized power tools, and huge dildos; whatever it takes to get the job done. You'll never be late again when it's time to Punch In Punch Out.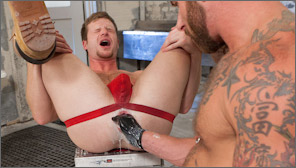 SCENE 1: Brian Bonds & Derek Parker
Derek Parker has some bad news for Brian Bonds: he's fired. Brian says he's got other talents that he'd like to show his boss that may make him change his mind. The young stud shows Derek a toolbox full of toys and bends over the urinal to open his tight hole. Derek spits, licks and rims Brian's asshole then selects a huge 5 lb. dildo. He covers the weapon in lube and works it deep inside Brian's guts. Once his hole is stretched, Brian wants his boss' fist up his ass. Derek pulls on the rubber gloves and shoves his entire hand up the kid's ass, pulling out to expose a big red rosebud. Derek continues to fist Brian's hole then stands up and blows his load all over Brian's furry stomach and chest. Looks like Brian's keeping his job after all.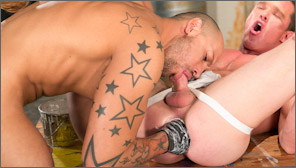 SCENE 2: Jackson Lawless & Jordano Santoro
Jackson Lawless is so fucking horny he can't stand it anymore! He clears off his work table, grabs a nearby hammer, lubes up the handle, and hops on for a ride. Jordano Santoro comes in and catches Jackson with the hammer up his ass and he's pissed. The muscular foreman orders Jackson down off the table and pries open his hole with his big meaty fingers. Jackson orders his boss to put on the gloves and shove his entire fist up his ass. The hardcore assplay makes Jackson's cock rock hard. He pulls it out so Jordano can suck a load out of him while he fists his ass. As soon as Jackson blows Jordano tells him he's welcome to play with his hammer anytime!

THIS PREVIEW CONTAINS ADULT SEXUAL CONTENT

SCENE 3: Tanner Wayne & Jed Athens
Tanner Wayne has a habit of sticking things up his ass. Jed Athens catches him in the warehouse pisser expelling a water bottle from his messy hole and demands to know what the hell is going on. Tanner shows him the ropes by forcing him onto his knees and feeding him his hairy nuts. Next he gets on all fours and orders Jed to lick his hole clean. While Jed's rimming him, a pair of black latex gloves pop out of Tanner's ass. Jed puts on the gloves and gets ready to fist Tanner's hole but before he can, Tanner releases a hot stream of white lube. Jed pushes his fist in Tanner's greedy hole and fists him until he pops out a bright rosebud. Jed keeps going deeper just to make sure there's nothing else hiding up Tanner's ass.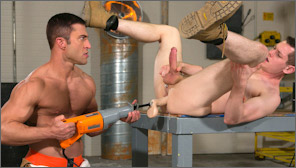 SCENE 4: JR Bronson & Blue Bailey
When J.R. Bronson checks in to see how Blue Bailey is coming along on his paint job he discovers that his employee has gotten very little done. Blue knows that he's in trouble so he shows J.R. his favorite toy; a handheld saws-all with a giant dildo adhered to one end. JR orders Blue to get on all fours with his big white ass in the air; he's going to make Blue pay for goofing off all day. He opens the stud's hole with a thick buttplug then grabs the saws-all and works it into Blue's ass. At first he inserts just the tip and turns it on but eventually he shoves the entire dildo deep inside Blue's hole and lets it go full blast. The nonstop butt-fucking makes Blue's huge cock rock hard. He strokes his mammoth dick until he blows. J.R. pulls out his own cock and rubs one out all over the workbench.

WATCH IT NOW / MORE INFO AT:
HOT HOUSE CLUB INFERNO DUNGEON
Hot House Club Inferno Dungeon Members can see this film anytime online.
With extensive additional photography from every scene.