Studio: Staxus / Sport Ladz
Directed by: John Smith
Year of Production / Release: 2013
Country of Production: Czech Republic

CAST:
Heath Denson
Damian Dickey
Tim Law
Martin Love
Denis Reed
Milan Sharp
ADDITIONAL COMMENTS:
Members at STAXUS.COM can watch the scenes at anytime.
INFORMATION FROM STAXUS PRODUCTIONS:
Down at the local boxing club, the boys inside the ring are straight – but that doesn't stop their hot and horny twink admirers from making a play for them. A tactic that never fails to succeed! The result? A breathless, sweaty fray of dick-on-dick action that's bound to get you in the mood for more. Culminating in a stupendous double-penetration welterweight-cum-flyweight fuck-and-cum-fest that'll have you creaming off time and time again long before the final bell!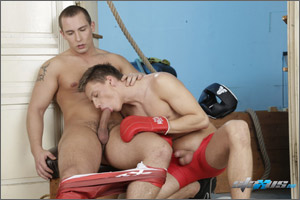 SCENE 1: Martin Love fucks Tim Law
With all the close bodily contact that's involved in the pursuit of their sport, it's no fuckin' wonder that cute twink, Tim Law, and his muscular rival, Marty Love, feel increasingly horny during the course of their latest bout in the ring. Indeed, professional rivalry is soon eclipsed by private passion, as Law slips down to indulge in a very personal round of cock-sucking that'll leave you crying out for more! As it happens, fellatio is a somewhat hastened affair in this scene – Law's appetite for cock is such that he quite literally cannot wait to mount his pal's meaty uncut ramrod and to give it the kind of ride that'll quite probably have you dumping a load there and then. But don't be in this cutie's hurry. What follows here is a terrific session of ass-bangin' par excellence, as Law literally gets pummelled and pounded in every direction. On his front, on his back, from behind, from on top – this fresh-faced beauty takes every blow that Love can muster, and it almost comes as a relief when he finally splurges all over his own belly. The highlight, however, follows immediately after, as alpha-guy Love jizzes all over Law's hungry pucker then rams the thick gooey shaft deep inside!

SCENE 2: Milan Sharp fucks Tim Law
Boxing and wrestling have always had a somewhat homoerotic quality to them – ever since those handsome, horny ancient Greeks first tussled with each other all those years ago! – and Tim Law and Milan Sharp will only add to such rampant suggestiveness with this superb gym-based set-piece. Making the most of the opportunity to glance gloves, they commence their pert little encounter with a passionate round of sparring; before ditching their attire for a somewhat more intimate exchange. Indeed, it's not long before both lads are rolling round on the floor with each other's hard, rampant cocks in their mouths; before Sharp rims Law's hungry (and admittedly well-used) ass-hole in preparation for the hard, bareback fucking to come. Cue a close-up spectacle of frenzied, hole-pummelling fornication that sees young Law get banged about the ring in pretty much every position imagination – Sharp's well-proportioned knob stretching the young rascal's pucker to nigh on breaking point. No fucking wonder that both boys are soon popping their nads with typical youthful gusto – a spunk-stained spectacle that'll have you jerking out a load (or two) in no time at all!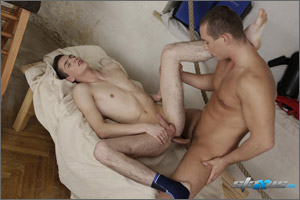 SCENE 3: Martin Love fucks Heath Denson
Modern life can be so sedentary, with little if indeed any regular exercise, that it's vitally important that we maintain a regular fitness regime – a sentiment that both Heath Denson and Marty Love have clearly adopted as they engage in a sweaty, breathless session of kickboxing practice. But why stop there? Wrestling each other to the floor, it's next to no time before hunky Love is forcibly tugging away Denson's skin-tight body-suit and giving the pretty twink's hairless cock a real manly sucking. A turn of events that Denson self-evidently has no objection to given that he's soon returning the compliment. All the same, it doesn't take much of a genius to understand where all this action is headed – or, to put it more accurately, where Love's thick uncut shaft is set to end up! – and indeed before you know it Denson's hungry little pucker is being given an enthusiastic rimming in preparation for the inevitable fuck that's set to follow. And where tongues go, cocks are sure to follow, as Love pounds balls-deep into Denson's hole, giving the pommel-horse a real good workout in the process. By the time Marty's spewing over Denson's face, odds are you'll be creaming too!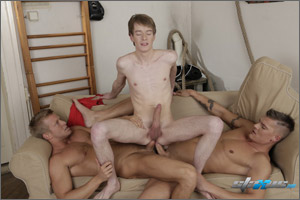 SCENE 4: Denis Reed & Damian Dickey DP / fuck Milan Sharp
We're not entirely convinced that it's everyone's idea of the ultimate fantasy, but Milan Sharp sure as fuck seems to get off on being carried into the bedroom by fellow wrestlers Denis Reed and Damien Dickey. Of course it's probably the fact that the lad has his hands tied together that gives the entrance that little extra sexual punch, and indeed Sharp's prompt release by his assailants seems only to kick proceedings up a notch or two still further. Hence a spirited display of cock-sucking from our monster hung darling, which quickly develops into a fiery bareback spit-roasting as Dickey ploughs into Sharp's hungry little ass. More dick slurping follows, but again it's not long before Sharp's getting his hole banged once again by raw hard dick, this time sat on Reed's lap. And that sets the scene nicely for what we've all been waiting for, namely the sight of Sharp getting crudely double-dicked by his two buddies. Believe us, this is something you don't wanna miss for a second, and will have you tugging on your own cock like crazy in appreciation. But if you think that's hot, wait until Sharp's face gets splattered with jizz! No fuckin' wonder he spews like a geyser at the very end.

WATCH / DOWNLOAD THE SCENES NOW AT: STAXUS.COM
AVAILABLE FROM: RAD VIDEO