Studio: Falcon Studios
Directed by: John Rutherford
Year of Release / Production: 1996
Country of Production: U.S.A.

CAST:
Jake Andrews
Matt Bradshaw
Kyle Brandon
Tom Chase
Anthony Moore
Steve O'Donnell
Steve Pierce
Dean Spencer
Sky Thompson
Adam Wilde
SCENE 1: Dean Spencer gets an Enema and sucks-off Dr. Steve O'Donnell
SCENE 2: Dean Spencer sucks dozens of men to climax in the Glory-Hole room.
SCENE 3: Matt Bradshaw fucks Dean Spencer while Anthony Moore fucks Kyle Brandon, later Matt Bradshaw fucks Anthony Moore
SCENE 4: Dean Spencer performs to please recruit Sky Thompson who dildo-fucks himself
SCENE 5: Tom Chase fists and fucks Steve Pierce
SCENE 6: Jake Andrews fucks Dean Spencer then allows Spencer to have his way with Andrews
SCENE 7: Dean Spencer trains Adam Wilde
INFORMATION FROM FALCON STUDIOS:

SCENE 1:
First stop is the Doctor's office where dirty dog Dean Spencer gets inspected and cleaned up with an extended enema. When Dr. Steve O'Donnell's made sure Dean is good and clean, he rewards Dean with the opportunity to suck the Dr.'s cock.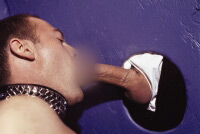 SCENE 2:
Jake Andrews sets Dean Spencer down next to a glory hole and Dean services the monster cock that pokes through… he's eventually rewarded with a shower of cum.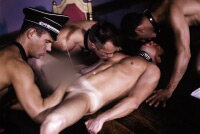 SCENE 3:
Master Sergeant Jake Andrews lets military buddy Matt Bradshaw use his boy for awhile. Matt teams him up with fellow prisoners Kyle Brandon and Anthony Moore. These three slaves in training swallow cock, rim ass, get a good fucking, and lick their master's boots clean of cum before Matt is satisfied and leaves his boys in peace.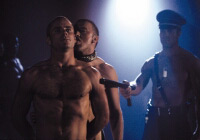 SCENE 4:
As other recruits and prisoners pursue their exercise regime, Dean Spencer performs to please recruit Sky Thompson… who's planted on a dildo but eager for a little human attention. Dean expertly nibbles his ears, teases his cock and caresses his ass until Sky can't resist the attention any longer and pumps out a load.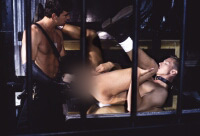 SCENE 5: Tom Chase fists and fucks Steve Pierce
Recruit Steve Pierce is getting special training from his Commanding Officer Tom Chase. Tom makes sure Steve is always ready to accommodate his massive cock by making sure his hole is good and stretched… with fingers… toys… and finally hard cock-slamming.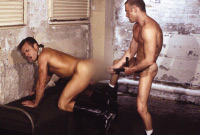 SCENE 6:
Jake Andrews has slave Dean Spencer give his cock one more suck before Jake removes Dean's slave collar and straps it on himself. With the tables turned, Dean gets the pleasure of being serviced by a hungry slave… allowing Dean to do whatever pleases him… including sliding a night-stick up Jake's ass.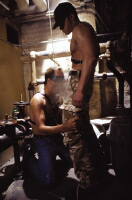 SCENE 7:
Finally released from his captivity, Dean Spencer finds his indoctrination won't let him go. In a darkened basement dungeon, Dean makes blindfolded slave-boy Adam Wilde submit to his every desire… and Adam is eager to please his hard-assed task-master.

WATCH IT NOW AT: FALCON STUDIOS