Studio: Raging Stallion
Directed by: Chris Ward & Tony DiMarco
Year of Production / Release: 2011
Country of Production: U.S.A.

CAST:
Aybars / Aybars Turker
Adam Champ
Tommy Defendi
Leo Forte
Lawson Kane
Colby Keller
Wilfried Knight
Chris Porter
Jesse Santana
SCENE 1: Adam Champ fucks Wilfried Knight
SCENE 2: Tommy Defendi fucks Colby Keller while fucking Chris Porter
SCENE 3: Lawson Kane fucks Jesse Santana
SCENE 4: Aybars fucks Leo Forte
ADDITIONAL COMMENTS:
Members at RAGING STALLION'S REAR STABLE can watch these scenes and download Photo Content from this production.
INFORMATION FROM RAGING STALLION:
These Cowboys live in a man's world, where their day is long, sweaty, and hot. When they have a moment of down time with their fellow studs, their sexual instincts take over and they satisfy each other in true cowboy fashion: boots in the air, ridin' hard and shooting far. A barn-side trio, the hairiest fuck scene of the year and a reverse cowboy masterpiece and more, Cowboys, Part 2 will have you saying yee-haw.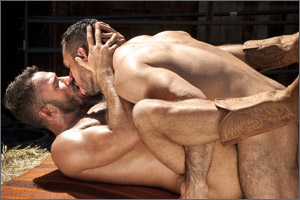 SCENE 1: Adam Champ fucks Wilfried Knight
Adam Champ and Wilfried Knight just have one last thing to do in the barn, but as they approach the wooden structure, Wilfried is getting some wood. He puts his arm around his fellow furry cowboy and pats him on the ass. Adam has something similar on his mind and he immediately stars making out with Wilfried. Heavy petting of perfectly hairy chests ensues. Adam takes charge quickly and forces Wilfred to suck his thick, dark, uncut cock, his chest heaving as the Western sun pounds down onto his sweaty body. Standing up on a stack of hay bales, Wilfried then pushes Adam's mouth onto his uncut stick. It's not long before Wilfried is on his knees getting fingered by Adam before he exchanges fingers for his thick piece of meat, which Wilfried gladly pushes back on. Flipping over, Wilfried's boots are in the air and Adam is pounding away. These two have wanted to work together for years and when they start to fuck they go nuts in the hairiest, beefiest fuck scene of the year that ends in huge loads of cum shooting out of two uncut cocks.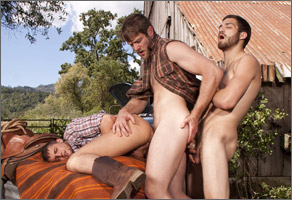 SCENE 2: Tommy Defendi fucks Colby Keller while fucking Chris Porter
Colby Keller arrives on the tractor, just back from the fields to find Chris Porter resting and Tommy Defendi working on his truck. Colby wakes Chris from his nap by running his hand up Chris's leg. He begins kissing him and stoking what's under Chris's blue jeans. Colby's thick hard cock is out of his pants quickly and Chris turns his head to swallow it up, and lick on Colby's balls. Tommy is watching from a distance, but fixing the truck can wait for now. He heads over and starts making out with Colby, then pulls his huge dipstick out. Chris starts going back and forth between the two huge cocks in his face, sucking each one over and over. Colby gives back to Chris, slurping on his cock while Chris takes Tommy to the back of his throat. Spitting on and fingering Chris's tight hole, Colby warms it up so he can plow some ass, and boy does this farmer know how to plow. Chris is taking a huge cock in the ass and one in the mouth, until his buddies flip him over on his back and switch positions. Tommy's now delivering the blows to Chris's hole with his huge tool until Chris unloads onto his stomach, leading Tommy to send streams of cum shooting out his cock, hitting Chris in the face, inspiring Colby to drop a thick load.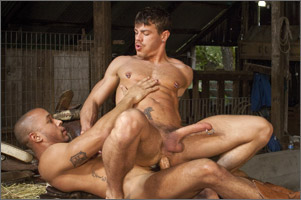 SCENE 3: Lawson Kane fucks Jesse Santana
Jesse Santana returns to the barn from a long day on the range. Lawson Kane helps him stable his horse, and then they get to making out. These cowboys are restless and they rub each other and kiss to the point of total excitement. Clothes start to fly off and Jesse can't wait to suck on what might be the biggest dick in porn, Lawson's cane. Jesse opens wide and slurps down on the super-humongous cock. Lawson fucks Jesse's mouth and then eats out his perfect ass, preparing him for a reverse cowboy rodeo. Riding the massive cock like it's his trusty steed, Jesse's hole engulfs Lawson's prick. There is something sexy about to cowboys fucking on bales of hay. It's been happening for hundreds of years! These cowboys are both exhibitionists. They get off on the fact that you are at home, your hand around your cock, watching them have the best sex of their lives. In a stunning reverse cowboy position, they fuck until they can hardly stand up! Its powerful porn that will leave you exhausted…..exhausted but happy! Jesse's eager hole rides Lawson's stiff pole like a champion bouncing feverishly until he gets on all fours letting Lawson go to town with punishing thrusts that Jesse welcomes with passionate groans that lead to a final earth-shaking orgasm shooting onto a saddle that Jesse licks up. Lawson lays back and jerks massive sprays out of his stunning cock.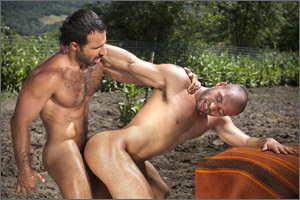 SCENE 4: Aybars fucks Leo Forte
Cow hand Leo Forte, is practicing his whip prowess next to the barn. Aybars approaches and lays his lips on Leo. The making out leads to cowboy Aybars' stiff staff emerging from his jeans. Leo is down on it instantaneously, and Aybars feeds Leo's throat and slams the rock hard cock against his face when it's out of those hot Latin lips. Strings of Leo's drool fly as Aybars relentlessly jams his cock down Leo's esophagus. The sculpted and furry Turkish cowboy rams Leo, who braces himself on some hay bales, generating moans of ecstasy from Leo. It's not long before Leo's on his back, boots in the air and Aybars is aggressively jamming every inch deeper. The animalistic growls from both studs tell you they're having the time of their lives. Then Aybars really takes charge and fucks the shit out of his bottom—Leo, reduced to an insatiable piece of sex meat. Huge cum shots at the end let you all know that a good time was had by all. Leo gets up and walks away, his ass still quivering as he sets off in search of another top.

WATCH THE SCENES NOW AT: RAGING STALLION'S REAR STABLE
GO TO: RAGING STALLION
GO TO: RAGING STALLION'S FILM PAGE FOR THIS RELEASE

*** Highly, Highly Recommended ***
FILM REVIEW: MANNET