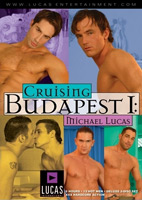 Studio: Lucas Entertainment
Directed by: Michael Lucas
Year of Production / Release: 2007
CAST:
Claudio Antonelli
David Barthory
Tom Bradly
Paulo Mickey [Marco Campbell]
Milan Gamiani
Fabrizio Mangiatti [Daniel Lautrec]
Fernando Mangiatti [Jean Lautrec]
Michael Lucas
Steve Hunt [Matt Stefan]
Flavio Valentino
George Vidanov
Jack Wright
from LUCAS ENTERTAINMENT:
SCENE 1:
Michael Lucas checks in to his hotel and soon discovers that one of his neighbors, hottie Flavio Valentino, is aching to get fucked. The two engage in some 69 sucking, and heavy armpit-, foot- and butt-licking before the intense fucking begins. Michael pounds Flavio before giving him a cum facial… and then licks it back off!
SCENE 2:
Studly hotel administrator David Bathory calls in tattooed busboy Paulo Mickey to his office… and gets him to suck his dick! The two suck each other in a 69 and lick each other's feet before pony-tailed David fucks Paulo from behind and on the desk. David then cums on Paulo's tongue. (The DIRECTOR'S CUT version features David pissing on Paulo's chest and back, followed by Paulo pissing all over himself!)
SCENE 3:
Michael Lucas leads Flavio Valentino into a sitting room, where twin studs Fernando & Fabrizio Mangiatti are hanging out. Flavio then enters a fantasy-cum-true of getting fucked by twins! The bros suck Flavio's dick and lick his armpits and nipples before he simultaneously sucks them off. Then the twins stack up on each other so Flavio can suck their dicks and lick their asses in one swoop. Fabrizio fucks Flavio's ass from behind and gives his brother a shot at the same hole. The two shoot their loads on Flavio, and the trio share a three-way kiss.
SCENE 4:
Michael Lucas runs into Lucas fave Milan Gamiani and his boyfriend Jack Wright on the hotel grounds. We follow the couple back to their room, where Milan passes on a cup of coffee and takes a sip of Jack's dick instead. The two 69 their monster cocks and then Jack toys with Milan's puckering anus before fucking it. Milan eats up all the cum that Jack throbs out. (The DIRECTORS CUT version of this scene features Jack pissing on Milan, and the bonus disc features Jack fisting Milan.)
SCENE 5:
Michael Lucas plays "strip pool" with muscle stud George Vidanov and wins. George strips, and the two taste each others' armpits before some hot 69 and footplay action. Then Michael's fucks George's brains out!
SCENE 6:
Lucas fave Milan Gamiani, furry Steve Hunt, goateed Claudio Antonelli, and sex pig Tom Bradly are in a hot tub together when things really heat up. The foursome exchange in some deep-throating before lining up in an ass-eating chain. Bubble butt lovers will love the group's fucking session, which accumulates in Milan eating up every drop of cum spewed from each dick in the room! (The DIRECTOR'S CUT version of this scene features Milan getting pissed on, and the bonus disc features Tom getting fisted.)

GO TO: LUCAS ENTERTAINMENT