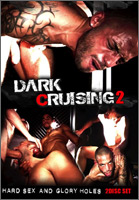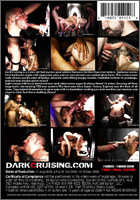 Studio: Citebeur / Dark Cruising
Directed by: Citebeur
Year of Production / Release: 2009
Country of Production: France

CAST:
Georges Balantino [Jorge Ballantinos]
David Castan
Glenn Coste
Kai [Kai Cruz]
Greg David
Marco Diluca [Marco Di Lucca]
Alex Franrey
Fred, sneaker boy [Fred] Milan Gamiani
Hugo
Jawel
Tim Kruger
Isaac [Manuel]
Martin Mazza
Mika
Alex [Axel Ryder]
Nicolas Torri
Trax
Tyler
ADDITIONAL COMMENTS:
DVD Releases are compilations from the Online Presentations.
DVD Releases may vary between USA and French Releases.
REVIEWED BY: JACK HOFF / RAD VIDEO:
Dark Cruising 2 is a 3 hour cruisey fuck-a-thon in a dark, dank glory hole setting. It consists of 8 regular scenes and 1 'bonus' scene, and it comes on 2 discs. The movie is French with no subtitles and no music except for an ominous chord or 2 throughout. Most of the guys appear in more than 1 scene.
   The first scene is a scruffy, tattooed hot guy smoking as a huge black cock pokes thru a glory hole. He sucks him for awhile and then he's sucked. The black guy comes around the wall and puts both big cocks together and sucks them both at the same time. A leather clad guy enters the scene and first watches the action thru one of the holes before joining the action. The black dude fucks the leather man hard and deep as the other guy sticks his dick thru a hole and splatters a massive load onto the floor. The leather guy finishes milking the guy dry and rubbing his jizz all over his chest while the black man jerks his load. Again, the leather man takes his cum and rubs it all over himself.
   There is a lot of varied action in this movie. There are 3somes, 4somes and moresomes. Most scenes feature hairy men but one has a younger, smoother guy with a couple of harder edged men. A lot of the fucking is hard, deep and fast. There are scenes with double penetration, cum eating, an orgy and massive cum shots. The scenes are interestingly shot even though the set is the same throughout. The men have huge cocks, some are more hairy than others. Many are pierced and tattooed. The final bonus scene is shot in night vision which gives it an even seedier feel. If you're into a darker side of sex then there is much for you to love here. Plus, at 3 hours, you have plenty of action to get you off. It's a well done and hot, cum dripping movie.

WATCH OR DOWNLOAD THE SCENES FROM: CITEBEUR