Studio: DennisVega.com
Directed by: Denis Vega
Year of Production / Release: 2016
Country of Production: Spain

CAST:
Dani Robles
Denis Vega


INFORMATION FROM DENNIS VEGA WEB SITE:
Una historia taurina fijada en Andalucía (España), donde un famoso torero llamado Manuel Vega acude como cada mañana a entrenar a su plaza particular, allí le espera Dani, quien está en periodo de prueba para trabajar en su finca. El torero siente debilidad por los hombres, pero no lo asume manteniéndolo en secreto por temor a la sociedad que lo rodea pues está comprometido con una gran bailaora de flamenco, Carmen Torres, y ambos son famosos y una gran pareja en la prensa del corazón. A su vez es incapaz de evitar esa sensación morbosa de estar a solas en un establo con un hombre atractivo. Al terminar la jornada de trabajo, Dani se lleva una gran sorpresa. No se pierdan los detalles de esta historia pasional, donde se mezclan drama y sexo, envuelto por el arte típico hispanoandaluz.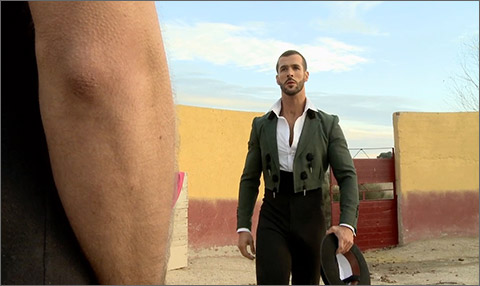 BULL FIGHTER PART 1 (Sevilla)
A bull fighting story taking place in Andalusia Spain, where a famous matador named Manuel Vega goes to his private bull fighting ring to train every morning. Dani, who is in his trial period to work at the ranch, is waiting for him there. The matador has a weakness for men but he doesn't let it take him over. He keeps it a secret for fear of the society around him. Also, because he is engaged to the famous flamenco dancer Carmen Torres. They are both very famous and a power couple in the tabloid magazines. However, he is unable to avoid this kinky feeling of being alone in a stable with an attractive man. Upon finishing with their days work, Dani has a big surprise. No details are lost in this passionate story with a mix of sex and drama, all wrapped up in the typical Hispano-Andalusian art.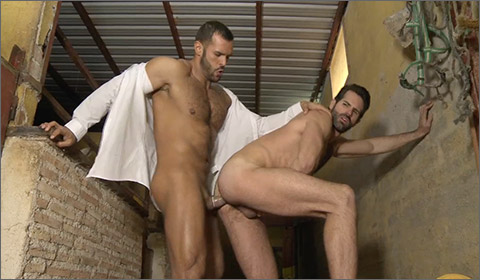 WATCH IT NOW AT: DENNIS VEGA WEB SITE