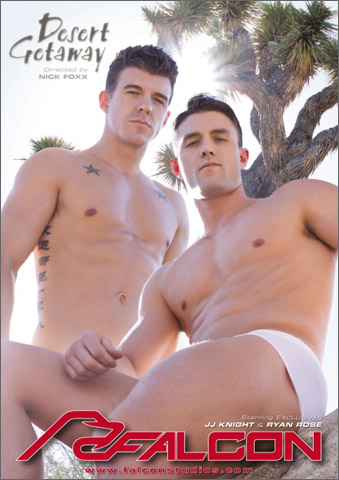 Studio: Falcon Edge
Directed by: Nick Foxx
Year of Production / Release: 2016
Country of Production: U.S.A.

CAST:
Derek Bolt
Gabriel Cross
Jonah Fontana
JJ Knight
Sebastian Kross
Jacob Peterson
Ryan Rose
FROM FALCON STUDIOS:
Take a 'DESERT GETAWAY' with the stunning men of Falcon as they navigate the beautiful vistas near Joshua Tree National Park and explore each other in this mega-hot sexual adventure. The landscape removes all distractions and provides a backdrop for these horny studs to focus on each other's ripped bodies, hard cocks and willing asses. Director Nick Foxx crafts a scorching story of a remote retreat that turns into an explosion of sexuality in 'DESERT GETAWAY.' First to make it to their locked rental house, uncut Jacob Peterson and tanned, muscular Jonah Fontana share a searing flip fuck beneath the hot desert sun while waiting for their buddies to arrive with the keys. Ryan Rose instigates an outdoor fuck session with compact muscle hunk Gabriel Cross, indulging in soapy shower stroking, deep-throated cock sucking, and heavy anal man ramming. Ryan Rose and JJ Knight have an epic flip flop fuck session, each pushing the other to fuck faster, harder, deeper, culminating in two epic cum shots. Gabriel Cross has his sights set on Derek Bolt, the new guy. When Derek feels a bit left out of the friends' camaraderie, Gabriel makes sure Derek feels included with deep head and a spectacular flip fuck. As Derek and Gabriel bask in their afterglow, JJ Knight and Sebastian Kross pass through on their way to their own frisky business. JJ is eager to fuck Sebastian's ass, but Sebastian takes control and has his way with JJ's perfect bubble butt. With the beautiful, arid landscape as their backdrop, the sexual heat rises and these studs satisfy during their 'DESERT GETAWAY.'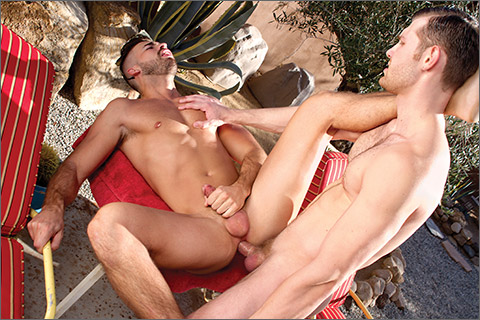 SCENE 1: Jacob Peterson & Jonah Fontana flip-fuck
First to arrive at their 'DESERT GETAWAY' locked rental house, handsome Jacob Peterson and sexy Jonah Fontana have an hour to kill while they wait for their friends to arrive with the keys. Their attraction for each other is clear and with time on their hands, they don't waste a minute. With the beautiful desert landscape as their backdrop, Jacob Peterson and Jonah Fontana press their lips together in a passionate kiss and fall back onto the outdoor lounge chair. Jonah peels off Jacob's shirt, revealing ripped, washboard abs, and then undoes Jacob's fly. Jacob's thick, uncut cock springs to attention, and Jonah wraps his lips around Jacob's meaty tool. The two strip naked under the hot desert sun, and Jonah plants his scruffy face into Jacob's crack. After lubing up Jacob's ass with spit, Jonah slaps his dick across Jacob's butt, then inches his shaft inside his hole. With Jonah pounding away, Jacob's balls sway and his giant cock bounces with each satisfying thrust. Ready to switch it up, Jonah gets on his back and invites Jacob to hit it. Jacob spreads Jonah's legs wide for a deep, sensual penetration. Jonah savors every minute of it, and jerks his big cock in time with Jacob's thrusting. A move to doggy style lets both studs show off their tight muscle while they fuck with abandon. Jonah reclines back to receive a massive facial from Jacob, the thick, white cum dripping down his bearded chin. Jonah jerks out his own load onto his washboard stomach, and the two share a final kiss in the fading desert light.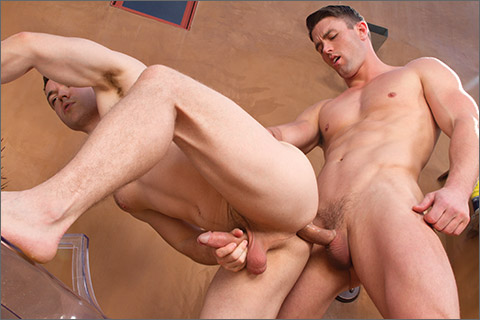 SCENE 2: Ryan Rose fucks Gabriel Cross
After a bit of flirting, spunky Gabriel Cross and hunky Ryan Rose decide to take a nice long hike through the breathtaking scenery of Joshua Tree. Gabriel takes some pictures, and Ryan, who loves showing off for the camera, immediately gets hard. They beat it back to the vacation house where they strip down and make out in the outdoor shower. Gabriel's muscled frame only reaches to Ryan's shoulders, but their cocks are equally hefty. They soap up and stroke each other's throbbing meat as they press their lips together. Gabriel gets down on his knees to work his oral prowess on Ryan's rod, lapping at the head with his tongue and swallowing deep down to Ryan's balls. Returning the favor, Ryan drenches Gabriel's cock with spit and deep throats the shaft. Bending over, Gabriel spreads his ass cheeks so Ryan can get in deep with his tongue. With some spit for lube, Ryan presses his cock into Gabriel's hole until he penetrates the hot ass. As Ryan ramps up his thrusting, Gabriel's thick meat swings in the air. Ryan sits back in a chair, his dick aimed at the open sky, and in an impressive display of power bottoming, Gabriel sits down on Ryan's meat while stroking his own enormous cock. With Ryan about to cum, Gabriel gets down on the floor and takes Ryan's load in his mouth. Leaning back, Gabriel releases creamy blasts that drench his massive thighs.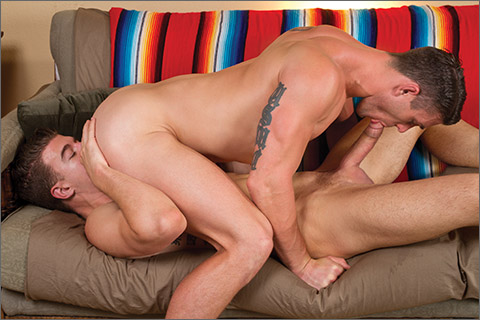 SCENE 3: JJ Knight & Ryan Rose flip-fuck
It's too windy to be outdoors, so JJ Knight relaxes on the couch, passing time by surfing the web. Ryan Rose sits down next to him and closes the laptop: he knows a better way to kill time. He leans in for a kiss. Their tall, muscular bodies intertwine in a passionate embrace. Ryan rips off his shirt, and JJ does the same. Sliding off JJ's shorts, Ryan pulls out JJ's throbbing boner and slicks it up with spit. Now fully naked, they 69 on the couch, sucking on each other's huge cocks. Ryan puts his ass in JJ's face, and JJ eagerly rims Ryan's perfect hole. Rimming Ryan makes JJ's massive cock throb with anticipation. Sitting down on JJ's cock, Ryan rides the monster meat, sliding his stretched hole up and down JJ's girthy shaft. Switching it up, JJ bends over and takes Ryan's incredible tool doggy style. JJ's eyes close as he takes Ryan's powerful ramming. With these two competitive studs together, it's a contest to see who can fuck faster, harder, deeper. They flip flop once more, allowing JJ the chance to penetrate Ryan's meaty ass once again. Ryan's firm, rounded haunches ripple as JJ thrusts faster and harder. Pulling out, JJ shoots a massive load of white spunk directly on Ryan's wet hole. Rolling over, Ryan strokes himself and blasts JJ in the face with his hot cum.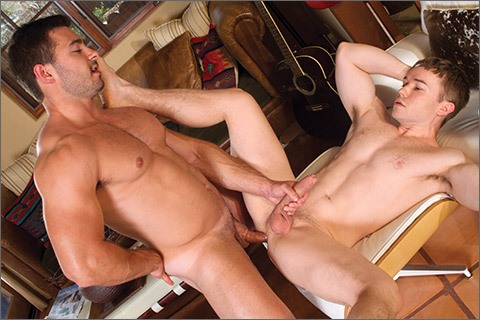 SCENE 4: Gabriel Cross & Derek Bolt flip-fuck
While the other adventurers at this 'Desert Getaway' are out enjoying a hike, Gabriel Cross comes back to the house early to find Derek Bolt all by himself. Feeling a bit shy and intimidated around so many hot, new guys, Derek had stayed behind instead of joining the other friends on the hike. Lucky for him, Gabriel is eager to make Derek feel included. They press their jacked bodies together on the couch and worship each other's muscles. Gabriel tongues Derek's nipple, then goes south and wraps his lips around Derek's huge dick. Derek gets down and sucks on Gabriel's massive, uncut tool. Bending over on a leather chair, Gabriel opens up his ass for a deep tonguing. After working Gabriel's ass and dick with his mouth, Derek slams his throbbing meat inside Gabriel's tight hole. Putting his arms behind his head, Gabriel's entire body is rocked with the power of Derek's thrusts. With their two huge dicks and perfect bubble buts, a flip flop is definitely in order: Gabriel pounds Derek doggy style, driving his meat deep into Derek's hole. They flip again, this time with Gabriel riding Derek's cock from above. In a surprise move, Derek stands and holds Gabriel aloft while fucking him; it's as if Gabriel is getting fucked in an invisible sling. Returning to cowboy position, the intense penetration gets Gabriel off, shooting giant globs of cum across Derek's chest. Going down again, Gabriel gets Derek off with just his mouth. Opening his lips, Gabriel lets the cum dribble down Derek's dick.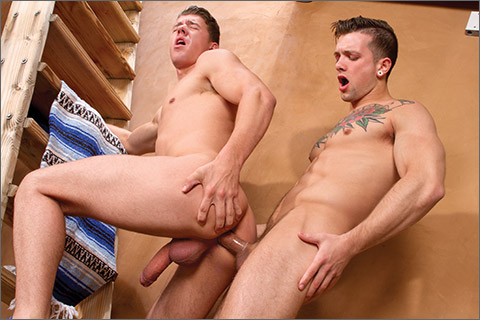 SCENE 5: Sebastian Kross fucks JJ Knight
After a hike through scenic Joshua Trees, Sebastian Kross and JJ Knight return to the vacation house and head to the secluded back patio. JJ rubs his hands on Sebastian's tattooed chest and undoes Sebastian's belt. Out pops Sebastian's giant boner, and JJ showers it with oral worship. Letting his own shorts fall to the ground, JJ unveils his unbelievable giant cock. With giant gulps and lots of spit, Sebastian gets to work on JJ's monster meat. But it's Sebastian's ass that really gets JJ going: he parts Sebastian's cheeks and works his tongue deep into Sebastian's crack. Standing up, JJ lubes up his dick and tries to be smooth about sticking it to Sebastian. Turning around, Sebastian says, "Maybe next time, but I came out here to fuck you." That works just fine for JJ: he bends over and offers his ass up to Sebastian's tongue. When his ass is wet and ready, JJ throws his legs over Sebastian's shoulders, and Sebastian slams his cock into JJ's hole. When they switch to doggy style, JJ's massive cock flaps back and forth with the motion of Sebastian's thrusting. JJ's tight ass brings Sebastian to climax: he pulls out and unleashes a massive stream of cum that drenches JJ. Sebastian slaps his dick on the puddle, splashing white semen everywhere. Turning around, JJ jerks out a massive load into Sebastian's open mouth.

WATCH THE SCENES NOW AT:
FALCON STUDIOS
Falcon Members can watch scenes from this Release anytime online.
DVD Releases debut online prior to DVD Release.

WATCH IT AT: AEBN / SMUTJUNKIES THEATER
BUY IT / WATCH IT AT: GAY HOT MOVIES