Studio: Lucas Entertainment
Directed by: Jake Steel
Year of Production / Release: 2015
Country of Production: U.S.A.

CAST:
Leo Alexander
Craig Daniel
Dolf Dietrich
Logan Moore
Joey Pele
Drew Sebastian
Rocco Steele


INFORMATION FROM LUCAS ENTERTAINMENT:
It's possible for any man to fall prey to "DREW SEBASTIAN'S RAW SEDUCTION". In his debut Lucas Entertainment film, Drew Sebastian seduces is his real-life boyfriend, Dolf Dietrich: their chemistry makes this versatile bareback encounter worth every viewing minute. Additionally, Rocco Steele returns to show Logan Moore the rougher side of lovemaking. Lucas Entertainment's newest exclusive Leo Alexander penetrates Tomas Brand deep and raw. And Joey Pele fulfills the bottoming desire of Craig Daniel.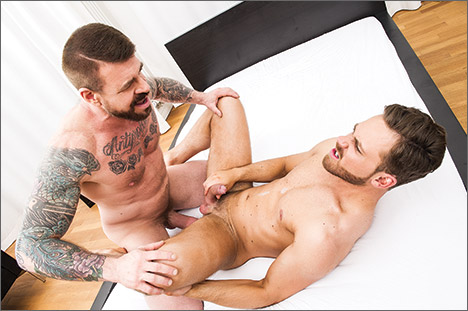 SCENE 1: Logan Moore Sucks And Rides Rocco Steele's 10-Inch Cock
I have to say, after previewing this scene before setting it to go live on the Lucas Entertainment website on March 20, I've come to this realization: I like it when Rocco Steele has a bit of a tender side. Logan Moore, one of our handsome European models, is a submissive lover, so casting him with Rocco was a wise match: we knew the two of them would have awesome chemistry on camera. Though Logan has a career in gay bareback porn, he has experienced few cocks like the one Rocco Steele has. To learn how to take his cock, Logan first gets into the doggy position around 8:10 — and don't miss the expression on Logan's face when Rocco starts pumping. But Logan's true moment of triumph is at 21:20 — he is bouncing on Rocco like a pogo stick!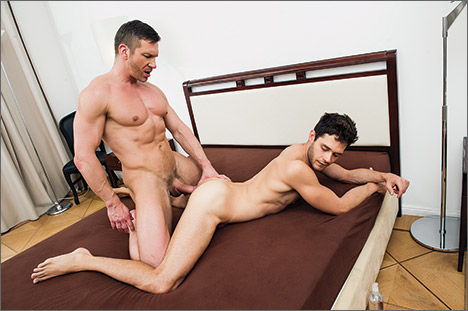 SCENE 2: Leo Alexander's Debut Versatile Fuck With Tomas Brand
It's time to see Leo Alexander in action: the new Lucas Entertainment exclusive model is here, and everyone at the studio couldn't be more excited for his first scene! Tomas Brand (one of the sexiest porn stars at work in the industry today) quickly found himself enamored with the fresh meat, and it took little thought to pair the two of them together. And the resulting scene is so hot it's dripping with raw cum. I have a sweet spot for intergenerational play like this, and Leo Alexander and Tomas Brand are just so fucking good looking that it's made all the better. Leo, if you didn't know already, is packing 12 inches between his legs, and at 6:37 Tomas sits right down on it and starts riding. The smirk on Leo's face tells us all that he likes the power dynamic going on… and the look on Tomas' face at 15:30 tells us that he wants Leo to give it to him harder! But Leo enjoys bottoming too, which is more than evident at 24:50 when you consider the adorable smile on his face as Tomas fucks him raw!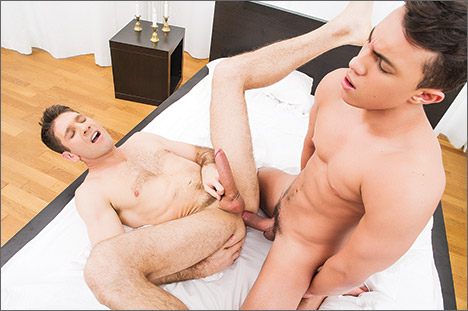 SCENE 3: Joey Pele Fulfills Craig Daniels' Bottoming Desire
Take notice of the fact that Joey Pele has bulked up: before he was lean and cute, but now he's an all-out stud. What hasn't changed is the sexual energy he's filled with — he's always operating at full force. This kid knows how to fuck, and he never has a problem working up a white-hot load after pounding someone into submission. That someone in question here is Craig Daniel, and he's ready to take what Joey is going to give. And what exactly is he giving' Check out 24:20 and you'll be reminded why we were so quick to sign him as an exclusive, and all I can say is "yes, please"!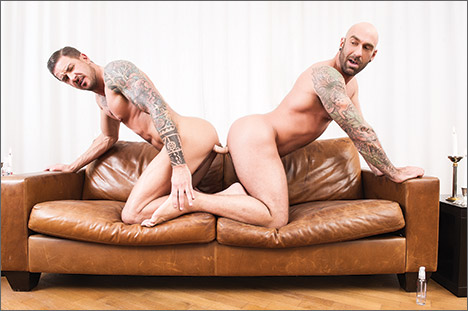 SCENE 4: Watch Drew Sebastian's Raw Seduction Of Dolf Dietrich
It's going to sound biased, but I don't particularly care: I've been waiting to see Drew Sebastian paired with his real-life partner Dolf Dietrich on Lucas Entertainment since it was made known the scene was a go, and it turned out even hotter than I was expecting. As said on Drew's model page, he's one of my favorite muscle bears in porn today, and with the equally handsome Dolf Dietrich they have put on some of the best duo shows Lucas Cams has aired. In the tradition of the original "Bareback Lovers" movie, we see a sexual perspective in porn rarely seen — the one between two genuine lovers. They're both aggressively tender and passionate with one another, and it's the perfect capstone scene to the upcoming film "Drew Sebastian's Raw Seduction." I don't want to give away too many details as to what happens — this is a scene you'll have to see to truly appreciate!

SEE THIS NOW / MORE INFO:
LUCAS ENTERTAINMENT
Scenes Premier online prior to DVD release and are available to view anytime in the Members Area.
Members can watch scenes from all Lucas Entertainment releases anytime online.