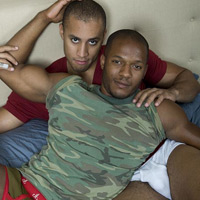 Studio: Randy Blue
Directed by: Randy Blue
Year of Production / Release: 2008
Country of Production: U.S.A.

CAST:
Eddie Diaz
Tyler Johnson
ADDITIONAL COMMENTS:
On-Line Only Presentation

THIS PREVIEW CONTAINS ADULT SEXUAL CONTENT


FROM RANDY BLUE:
Eddie Diaz is pure sex. Imagine the hottest sex you've ever had multiplied by a thousand and then put into a body so sexy you can't take your eyes off of it and that's Eddie. His sleek, muscular frame, luscious chocolate brown skin and adorable face has won him tons of fans and what a lot of people don't know is that he's also a really nice guy. Tyler Johnson, on the other hand, might give you the feeling that he's a nice, sweet, almost conservative guy until you get him naked and his animal instincts take over. He should let himself be a model for art classes all over the country because any artist would go nuts at the chance to paint his beautiful body. I've been wanting to pair him up with Eddie for awhile and now that I've finally been able to it was so worth the wait. This was one of those rare videos where I didn't even need to be in the room. Once I started the camera I just let them do what came natural and the results will require you to have some wet naps next to the keyboard. I love the contrast in their skin tones with Tyler's caramel complexion complimenting Eddie's darker hue perfectly. It almost seems as though Tyler is going to run the scene but once Eddie gets fired up you know he's in the driver's seat, and nobody who's ever had sex with him would have it any other way. He may go all forceful on the guys he's with but it's only to guide them to the perfect sexual experience. And what's really fun about Eddie is that he's dirty. He doesn't just suck Tyler's cock, he goes down all the way until his sensual lips are brushing against the tops of Tyler's sensitive balls. He doesn't just get fucked, he rides that cock like a bucking bronco, almost drawing the cum out of Tyler's engorged manmeat. Tyler's no slouch either. He dives his face deep between Eddie's perfect bubble butt, giving him a tongue massage he'll never forget. Not to be outdone, Eddie then grabs the back of his head and keeps him there until he's had enough, and then finds away to get him back down there for seconds. Tyler is not going to waste a moment of his time with Eddie and complies when he's told to, but there are a few moments where he gives Eddie a run for his money. This video is an instant Randy Blue classic. You may as well just click that little 'Add this video to your favorites' button right now because you will be coming back to this one.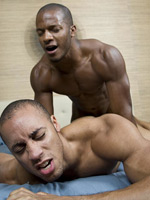 GO TO: RANDY BLUE
VIEW THE FILM
VIEW THE GALLERY