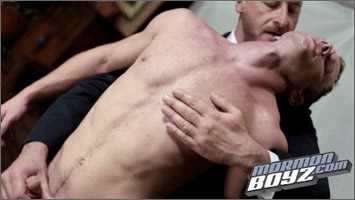 Studio: Mormon Boyz / MormonBoyz.com
Directed by: Paul Jackson
Year of Production / Release: 2015
Country of Production: U.S.A.

CAST:
Elder Roberts
Patriarch Smith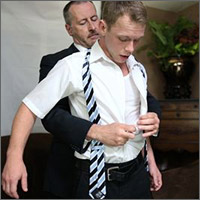 INFORMATION FROM MORMON BOYZ:
Elder Roberts has been in the mission field a while now. About a year into his mission he was called as a branch president in a new city. Being isolated from the rest of the mission had advantages. Things were a little more relaxed under his leadership. He worked hard, but always made sure to organize activities that would build camaraderie among the missionaries. And when possible, he also found the time to fool around with other the Mormon boys serving alongside him. Elder Roberts is a man of few words who has a hot body, a square jaw, a dick that's always hard and a love of mischief that has made him popular with the other missionaries…but also attracted the attention of his priesthood leaders.
   Unsurprisingly, has been summoned back to the mission home by the mission president. Patriarch Smith is waiting for him and without a doubt he has been looking forward to this part of the boy's repentance process. Boys will be boys and elders are always breaking the rules, which means that the patriarch has plenty of opportunity to discipline their hard young naked Mormon bodies.
   "Elder Roberts," he says sternly, "you're here for your disciplinary action."
   Elder Roberts mumbles "I know" without looking up. Now that he has been caught breaking the law of chastity, he's embarrassed and he's afraid of the consequences. But he can't help but be turned on by the handsome older man, and even by the unknown punishment that awaits him.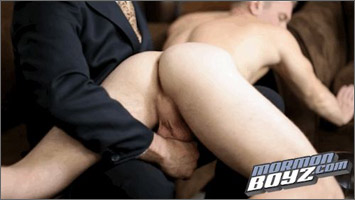 WATCH OR DOWNLOAD THIS AT: MORMON BOYZ
On-Line Only Presentation & extensive photos from each scene.