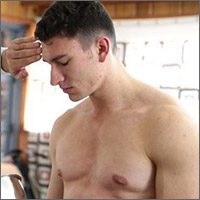 Studio: Mormon Boyz / MormonBoyz.com
Directed by: Paul Jackson
Year of Production / Release: 2015
Country of Production: U.S.A.

CAST:
Elder Titov
Patriarch Smith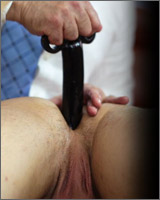 INFORMATION FROM MORMON BOYZ:
Patriarch Smith is administering a stern disciplinary action to Elder Titov, a hot, naked Mormon boy. The patriarch caught the missionary in sexual transgressions with investigators and his companion, and he is helping the boy to repent by giving him some loving corporal punishment. The patriarch spanks the boys ass until it is red and sore.
   The patriarch swings the boy around so that his shoulders are on the floor and his ass is on the patriarch's lap. He wants to get a better look at the boy's butthole. He uses his big hands to spread the boy's ass and watch him clench his hole. Then he strokes the outside of his butthole with a thumb. Toying with the boy's ass like this has given the man a giant erection, which the boy can feel pressing into his leg.
   In this position, the boy feels completely powerless. His dick and balls dangle above his face. The patriarch reaches for the oil, and uses it to lube up a giant black dildo. The boy touches his cock and tries not to worry. The patriarch tries to push the dildo into his hole, but it's too tight. He slides his thumb into his ass and loosens it up, then firmly presses the fat head of the toy in. Elder Titov closes his eyes and grits his teeth. He wants to let the patriarch abuse his hole, but it's so big and his hole feels so tight. He takes a deep breath and tries to relax, and then his hole slowly opens up and swallows the head of the toy.

WATCH OR DOWNLOAD THIS AT: MORMON BOYZ
On-Line Only Presentation & extensive photos from each scene.