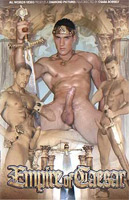 Studio: Diamond / All Worlds
Directed by: Csaba Borbely
Year of Production: 2006
Country of Production: Hungary

CAST:
Claudio Antonelli
Kevin Cage
Alfredo Castaldo
Fredy Costa
Xavier DeMarco
Eric Flower
Gino Francesco
Andreas Harris
Antonio Martinelli
Mario McCabe
Dean Michaels
Helmut Müller
Gerry Preston
Austin Rogers
Ettore Valentino
SCENE 1: Gino Francesco (as Caesar) tops Claudio Antonelli
SCENE 2: At the Baths – Fredy Costa and Andreas Harris top Dean Michaels
SCENE 3: Planning Caesar's Death – Austin Rogers and Gerry Preston top Helmut Müller
SCENE 4: The Plot Revealed – Austin Rogers pleases Gino Francesco and Xavier DeMarco watches
SCENE 5: The Stairwell – Three-Way Solo: Eric Flower, Austin Rogers and Ettore Valentino (?)
SCENE 6: After Dinner – Kevin Cage and Antonio Martinelli (?) top Alfredo Castaldo (who also tops Mario McCabe) and Mario McCabe
ADDITIONAL COMMENTS:
The first installment of the EMPIRE OF CAESAR series.
   The always erect men of Csaba Borbely return. Very elaborate sets and the togas get removed with ease. Dean Michaels was particularly appealing. It's been a while since we watched a Borbely, so any corrections on the Scene Line-up would be appreciated.

GO TO: CHANNEL 1 / ALL WOLRDS
GO TO: TLA VIDEO
WATCH IT NOW AT: MalePPV / AEBN