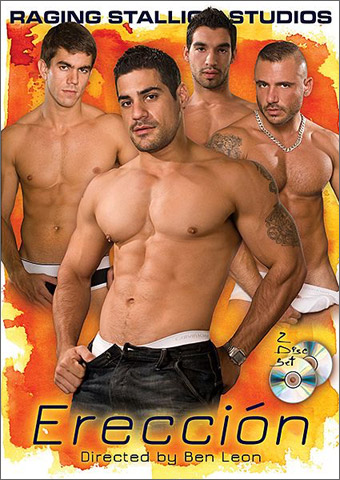 Studio: Raging Stallion
Directed by: Ben Leon
Year of Production / Release: 2009
Country of Production: Argentina

CAST:
Pedro Andreas
Nico Aragon
Juan Blas
Diego DaSilva
Fernando
Nick Gurovich
Daniel Marvin
Lucas Ronda
Max Schutler
SCENE 1: Nick Gurovich fucks Max Schutler
SCENE 2: Pedro Andreas fucks the cum out of Lucas Ronda
SCENE 3: Max Schutler services and the gets fucked by Diego DaSilva and Fernando
SCENE 4: Pedro Andreas fucks the cum out of Nico Aragon
SCENE 5: Daniel Marvin and Juan Blas flip-fuck
DVD DISC 2 – BONUS SCENE: Juan Blas solo
DVD DISC 2 – BONUS SCENE: Fernando solo
DVD DISC 2 – BONUS SCENE: Diego DaSilva solo
DVD DISC 2 – BONUS SCENE: Nick Gurovich solo
INFORMATION FROM RAGING STALLION:
SYNOPSIS: 
Nine hot men. Five scorching scenes. One hot movie. Raging Stallion Studios is excited to deliver Ereccion to the world. From the first second to the last, Ereccion is full of big uncut dicks and lots of eager bottoms getting fucked left and right.
   Nick Gurovich is a young dude with a huge, fat, uncut cock. He's smooth and tight and rock hard. Max Schutler meets him on the stairs and works his way down to the massive dick in Nick's pants. Max has to really work to get the dick in his mouth. Max is beautiful, smooth, and muscled and an eager cocksucker. Max works Nick's massive dick from the balls to the head, spending extra time playing with Nick's foreskin. He works almost the whole dick down his throat before offering up his ass. Max lies back on the counter and puts his ass out where Nick has full access. Nick's dick really stretches Max's hole. Max flips over and takes it from behind before Nick pulls out and spills his load all over, causing Max to blow. Pedro Andreas has got to be one of the hottest men alive. He is swaggering with South American manliness. He is matched in muscle with Lucas Ronda, who is quick to go down on his knees for Pedro's fat cock. Lucas works Pedro's dick until it's fully hard and thick, taking it from the balls to the head and back down again. Lucas works the head and foreskin before swallowing the whole thing again. When Lucas offers up his ass, Pedro is happy to dive right in tongue-first before sticking his big dick inside. Pedro pounds Lucas, filling his hairy hole, pulling out and going all the way back in. When Lucas flips over and the two men face each other, Pedro really lets him have it. Lucas takes it for as long as he can before shooting cum all over his own abs. Pedro pulls out and adds his cum to the pile.
   Max Schutler is already on his knees between two hot men and their huge cocks. Max takes turns servicing Fernando and Diego Dasilva. Fernando is a darker skinned 21-year-old hunk with tattoos and a tight, muscular frame. He has a huge, uncut tool and he's not afraid to shove it down Max's throat, making his eyes water. Diego is even more muscular and has a large dick that sticks straight out from his amazing abs. As both men look down at Max, he works the best he can at getting one dick down his throat at a time. He even tries to suck both at once! Diego sits and Max rides his dick while sucking off Fernando. Both holes are filled as he struggles to get fucked and give good head. Max ends up on the table taking each dick up his ass one at a time. Fernando fucks hard and fast while Diego takes his time and makes sure Max can feel every inch. For the finale, Max is back on his knees and each man blows a load covering his chest and the floor.
   Pedro Andreas is sunbathing when Nico Aragon comes to the window. After a few glimpses, Nico is on his knees and Pedro is feeding him dick. Pedro works Nico's throat, feeding him cock gently at first. Nico strips and reveals an amazing, hairy musculature, tight abs, thick arms, and a big, beautiful, uncut cock. Pedro feeds on Nico's cock, running its length along his lips and down his throat. Nico pumps his dick in and out of Pedro's mouth before taking another turn sucking dick. Nico's ass is next in line for some tongue action and Pedro works his butthole with his lips. Pedro may be a top but he also has an amazing asshole. Nico treats it with love as he warms it up with his mouth. When Nico bends over and opens his ass, Pedro shoves in his dick and works Nico's hole hard. Nico loves the ride and it's obvious from his moaning and the smile on his face. Pedro loves to fuck a nice hole and as the guys switch from one position to another, there's not a beat missed. With Pedro pumping deep inside, Nico lets loose a stream of cum before Pedro blows his own load.
   Daniel Marvin and Juan Blas are making out and stripping down. As they strip, we get to see the massive bulge of Daniel's pecs, his biceps, his legs, and the rock-hard dick in his briefs. Juan is equally beautiful, not as big but perfectly proportioned with big pecs and tight abs. Juan goes down on Daniel, working the dick in and out of his mouth and across his lips. Daniel enjoys the hard worker and he feeds Juan his foreskin before pushing the rest of his cock into his throat. Juan's dick is a big surprise as it pops out of his briefs and into Daniel's mouth. Daniel works the dick from the tip to the balls and back again. Juan offers his ass up and Daniel eats it eagerly, stretching Juan's hole and sucking his dick. When Daniel bends over to offer up his ass, Juan goes in first with his tongue, working the tight hole with his fingers and mouth. Juan replaces his tongue with his dick and fucks Daniel doggy-style. Daniel takes it like a pro as the camera follows Juan's big cock pumping into his ass. Juan is next up for fucking so Daniel sits back as Juan straddles him and rides. After a long round of making out and fucking, Juan lies on his back for more. Daniel puts it in and fucks him until Juan cums all over his stomach. Daniel pulls out and adds his cum to the creamy mess.

WATCH THE SCENES AT:
RAGING STALLION'S MEMBERS SITE
Members at RAGING STALLION'S MEMBERS SITE can watch these scenes and download extensive Photo Content from this production and get discounted pricing on all DVD and Print purchases.