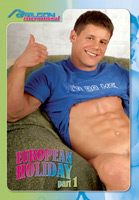 Studio: Falcon International
Directed by: Tim Hamilton
Country of Production: Czech Republic
Year of Production / Release: 2007

CAST:
Thomas Barton [Martin Dejdar]
Nicolas Cole [Mark Federico]
Max McKay [Kamil Fox]
Antonio Martin [Franco Gregorio]
Shawn White [Carey Lexes]
John Palmer [Gary McAdams]
Alexei Orofar [Dion Philips]
Danny Saradon
David Watts [Casper Watts]
SCENE 1: Shawn White [Carey Lexes] (top/bottom), David Watts [Casper Watts] (bottom), Alexei Orofar [Sergey Davidov] (top), John Palmer [Gary McAdams] (top)
SCENE 2: Max McKay [Kamil Fox] (bottom), Nicolas Cole [Mark King] (top)
SCENE 3: David Watts [Casper Watts] (top), Thomas Barton [Martin Dejdar] (bottom)
SCENE 4: Danny Saradon (top), David Watts [Casper Watts] (bottom)
ADDITIONAL COMMENTS:
Release Date: June 19, 2007
INFORMATION FROM FALCON STUDIOS:
SCENE 1: Shawn White [Carey Lexes], David Watts [Casper Watts] and Alexei Orofar [Sergey Davidov] start the day in a threesome so hot that John Palmer can't resist the urge to join in.
SCENE 2: Max McKay [Kamil Fox] and Nicolas Cole [Mark King] use the occasion of a bubble-bath to get down and dirty.
SCENE 3: David Watts [Casper Watts] and Thomas Barton [Martin Dejdar] give every muscle a workout in this hot scene of athletic sucking and fucking.
SCENE 4: Danny Saradon and David Watts [Casper Watts] devote themselves to erotic pleasure as they consider an erotic escape with their friends.

GO TO: FALCON STUDIOS

FILM REVIEW: MANNET