Studio: Lucas Entertainment
Directed by:
Year of Production / Release: 2013
Country of Production: U.S.A.

CAST:
Joey Banks
Justin Cruise
Franco Ferarri
Spencer Fox
Vito Gallo
Colton Grey
Johnny Hazzard
Michael Lucas
Liam Magnuson
Seth Santoro

THIS PREVIEW CONTAINS ADULT SEXUAL CONTENT


INFORMATION FROM LUCAS ENTERTAINMENT:
Lucas Entertainment's stunning cast of "EXCLUSIVE FUCKERS" proves they know what they're doing when it comes to hardcore sex! Lucas Exclusive Colton Long makes his onscreen debut by sucking and riding Michael Lucas' legendary uncut cock. Justin Cruise and Franco Ferarri take turns fucking each other after loosening up with a black double-headed dildo. Liam Magnuson gives his muscles a workout by pounding Exclusive Joey Banks' twink ass. Seth Treston demonstrates his topping skills on gay porn legend Johnny Hazzard. And Vito Gallo sprays his load all over Spencer Fox. It's a fact: the "EXCLUSIVE FUCKERS" never disappoint!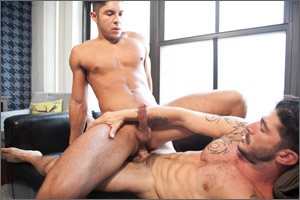 SCENE 1: Seth Treston and Johnny Hazzard Have Some Versatile Fun
Lucas Entertainment Exclusive Seth Treston has only ever bottomed on film for the studio, but that's only because he hasn't found a piece of ass to inspire him otherwise. That's, of course, until he meets Johnny Hazzard — a sexy gay porn star who has inspired many men to top him. Seth and Johnny traveled to New York City to make this hook-up happen with a bang! Seth Treston is a gorgeous guy with an incredible body, and when he's ready for sex he's completely insatiable: Johnny gets him good and hard with his mouth before he preps his ass and takes Seth's cock inside him. Johnny bounces on Seth's hard-on, and the exclusive gives Johnny some hard thrusts he won't soon forget, but why should he have all the fun topping' Johnny rolls on a condom and fucks Seth before the guys reach climax!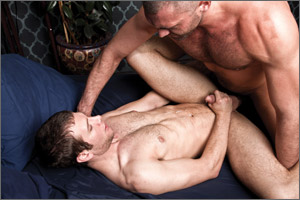 SCENE 2: Vito Gallo Shoots His Load Into Spencer Fox's Hungry Mouth
Vito Gallo: he is one of Lucas Entertainment's most popular power tops. Spencer Fox: he is a passive bottom known in gay porn for his ability to take a cock and take it good. This could have not been a better pairing because sometimes Vito just wants to stick it to a punk that needs to get dicked — and that's exactly what Spencer is good for. Spencer Fox makes work of his mouth and tongue on Vito Gallo's nine inches of fat Italian meat hanging between his legs. Vito likes to get his dick sucked, but this time around it's an ass in need of a pounding that he's after. Let's just hope it's a cock Spencer is capable of taking for a long time, because he is not a quick shooter!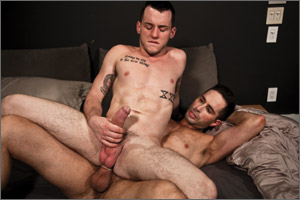 SCENE 3: L.E. Exclusive Colton Grey Debuts Riding Michael Lucas' Uncut Cock
Colton Grey is a hot one fresh off the proverbial farm — there's no doubt about that. He's one of the newest and cutest faces seen on Lucas Entertainment in a long time, and who could resist him' But if he's going to have sex on camera for the studio, he's going to have to learn how it's done, and who better to take on that job than Michael Lucas' Colton is a versatile guy in bed, but by having a romp with Michael he has to be on the bottom, which is a great place for him since he's so good at it. Watch as Colton hops on Michael's 10-inch uncut Russian cock: the bottom's own fat eight-inch cock flops and bounces with every erection injection. If its fresh meat you crave, then feast on Colton Grey!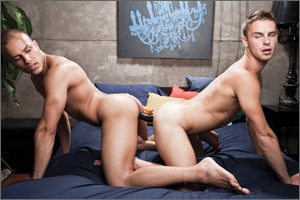 SCENE 4: Justin Cruise and Franco Ferarri Fuck on a Double-Headed Dildo
Justin Cruise and Franco Ferarri — what, oh what, are two bottoms supposed to do with one another' There's a simple answer for that question: they need to take turns fucking each other to see who ultimately comes out on top! Franco and Justin are of similar build and size but they couldn't look less alike: Justin Cruise is a fair-skinned Russian, whereas Franco is a fire-blooded Latino. Justin and Franco first loosen each other up on one of the studio's favorite toys: they pump their holes on a big, black double-headed dildo. The motions back and forth get their cocks hard for some flip fucking: both guys get a chance to fuck, but who's better at it' You'll have to watch the scene to find out!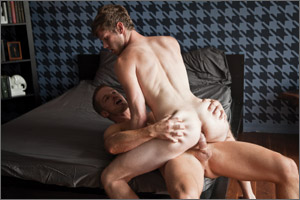 SCENE 5: Liam Magnuson Gets a Workout Pumping Joey Banks' Twink Ass
Who could ask for a better top than Liam Magnuson' He's handsome while also sweet-faced, and his body is simply incredible in its musculature. And don't forget about his cock — it's built for fucking ass and that is that. The lucky bottom to take it up his hole is Joey Banks. Liam is strong and firm as Joey sucks his cock, gets his ass eaten, and bends over to take his cock into his ass. So long as Joey is a good boy and treats his top's cock right as he fucks him, Liam with be gentle and tender.

SEE THIS NOW / MORE INFO:
LUCAS ENTERTAINMENT
Scenes Premier online prior to DVD release and are available to view anytime in the Members Area.
Members can watch scenes from all Lucas Entertainment releases anytime online.