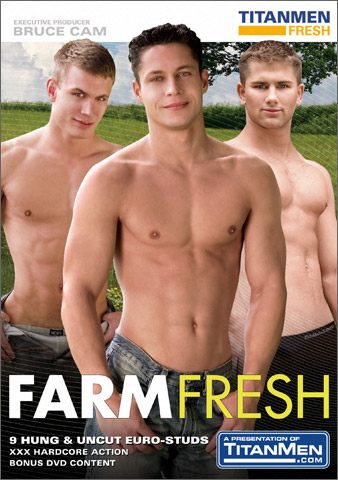 Studio: Titan Media / Titan Fresh
Directed by: Brian Mills
Year of Production / Release: 2006
Country of Production: Czech Republic

CAST:
Jak Black
Thomac Cruise
Samuel Dolce
Petr Majer
Eric Flower
Adam Kubick
Drago Lembeck
Peter Stallion
Robert Wild
FROM TITAN MEDIA WEB SITE:
The beautiful Czech countryside provides a perfect backdrop to the muscled, hung and frisky farmhands in the trio of scenes in the latest title from TitanMen Fresh, Farm Fresh. For the first time ever for a TitanMen Fresh feature, TitanMen's own Brian Mills went to the Czech Republic and shot and directed the action himself – a move that pays off in new heights of fresh-faced fucking.
   Handsome Petr Majer and big-bonered Jak Black are joined by cock-hungry Thomac Cruise for a suck and fuck session that has Thomac split open and spent. Then sultry dark-haired Samuel Dolce and sexy Peter Stallion perk up a drowsy Drago Lembeck with a three-way of their own, and athletic Adam Kubick joins hunky Eric Flower (Fever) and randy Robert Wild for a fresh round of cocksucking and ass pounding.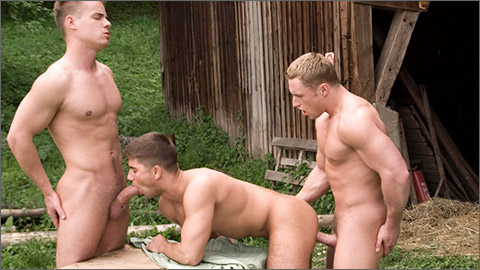 SCENE 1: Petr Majer & Jak Black fuck Thomac Cruise
Blond, smooth and strapping Petr Majer's hard at work splitting wood, gearing up for one of those cool Czech nights. It's hard work, even for a guy as sturdily built and brawny as Petr. He's got a he-man of a helper in Jak Black, who's busy bringing him more wood, but one glance at smooth, hunky Petr is enough to make Jak forget all about bringing more wood for Petr's chopping block.
   A little playful roughhousing leads to some skillful cocksucking, as Petr and Jak dive down on each other's throbbing tools. They're not alone for long. The farm's crawling with young studs like Thomac Cruise, who brings a hunk of wood of his own to add to the pile and quickly finds himself kneeling on the floor of the barn, sucking the fat, uncut cocks of his buddies. It's just too much, and before long, the guys join together for a sensational jack off session, with Jak's huge meat busting open in spectacular sprays of jizz. So creamy and juicy, you could fill a milk bucket with it.
   The guys saunter outside for the next round, with Thomac a fertile field to plow for Jak and Petr, who take turns filling him up with their mammoth tools. Petr and Jak bust out gigantic loads of hot man-juice over Thomac, who adds his sweet spunk to the gooey mix.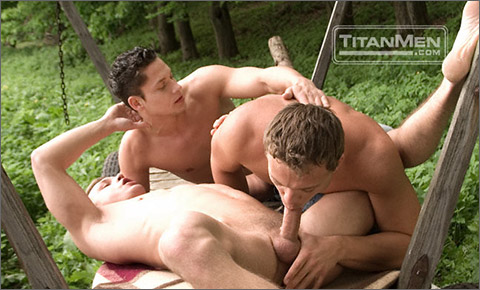 SCENE 2: Peter Stallion & Samuel Dolce fuck Drago Lembeck
Peter Stallion and Samuel Dolce are taking a meandering walk through the woods, and see Drago Lembeck catching some rays and a quick catnap in a nearby meadow. He looks too damn good to be left alone, though, so Samuel and Peter quickly hop over and start running their hands over his smooth hard body, 'til he wakes up hard and rarin' to go. The young studs rub and suck and lick and kiss every inch of Drago's muscular body, and all three takes turns sucking each other until they're all close to the edge. As Drago's on his knees in front of Samuel, the sight of Drago's chiseled ass drives Peter wild, and he can't resist diving in, burying his tongue into that tight and twitching hole. Quicker than you can say "freshly fucked," Peter's got Drago's legs flying high, sinking that stiff sword into Drago's downy hole, soon pounding away with abandon while Drago sucks Samuel's dripping uncut cock. But Peter's not selfish, and lets Samuel take a turn.
   Peter sheathes his sword with another condom, and Drago takes this as his signal to roll over on his knees so the guys can mount him from behind, driving in deep and hard. It's not long before all three feel the need to shoot, and they perch next to each other to jack off, rock hard muscles tensing with their efforts that soon pay off in loads of spewing spunk – and smiles all around.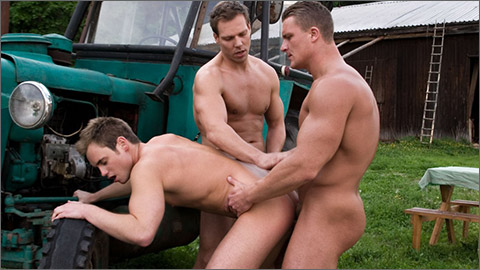 SCENE 3: Eric Flower & Robert Wild fuck Adam Kubick
Hugely muscled Eric Flower's out inspecting the farm, and finds an out-of-the way doorway to take a quick break. He thinks it's the perfect place to be alone, pulling out his thick uncut cock to stroke out a quick load. But this farm is full of farmhands willing to lend a hand, and he's soon joined by handsome Robert Wild, taking over jackoff duties and burying his face in Eric's pit and chowing down on his dinner-plate sized pecs. But a mouth is better than a hand, and Eric's tongue's up to the task of licking Eric's granite like rigid rod.
   Robert clearly worships Eric's massive muscularity, but he's no slouch either, with a tight body and big boner that begs to be sucked down. And Eric's more than willing to take a turn on Robert, burying Robert's cock down his talented throat.
   Another frisky farmhand, cutie Adam Kubick, sidles up to the action, and Eric beckons him over to join in the fun. All too enthusiastic to help Robert chow down on Eric's meaty member, Adam skillfully assumes all cocksucking duties, licking and sucking 'til they blow wads of wank-juice all over Adam's smooth chest. After Adam pops his own ample load onto the ground, the three saunter off for a raunchy Round 2.
   Eric and Robert take Adam to the tractor outside, slapping his legs open wide and digging deep in his asscrack with their tongues and fingers to ready him for an ass reaming. Adam's got the ass of a champ, and Eric and Robert take turns sliding their slick condom-covered cocks to the hilts and rutting away like animals.
   From the front, from the back, it's all OK as long as Adam's getting gut-gouged and face-fucked by two hot studs like Robert and Eric. But Eric needs it too, and gets his meaty mounds mounted and mouth plugged by Robert and Adam. They've all got determination and drive to spare, but there's only so much Eric can stand before sending shots of steaming jizz splattering in every direction, covering Adam with his sticky, steamy load. Robert responds with his own rocket-blast, and the spent trio's hard work is done for the day.

MORE INFO, PREVIEW OR WATCH RIGHT NOW:
TITAN MEDIA
Scenes Premier online prior to DVD release and are available to view anytime in the Member's Area.
Members can watch scenes from almost all Titan Media releases anytime online.

VIDEO ON-DEMAND: TITANMEN FRESH @ AEBN SMUTJUNKIES THEATER
DVDs & ON-DEMAND: TITANMEN FRESH @ TLA VIDEO