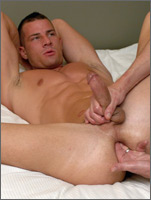 Studio: Drake Rock online
Directed by: Drake Rock
Year of Production / Release: 2009
Country of Production: U.S.A.

CAST:
Rusty Stevens
ADDITIONAL COMMENTS:
On-Line Only Presentation

THIS PREVIEW CONTAINS ADULT SEXUAL CONTENT


INFORMATION FROM DRAKE ROCK:
To ward off the inevitable question: "If you sent a gay videographer why is the straight cam guy the one finger fucking and jacking off Rusty Stevens?"
   The unequivocal answer is that Seth didn't want to be in the videos, whereas John is getting more relaxed about appearing in the videos (recently there have even been fly-bys of his face that he's been okay with).
   The secondary answer is that I deliberately hired a gay videographer to help shoot the three way, and I wanted to see what a gay cam guy's eyes would capture that John was missing.
   The thing that surprised me about this video is that Rusty wanted nothing to do with the dildo. He knew it was part of the job, but didn't want it inside him. Personally, that doesn't make sense to me. Rusty will take cocks up his ass for hours, but not a dildo. I would have guessed it would be the other way around – that a straight guy wouldn't mind a piece of plastic in his ass, but he wouldn't want a cock up there.
   Oh well, to each his own.
Rusty Stevens is simply a nice straight guy who does gay porn as a way to pay the bills and tuition. Honestly, if a person had never seen his movies and had a conversation with him they would think he was just your every day guy.
   Well, if your every day guy had a killer body and an ass that's been pounded by numerous hard-hitters.
   He's single, and after doing the three way and then the erotic massage video, he and his buddies went night clubbing looking for some women to fuck. I can't imagine that pick up line, "My buddy and I just blew and fucked each other the last three hours, then another guy stabbed me with a dildo, rammed four fingers up my ass and jacked me off; wanna come back to my place and fuck?!?"
   Hmm. Wonder if that line would actually work on any women?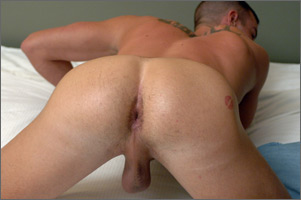 WATCH IT NOW AT: DRAKE ROCK