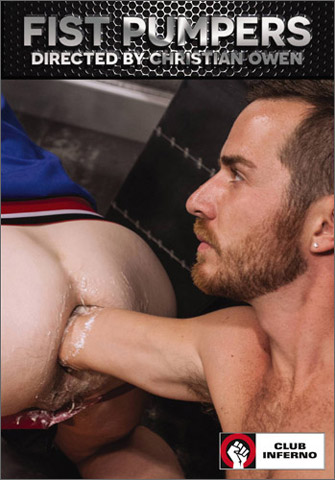 Studio: Hot House Entertainment / Club Inferno
Directed by: Christian Owen
Year of Production / Release: 2015
Country of Production: U.S.A.

CAST:
Aarin Asker
JR Bronson
Cameron Cole
JP Dubois
Parker Kane
Brandon Moore
Matt Stevens
Dakota Wolfe
Chris Wydeman
INFORMATION FROM HOT HOUSE:
The sexy, muscular men of FIST PUMPERS find an abandoned garage and turn it into their own private hookup spot to wreak anal destruction. Director Christian Owen unleashes these 10 studs who know just how to stretch a hole to its full capacity. Aarin Asker gets his hairy hole pummeled by JR Bronson, first with a massive dildo, then with his fat uncut cock. Chris Wydeman submits completely to Matt Stevens and lets him fist him hard until he unloads on his face. Parker Kane pumps toys and his fist deep into Cameron Cole, taking two hot cum shots to his face and mouth. JP Dubois dives deep into the hole of Brandon Moore with a huge dildo and a hefty hand. Boy next door Dakota Wolfe can't get enough of the cock and arm of Matt Stevens as he pumps away with both. These 'Fist Pumpers' are pounding away at willing and eager holes that will have your sphincter twitching and your hole blooming.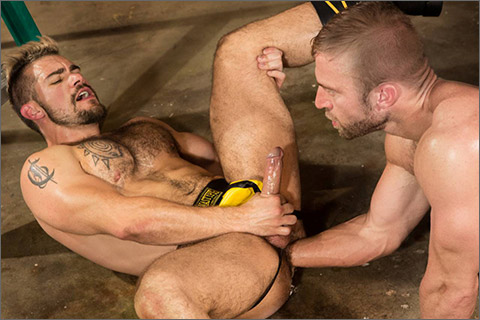 SCENE 1: JR Bronson & Aarin Asker
Chiseled and furry-chested JR Bronson is out in the garage feeding his hung uncut cock to tatted power bottom Aarin Asker. Aarin is eagerly already on all-fours, sucking and gulping on JR's hung uncut cock. Equipped with a super-thick dildo, JR slowly twists and eases the rubber dong into Aarin's hairy hole. Once Aarin's hole begins to stretch, JR shoves the toy all the way in making Aarin let out a yelp of moaning pleasure. JR pulverizes Aarin's scruffy hole with the dildo then lays him on his back to reach deep inside of Aarin. Both are working up a heavy sweat as they moan and grunt as JR fist fucks Aarin's ass. JR keeps pounding Aarin's piggy ass until he shoots his load all over his own balls then JR make him taste his own cum. To finish, JR kneels next to Aarin and oozes his cum onto his beard.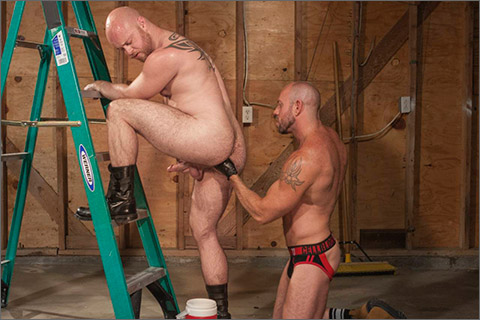 SCENE 2: Matt Stevens & Chris Wydeman
The hunky muscular and bearded duo Matt Stevens and Chris Wydeman are in the garage in the midst of a heavy make out session. Chris yanks off Matt's shirt and worships his hairy armpits. With Matt bulging out of his jeans, he pushes Chris down on his knees so that Chris can deep-throat his cock with ease. Matt turns the attention to Chris and bends him over to inspect, then eat Chris' hairy bear ass. Once Matt warms up Chris' hole with his tongue, he hikes Chris' leg up onto a ladder and slowly introduces his huge fist into Chris' hole. With Matt's hand still deep inside of him, Chris' thrusts and gyrates on the hole-stretching fist. Switching positions Chris gets on all fours and uses the bottom of the ladder as leverage as Matt keeps pumping his fist in and out of Chris' asshole. Chris turns around to finish sucking Matt's cock causing Matt to unleash a thick creamy load onto Chris's face beard.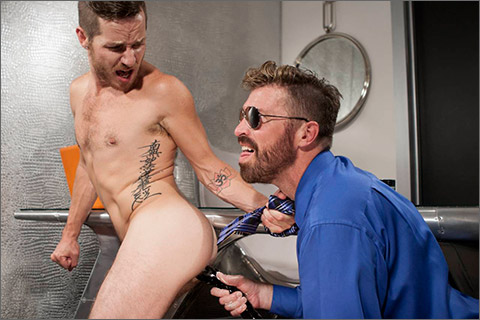 SCENE 3: Cameron Cole & Parker Kane
Cameron Cole is 6'3 and 210 pounds of pure man. With his furry chest and his thick beard, knows just how to please Parker Kane. Cameron gets to his knees and takes Parker's cock in his mouth in effortless strides. After sliding his cock down Cameron's throat, Parker takes a massive black dildo, and slides it into Cameron's winking hole. Having no mercy on Cameron's sphincter Parker drills the black dong deeper and deeper into Cameron's willing ass. Cameron wants more and tells Parker 'give me your fist!' inviting Parker to handball Cameron's eager meat pocket. Pushing deeper into Cameron's anal abyss, Parker soon has his arm up to his elbow inside of Cameron reaching in and out and rearranging his insides it seems. Each time Parker removes his lengthy arm, Cameron pushes out a pulsating rosebud. Once Cameron has had enough he falls to his knees one more time to catch Parkers load in his mouth and all over his beard.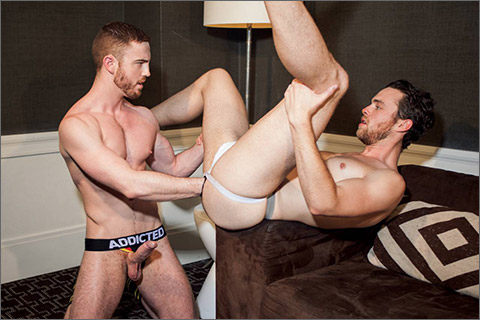 SCENE 4: JP Dubois & Brandon Moore
Athletic Brandon Moore is vulnerable and bent over the couch draped in nothing but a jockstrap as super-sexy Scottish hunk JP Dubois lubes up a girthy dildo for Brandon's hungry hole. JP works the rubber cock in and around Brandon's hole. Things heat up when JP slowly sticks his fist into Brandon's tight ass as Brandon stays bent over. With his hole stretched slightly, Brandon switches to his back and allows JP to fist fuck him reaching new depths. JP keeps his fist deep in Brandon as his jerks his fat uncut cock, blowing his load onto the floor.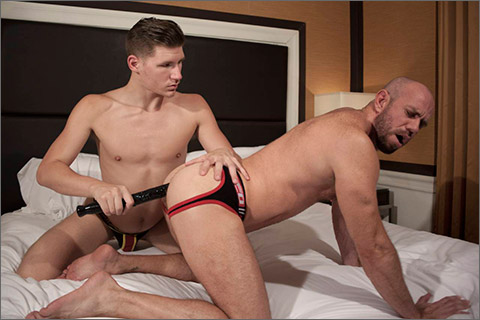 SCENE 5: Dakota Wolfe & Matt Stevens
Boy next door Dakota Wolf swaps spit and grasps the bulging cock of muscle-hunk Matt Stevens. Dakota plays master first as he bends Matt over and probes his tongue into Matt's hairy hole. Matt's hole is excited and ready for the next big thing, so Dakota crams a huge black dildo into his ass. Releasing moans of ultimate pleasure, they switch positions and Dakota keeps working the dong in and out of Matt's ass as he strokes a hot load out of his cock and onto his fuzzy abs.
SCENE 6: Cameron Cole & Parker Kane
Parker Kane is sprawled on his back with straps holding his legs back, baring his pink, furry hole. Cameron Cole in on his knees and snakes his tongue around Parker's succulent hole and taint. Switching between rimming him, and sucking his juicy cock, Cameron prepares his hole for something much larger. After lathering up a 10 inch dildo equipped with a handle, Cameron slowly introduces it into Parker's ass and slowly graduating to faster thrusts with the rubber dong. Things heat up when Parker wants to switch positions and bends over to take the anal pounding from the hefty dildo. Cameron dildo fucks Parker until he turns around and blows his hot load onto Cameron's face.

WATCH IT NOW / MORE INFO AT:
HOT HOUSE CLUB INFERNO DUNGEON
Hot House Club Inferno Dungeon Members can see this film anytime online.
With extensive additional photography from every scene.