Studio: Hot House / Club Inferno
Directed by: Christian Owen & Richard Board
Year of Production / Release: 2010
Country of Production: U.S.A.

CAST:
Sage Daniels
Leo Forte
Ethan Hudson
Chris Kohl
Evan Matthews
Lance Navarro
Adam Russo
Zeke Skye
ADDITIONAL COMMENTS:
Debuting online prior to DVD release.
Hot House Dungeon Members can see this film anytime online.
INFORMATION FROM HOT HOUSE:
Don't go out alone tonight – you might get caught in a Fist Trap, Club Inferno's latest abduction fantasy. Club Inferno Exclusive Evan Matthews leads a cast of handball predators who deliver action so shocking you won't believe your eyes! Once you're caught you may never want to escape the Fist Trap!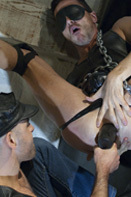 SCENE 1: Evan Matthews & Adam Russo
You'll wonder who's the prey and who's the predator when Adam Russo finds Club Inferno Exclusive Evan Matthews blindfolded and restrained in an abandoned warehouse. Matthews willingly takes every toy Russo shoves up his ass, eventually demanding more. Matthews astonishes Russo by opening his hole to display a brilliant rosebud before sucking in Russo's entire arm past the elbow!
SCENE 2: Sage Daniels and Leo Forte
After a hard day at work Sage Daniels strips down and fingers his twitching hole. Just as he starts to fuck himself with a man-size dildo, Leo Forte returns to the warehouse and catches him in the act. Daniels takes one look at Forte standing there stroking his fat cock and offers up his hole. Forte pounds the massive butt-toy into Daniels' ass then rolls over and opens his hole for some assplay. After taking turns fucking each other with giant dildos they jack off and blow their loads together; a perfect way to end the day!
SCENE 3: Chris Kohl and Ethan Hudson
Chris Kohl & Ethan Hudson break into a machine shop for some after-hours butt play. After licking ass and sucking cock, Ethan breaks out the anaconda; a double-headed 3-foot long dildo. They lube up the giant ass snake and each ride an end, fucking themselves and each other at the same time. When Ethan pulls out the rubber gloves Chris assumes the position and opens his puckered hole for Ethan's fists. Ethan punch fucks Chris then straddles his face and jacks his load all over his filthy fuck buddy.
SCENE 4: Lance Navarro and Zeke Skye
Zeke Skye works in an S&M sex club where a co-worker tells him that he has a hot fisting-bottom tied up in the basement, ready for action. Always horny, Zeke investigates and finds Lance Navarro, a 6′ 3″ giant with an enormous uncut cock, pierced scrotum, and insatiable hole. Zeke immediately puts on his rubber gloves and gets to work fisting Lance's tight, greedy ass. The fisting makes Lance's monster-cock rock hard and Zeke can't resist taking it for a ride. He sits down and bounces on Lance's cock until Lance pulls out and blows his load.

WATCH IT NOW / MORE INFO AT:
HOT HOUSE CLUB INFERNO DUNGEON
Hot House Club Inferno Dungeon Members can see this film anytime online.
With extensive additional photography from every scene.