Studio: Raging Stallion / Fisting Central
Directed by: Tony Buff
Year of Production / Release: 2013
Country of Production: U.S.A.

CAST:
Tony Buff
Leo Forte
Christian Mitchell
Byron Saint
Zack Taylor
Kyle Wood
INFORMATION FROM RAGING STALLION:
Four fisting bottoms respond to the order Show Me Your Hole, with skill, agility and showmanship as they show that fucking can transcend the cock, and intense pleasure can be delivered from the fist. Raging Stallion's resident fetish director, Tony Buff, lays out four scenes of relentless fisting action in Show Me Your Hole. Is anything more seductive than a smile? In the case of Leo Forte, probably not, but no one puts "English" on a forearm like Leo does. Just ask Zack Taylor, who learns first hand and fist the satisfaction that can be felt from Leo's arm. Buff steps in front of the camera to push the envelope along with the sphincter and stretch Kyle Wood's hole in the process. Then Christian Mitchell and Byron Saint flip-fist in separate scenes that give each stud the chance to showcase his versatility. The bottoms show that it's the guys with forearms up their butts who are the tough ones. In Show Me Your Hole, they make you ask, "Which is pounding faster, the heart or the fist?"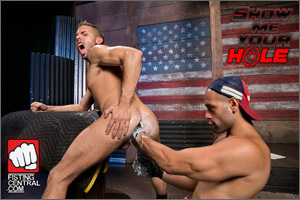 SCENE 1: Leo Forte fists Zack Taylor
Zack Taylor's balls are clutched in the grasp of Leo Forte as Zack assumes the position, bent over a table. Leo bangs his knuckles against Zack's hole, as if knocking — foreplay to a fist. But first, Leo must feed on that hole. Zack lifts his knees and hangs his ankles over Leo's shoulders. Telling Zack to "stay down," Leo presses his face into Zack's furry crack, gently pulling Zack's cock back through his legs to suck it. Spit provides sufficient lube for a thumb or a couple of fingers, but not for a fist. Leo displays his usual devil-may-care grin as he gloves up, his biceps gently flexing as he reaches for the lube and applies it to Zack's entryway. Leo gradually increases the number of fingers insisting on entry, pushing and corkscrewing with his wrist until he has worked up to eight. With the slow dilation of Zach's ass complete, Leo kisses it as one fist goes in past the wrist. Zack growls and sets his feet back on the floor to stabilize himself as he pushes back against Leo's fist. Zack is on his back when he climaxes due to the stroking of his cock by Leo's other fist. Leo quickly pulls his cock out of coveralls and adds his own jism to Zack's.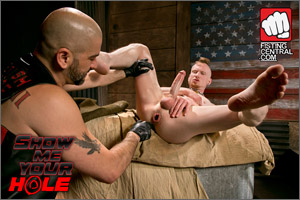 SCENE 2: Tony Buff fists Kyle Wood
Kyle Wood, or The Pig as he is known in Tony Buff's pack of porn pups, is naked. His smooth body seems exceptionally pale in the dark room. He's kneeling on a table, rocking back and forth as he plays with his hole. Tony Buff is beside his collared boy, pulling on gloves. He drizzles lube onto The Pig's taint and it runs down to his hole and puddles there. Pushing the The Pig's fingers out of the way, Tony uses both thumbs to stretch and separate the walls of The Pig's hole. Configuring his fingers into a cone, Tony presses The Pig's sphincter muscles until they release to allow passage of his fist. The Pig arches his back and rears up on his knees. Grabbing his cock allows The Pig to summon greater pleasure and he moves his hand back and forth until his cock tingles with approaching orgasm. The Pig's seed shoots across the table as Tony's fist claims another inch. The Pig flips over, still stroking his cock as Tony eases his fist out, massaging The Pig 's stretched hole until it reveals the red flower within. Tony stands and quickly unrolls a condom onto his cock. Entry to The Pig's hole is now effortless. The Pig works to coax a second orgasm from his nuts as Tony pulls out and shoots streams of jism across The Pig's exhausted body.
SCENE 3: Byron Saint fists Christian Mitchell
The accessories are black: black boots, a black jock strap and black-gloved hands demanding entrance to Christian Mitchell's hole. Byron Saint is the man on the other end of the black gloves. Christian emits continuous low-pitched growls and gurgles as Byron's hand inches forward and recedes again. Sometimes the hand is a fist, sometimes it is a flat palm, sometimes it's five digits angled into a cone. Now two hands: Byron's palms are pressed together at the entrance to Christian's hole, sliding in opposite directions. One palm slides in as the other slides out. Tendons along Byron's forearms stand out as his arm works the hand, now rotating, then plunging. Christian howls as a full fist breaches his hole. The cheeks of his ass glisten with lube. He gets a moment of rest from the ongoing punishment when Byron strips. Now we can see Byron's long, limber muscles flex and contract as he works on Christian's ass. Byron's abs cast parallel shadows onto his torso. He grabs his cock and strokes it while keeping the other hand at work on Christian's hole. On command, Christian rolls over on his back. His hairy chest and belly roll into view just as high arcs of Byron's cum fly across his body.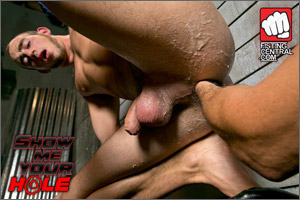 SCENE 4: Christian Mitchell fists Byron Saint
The "U" of Byron Saint's chin beard echoes the "U" of his spread legs as he watches Christian Mitchell lube his hole. Christian's black-gloved hands spread more lube around Byron's balls, butt and thighs — a sort of massage to relax him for what's to come. Christian asks, "Ready for it?" and gets a nod. In go two finger. Then four. Byron's head lolls and he spreads his thighs wider apart. The pace is quiet and relaxed. You can hear — and almost feel — their flesh touch. Christian's fist sinks entirely and he orders Byron to push it back out. He runs a gloved finger in circles around Byron's hole and Byron's rosebud pops into view. Byron orders Christian to "Put it back in," and he clamps his ass around Christian's wrist. Byron breathes deeply, sighs with content and tells Christian, "Punch fuck my hole." With every new impact he sighs and asks for more. His eyes roll back until you can only see the whites. Byron changes position; now he squats onto Christian's vertical forearm, repeatedly raising and lowering himself. Christian grabs his cock and jacks himself to orgasm.

WATCH THE SCENES AT:
RAGING STALLION'S FETISH FORCE / FISTING CENTRAL
Members at FETISH FORCE / FISTING CENTRAL can watch these scenes and download extensive Photo Content from this production.
PURCHASE THE DVD AT: RAGING STALLION STORE
GO TO: RAGING STALLION'S FILM PAGE FOR THIS RELEASE