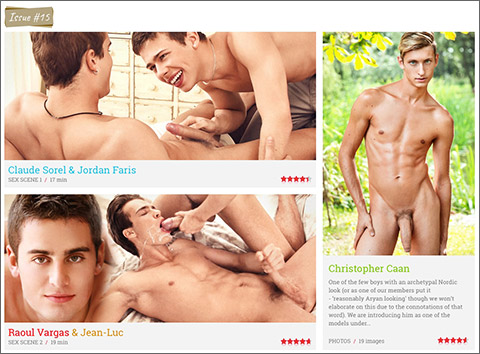 Studio: BelAmi / Freshmen
Year of Production / Release: 2017
Country of Production: Czech Republic

CAST:
Jean-Luc Bisset
Christopher Caan
Jordan Faris
Claude Sorel
Raoul Vargas
INFORMATION FROM BEL AMI:
Claude Sorel & Jordan Faris
So far we have released few scenes with Jordan although he started filming about 3 years back. You will see a bit more of him here on Freshmen, but his scenes are destined mainly for BelAmiOnline. He has a similar smiley quality as Claude Sorel, his partner in today's scene. When it comes to Jordan, you will see more of him in both his younger twinkier and more athletic periods of shooting.
Raoul Vargas & Jean-Luc
We feel obliged to introduce Raoul here as all new boys will make their first appearances on Freshmen, but in Raoul's case he obviously belongs to the more mature category of boys. After thhis scene you will see him exclusively on BelAmiOnline. We know that some of you think he is a bit plain looking but he has a great dick and he is an excellent performer, so we think that you will enjoy him anyhow.
PHOTOS: Christopher Caan
One of the few boys with an archetypal Nordic look (or as one of our members put it – 'reasonably Aryan looking' though we won't elaborate on this due to the connotations of that word). We are introducing him as one of the models under a question mark regarding an exclusive contract or not. We realize most of you will like his looks but the question is more about his performance. We will continue this rumination in the next edition of Freshmen where he has a scene with Antony Lorca.

WATCH IT / DOWNLOAD IT NOW AT:
BEL AMI'S FRESHMEN
Downloadable Presentations, with extensive Photo Galleries
One of the Highest Quality Mega sites.