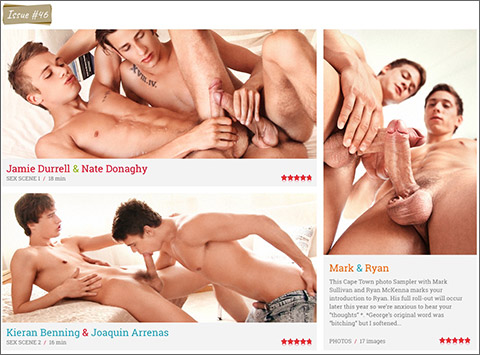 Studio: BelAmi / Freshmen
Year of Production / Release: 2017
Country of Production: Czech Republic

CAST:
Joaquin Arrenas
Kieran Benning
Nate Donaghy
Jamie Durrell
Ryan McKenna
Mark Sullivan
INFORMATION FROM BEL AMI:
Jamie Durrell & Nate Donaghy
Nate's freckled shyness nicely combines with Jamie's cheery intensity to make a sweet and tender scene. This was filmed as part of last year's Greek production and is the only scene with Nate as he had to leave early for a family emergency. This scene falls in the "romance" category, so those who wish to see wild hard fucking should look elsewhere.
Kieran Benning & Joaquin Arrenas
This almost qualifies as a "behind the scenes" video as these two Slovak friends are fuck buddies off set as well…whenever they get horny. Our editor's note here reads: "The fucking is really nice here except for the Kevin style breathing"… Whatever that means. I wasn't aware that Kevin's breathing even had a "style". But for those of you as discerning as our editor, I hope you enjoy, "Kevin style" breathing and all.
PHOTOS: Mark Sullivan & Ryan McKenna
This Cape Town photo Sampler with Mark Sullivan and Ryan McKenna marks your introduction to Ryan. His full roll-out will occur later this year so we're anxious to hear your "thoughts" *. *George's original word was "bitching" but I softened the language as I know customers never do that (walks off whistling a happy tune).

WATCH IT / DOWNLOAD IT NOW AT:
BEL AMI'S FRESHMEN
Downloadable Presentations, with extensive Photo Galleries
One of the Highest Quality Mega sites.