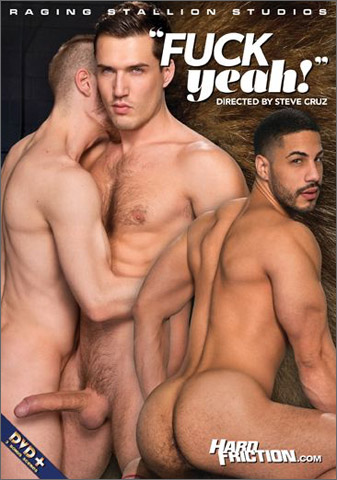 Studio: Raging Stallion / Hard Friction
Directed by: Steve Cruz
Year of Production / Release: 2015
Country of Production: U.S.A.

CAST:
Theo Ford
Tyce Jax
Caleb King
Sebastian Kross
Adam Ramzi
Billy Santoro


INFORMATION FROM RAGING STALLION:
When two hot studs are in the act of heated, passionate sex, nearly all they can say is "Fuck Yeah!" The connection is real and the action is instinctual in the newest release from Hard Friction featuring six stunning men, who are fully in the moment and repeatedly exclaiming "Fuck Yeah!" Award-winning director Steve Cruz perfectly pairs these horned-up models, lets the testosterone flare, and captures nature taking its course. Stunning Tyce Jax and newcomer Caleb King make their Hard Friction debuts. Big dicked Tyce takes an intense, energized pounding from superstar Sebastian Kross' delicious cock. Versatile power fuckers, Adam Ramzi and Caleb King exchange hot power bottom sessions in a monumental flip-fuck. Tyce Jax gets ahold of Billy Santoro and his hot hole, punishing it in all the right ways with his humongous manhood. When Caleb King sees handsome Theo Ford and his thick juicy cock, he can't wait for it to be deep inside him. You'll have your dick in your hand yelling "Fuck Yeah!" right along with these erotic and in-the-moment encounters.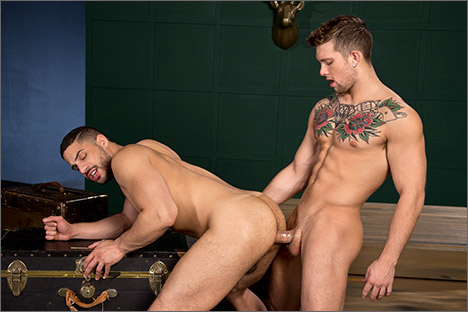 SCENE 1: Sebastian Kross fucks Tyce Jax
Sebastian Kross and Tyce Jax are an incredible duo! Tyce sports a huge cock, perfect fur and muscles, and Sebastian is packing too with a smooth, inked and sculpted body. Loving a good face fucking, Tyce takes Sebastian's thick cock deep down his willing throat. After receiving a scorching hummer, Sebastian is more than happy to return the favor, especially when the cock is as fat and tasty as Tyce's. He can barely get his whole hand around the shaft, but Sebastian swallows it up like a champ. "Fuck Yeah!" After that treat, Sebastian is eager to lick and finger fuck the hottest treat of all, Tyce's hairy ass. They go at it hard and heavy on a furry throw rug, with passionate kissing in between unbridled fucking. Sebastian pounds Tyce's hole before shooting his hot load onto Tyce's face, sending Tyce over the edge and emptying his nuts all over the floor.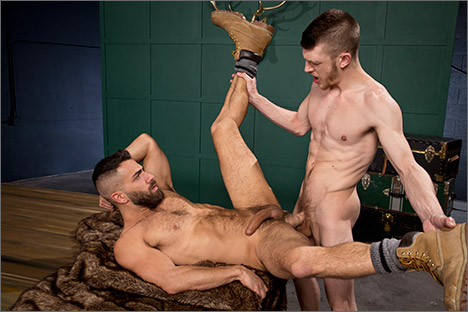 SCENE 2: Adam Ramzi & Caleb King flip-fuck
Caleb King and Adam Ramzi sit naked, making out and jacking each other's hard dicks. Caleb begs for more every time Adam teases his pierced nipples. Both men are just the right amount of furry, lean and athletic. Caleb eagerly services Adam's perfect dick like a master of cocksucking. His efforts get a satisfied grin and a "good boy" pat on the cheek from Adam. Wanting to satisfy him just as much, Adam kneels to give Caleb an aggressive wet blow job. He stares up at Caleb while he strokes in and out of his mouth, telling Caleb it's a different hole Adam wants stroked. Now! Caleb goes for it. He wants Adam's ass, so he's quick to get his big dick in Adam's hot hole. Hooking a long leg over Caleb's shoulder, Adam barks orders like a top, inciting Caleb to fuck him harder and rougher and moaning "Fuck Yeah!" Adam reasserts dominance in a nimble position change that puts Caleb on his lap and Adam's cock in Caleb's hole. Now, Caleb takes charge of the fuck, ensuring that Adam's cock hits his sweetest spots. Caleb's hefty orgasm leaves both their thighs dripping with hot cum. Adam stands and feeds Caleb his tasty seed.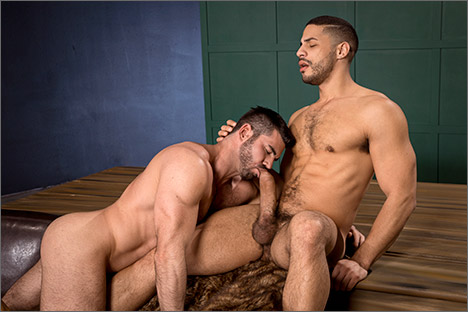 SCENE 3: Tyce Jax fucks Billy Santoro
Lounging on the sofa, Tyce Jax sits back while Billy Santoro mouths his hairy nipples. Billy is quick to volunteer his mouth to warm up Tyce's massive, fat, uncut cock that will soon be deep his ass! Tyce's full foreskin gets loads of attention from a horned up Billy. The look on Billy's face as Tyce eats his ass makes you want to scream "Fuck Yeah!" Jumping on Tyce's cock, Billy takes complete control. Dripping with sweat as he rides Tyce's cock letting it stretch his hole to the max. Billy loves the feeling of a big uncut dick deep inside him, and Tyce wants to get it as deep as possible. Positioning Billy on his back for maximum penetration, Tyce relentlessly gives it to him, plowing deep with no mercy. Stroking his cock while Tyce pounds away, Billy shoots his cum all across his hairy chest. As Tyce aims for Billy's mouth and expels his load, Billy shoots a bonus shot that's even bigger than the first!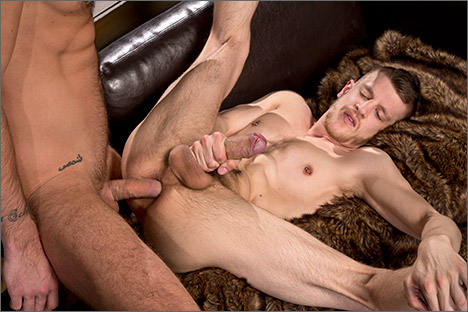 SCENE 4: Theo Ford fucks Caleb King
Tall, dark and handsome Theo Ford explores Caleb King's milky flesh. As their cocks throb against each other passionately, Theo's dick gets thicker and harder with every stroke. It's not long before the back of Caleb's throat is being punished by Theo's meaty tool. Caleb wants Theo's cock in every way, so he plays with Theo's foreskin until Theo asks if he can have Caleb's ass. Starting out with a thumb in Caleb's ass, Theo lubes Caleb's hole up with some spit and shoves his fingers in. Theo drives his cock in, and all Caleb can think is "Fuck Yeah!" as his low-hangers sway back and forth. Caleb is overcome with ecstasy, loudly exclaiming his satisfaction. Theo flips Caleb onto his back and puts all of his weight behind his long fulfilling strokes. Unable to edge any longer, Theo pulls out and coats Caleb's abs, which spurs Caleb to release a thick load across his thighs.

WATCH THE SCENES / BUY THE DVD / MORE INFO AT:
RAGING STALLION
Members at RAGING STALLION'S MEMBERS SITE can watch these scenes and download extensive Photo Content from this production and get discounted pricing on all DVD and Print purchases..