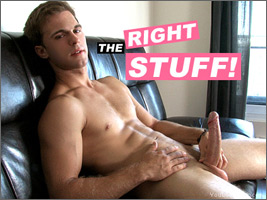 Studio: You Love Jack online
Directed by: YouLoveJack.com
Year of Production / Release: 2010
Country of Production: Canada

CAST:
Gabriel Clark [Gabriel Lenfant]
ADDITIONAL COMMENTS:
On-Line Only Presentation, Members can Download – DRM Free

THIS PREVIEW CONTAINS ADULT SEXUAL CONTENT


INFORMATION FROM YOU LOVE JACK:
Gabriel is stuff of which fantasies are made.
   This is all about his attitude as shows off his body from every angle he can think of. Stopping to play with his asshole before zooming the camera in on his perfect uncut cock. Mon dieu!
   His HD video camera captures every beautiful detail of his manly body as he slowly works himself up to the edge of orgasm. Holding off to make the scene last a little longer. Just another minute… But finally he gives into his own desires and his hand becomes a blur on his beautiful meat stick. Harder now than he's ever been…
   His breath comes in hurky jerks as his body furiously tenses and relaxes. Almost… There… Then his head dips down and his mouth opens just a little bit as he aims his cock at his own face. Hoping for a delicious protein shake to cap off his sexual romp!
   He blasts a huge glob of cum that hits him square between the tits. Not quite in his own mouth but he'll get to that in a second. 4 more shots of cum glaze his perfect abs and pecs before he collapses back on the couch. A heaving mess of cocky jock.
   He takes a second to catch his breath then sits up to show the camera the beautiful stuff coating his abdomen. His smirk turns to a grin as he reaches down and scoops up the the first glob to land. He greedily slurps that mess up then licks his fingers clean before slopping up some more of that stuff and eating it down. Buddy doesn't disappoint on the cum eating – he fuckng loves it!
   He's still licking his fingers as the tape runs out and the scene comes to a close. Stunning young man, brilliant display of sexual energy and a pervy cum eating dismount. What's not to love?!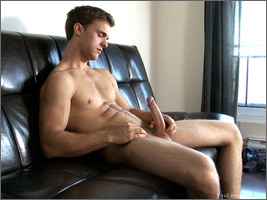 WATCH IT NOW AT: YOU LOVE JACK
PREVIEW THE FILM / GALLERY PAGE